There's Nothing Like Peaking at the Right Time
Whitley Ballard and Abby Carroll are making up for lost time. The seniors on South Carolina's beach volleyball team have persevered through being in and out of the lineup early in their career, in addition to losing a season due to the COVID-19 pandemic, to have breakthrough seasons in 2022.
"Being a senior and knowing it's your last year gives you a sense of fearlessness," said Carroll, who is studying mass communications. "You don't have anything to lose. This is it. There's more appreciation for practices. Knowing it's your last time to do that with those people, that gave me more motivation."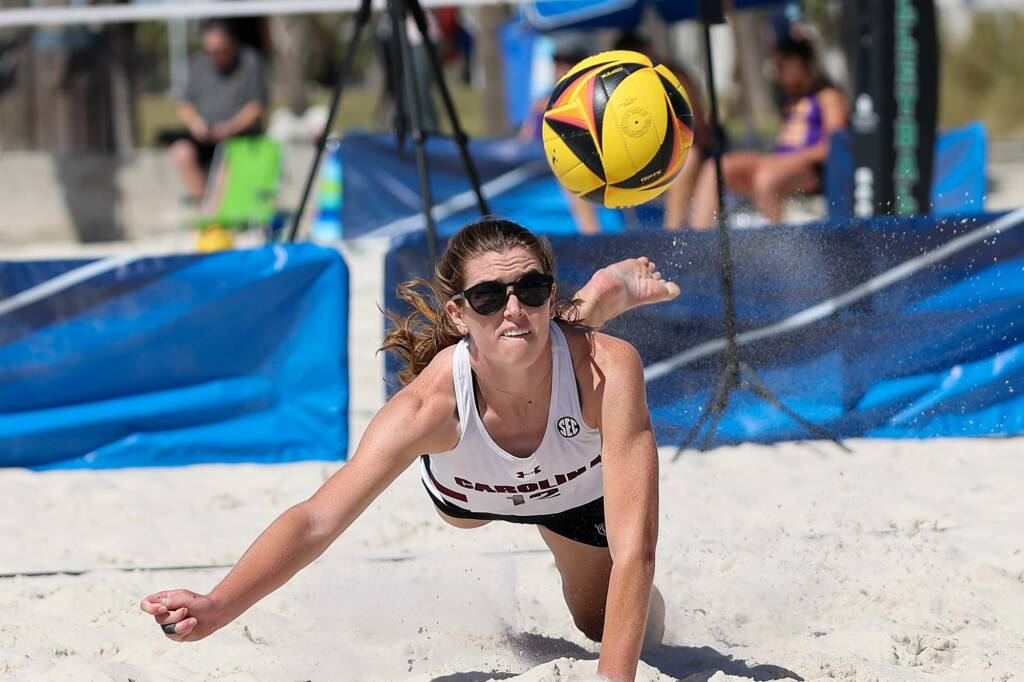 Whitley Ballard
"Especially after my freshman year, I put more pressure on myself," said Ballard, who is studying biomedical engineering. "I thought, you did this as freshman, you have to continue to get better. This year, I took a step back and realized this is my last opportunity, so just go out there and make the best out of every moment. You want to leave knowing that you gave it your all."
For head coach Moritz Moritz, the 2022 season is a culmination of the two seniors' commitment to the team and the sport over their four years at Carolina.
"We've had strong teams and have had strong contribution from both Whitley and Abby over the years," Moritz said, "But this year, it is definitely that sense of fearlessness, but also that sense of maturity that comes with four years of experience to persevere and excel on an individual basis to be able to contribute to the greater team."
Both adjusted to college life and competition differently coming in as freshmen in 2019, with Carroll making one start as a rookie while Whitley made an immediate impact her first year with a 13-6 record. Sophomore seasons are often when breakthroughs and development can happen, but the pandemic cut their 2020 season short.
"It's really made me value my time," Ballard said. "Even though we've been given an extra year of eligibility, neither Abby nor I, or any of the other seniors are using that. It puts a lot more emphasis that this is it."
"It gave me more perspective," Carroll said. "Everyone says college is the best four years of your life. That cost us a year. Losing a whole year, whether it's academics or volleyball or the social aspect of school, there's no other way to describe it other than that just really sucked. It sucked to lose one of those years that people told you was going to be one of the best years of your life. This year has sort of been like making up for lost time. We did get one year taken away from us. That makes this year that much more important and special."
After playing extensively in her first season, Ballard only made one start over the 2020 and 2021 seasons. Carroll began to break through in 2021, earning 12 wins in the second and third positions in the lineup. Even with the limited action in the lineup to entering their senior seasons, neither thought for a moment of hanging it up or seeking opportunities elsewhere.
"When I was choosing this school, I wasn't choosing it just for the volleyball," Carroll said. "I loved that it was a big SEC school. I grew up in Texas where high school football was huge, and I loved going to those games. I loved the majors here. I loved the campus. That made it out of the question for me (to leave). Volleyball was a big part of it, but I loved so many other things about the school."
"I never thought about it either," Ballard said. "Most of that is because regardless of whether I was playing or not, I didn't think I could find the support I had from my teammates at any other school. We really have strong support where all the girls are there for each other, more than any other team. This is something we talk about a lot."
"We've always had good leaders, but what you find with Whitley and Abby and this entire senior class, is a heightened sense of responsibility."
– Coach Moritz Moritz
Ballard and Carroll have played vital roles this year in several different spots in the lineup, and their renaissance in the sand isn't from a one-size-fits-all approach.
"I just realized that this is it and I may as well go down swinging as hard as I can," Carroll said. "I thought about last year a lot. Last year I got stuck in some sticky situations and some hard games and losses I didn't hope to have. I thought about what got me into those situations and if it was a lack of aggression or confidence and used those lessons I learned. You have to put yourself in those positions in practice, and that's what I really focused on – to be really uncomfortable in practice and then it's so much easier in a game."
After missing a spot in the lineup in the opening weekend of the lineup, Carroll jumped at an opportunity to start in the team's tournament at TCU and was thrown right into the number one pairing. She finished the weekend with a pair of wins, highlighted by a victory over No. 3 Florida State in the second pairing to cap the tournament.
"I took this past summer off and I think that helped me a lot coming into this year," Ballard said. "It's a lot on your body and mentally to do this for four years. I did notice a change in my game. Everything felt a little better, a little cleaner. Something was different in my game. I saw that this was my full potential and something that was in me. It was awesome to see it come out at the perfect time.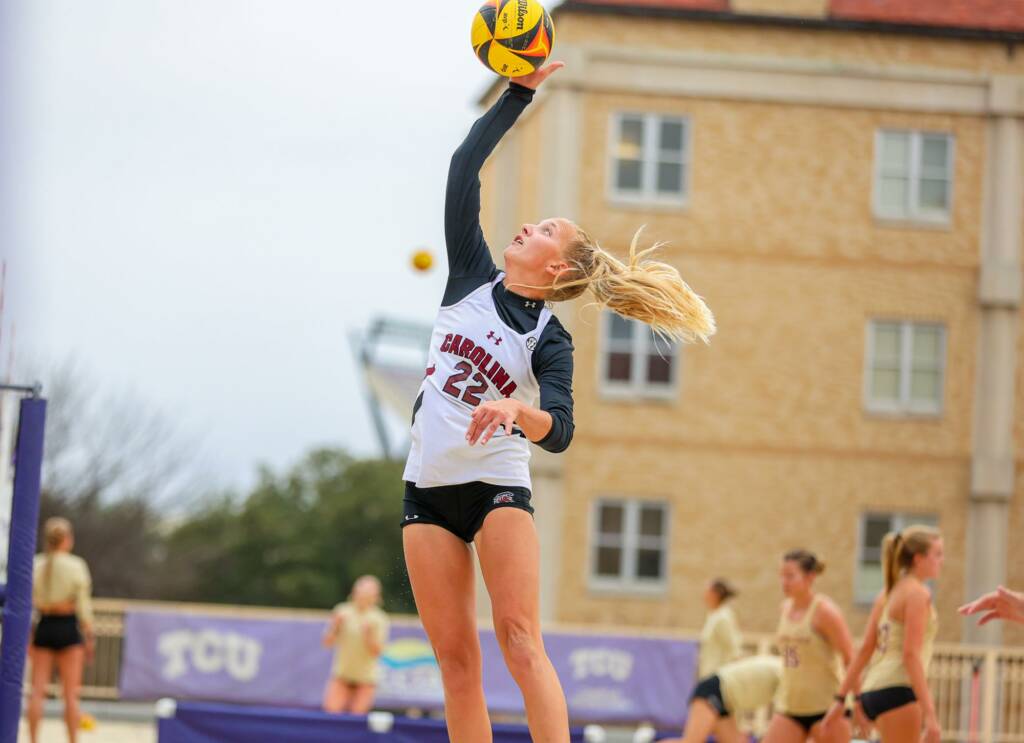 Abby Carroll
It indeed was an opportune time for Ballard's breakthrough, as the California native opened the season playing in the number five pair but steadily rose in the lineup and now has 16 starts this season playing in the top pair. Like Carroll, her flexibility and steady mindset helped the team manage a start to the season where injuries put the starting lineup into unprecedented flux.
"I think the difference (between 2019 and 2022) is confidence and fearlessness and my role in stepping into that (number one) spot came in during a difficult weekend for the team," Ballard said. "I started in the fives and within a week I was brought up to the ones. For me, stepping into that was more for the team. I told myself, this isn't about you. You have to do everything you can to win every point and be a demonstration for everyone to show them that this is the standard. That helped at the beginning, to put it as something that's bigger than myself."
"We came into some situations where different people had to step up at different times," Moritz acknowledged. "(Whitley) talked about being brought up into the ones. Well, she earned that spot. That's what the team needed in that particular moment, but it's also what the team needs now in this particular moment. It didn't magically happen. It's something she's been working for the entire time.
"Abby's been a steady force throughout the entire spring but didn't crack the lineup the first weekend. I remember having a conversation with her after that weekend, and she said, 'I'm just biding my time. I know what I can bring.' When it was her time to fill in and capitalize, she ran with it!"
The two seniors are also quick to point out how the coaching staff helped them reach their potential.
"It helps that they never gave up on us," Carroll said. "Some coaches probably would have written us off as someone who wouldn't have a big impact on this team. They never gave us a sense of doubt. They never made it feel like it wasn't feasible. They were always very positive and encouraging. I feel like I can say anything to Moritz. To have that open dialogue helps us so much. It gives me confidence that he trusts me and will always hear me out."
"As much as they focus on the technical aspect of the game, they focus on the mental aspect too, which is huge in any sport," Ballard said. "When you're on the court, and you're getting picked on, you have to find a way to get out of it. You still have to make it through these really hard times and find a way to pull through for your team. Having coaches that focus on that has really helped me."
"Volleyball is a piece of who we are and what we do, but it doesn't define us," Moritz said. "It is something that has to be cherished. From what we've seen due to COVID and what we've seen throughout this entire season on a day-to-day basis, things can change so much. You have to take advantage of situations as they arise. We've always had good leaders, but what you find with Whitley and Abby and this entire senior class, is a heightened sense of responsibility to have those conversations and to be able to drive each other as teammates and communicating with the coaching staff to make sure we are getting what we need so we can be as successful as we possibly can in that particular moment."
With just a few weeks left in their collegiate athletics careers, Ballard and Carroll intend to make each day count.
"Every team's goal is to get to Gulf Shores (for the national championship), but I think we've tried to rein that in because that's at the very end of the season," Carroll said. "Our goal is this weekend. Every game, there has to be the goal to win that game."
The team will honor Ballard and Carroll along with fellow senior Jordan Smith and graduate students Nicole Deobler and Courtney Weber this weekend when it hosts Coastal Carolina at 5:30 p.m. on Friday, April 15. The senior ceremony will precede the matchup with the Chanticleers. The Gamecocks are also in action Friday morning at 11 a.m. vs. College of Charleston and play at 11 a.m. and 3 p.m. on Saturday against FGCU and Georgia State, respectively.