Andrew Eyster Makes Quick Transition to Life After Sports
Hanging up your team uniform for the last time can be difficult and sudden for some. Andrew Eyster was ready. During his career, the former South Carolina outfielder has transitioned from professional baseball prospect to finding a life off the diamond, and he's OK with that.
"Once I didn't sign (professionally) last year, and I realized I was coming back for my final year, I knew that would be it," said Eyster, who will earn his degree in Sports Management in August. "I knew this whole year that this would be it. It helped me appreciate it more. I just wanted to try to go out and win games.
"If they let me come back to play Gamecock baseball for one more year, I'd do it in a heartbeat. I just don't know if I have the drive and passion for the game the way I once did to play pro. Going to the minor leagues to chase that dream of playing Major League Baseball is something that you have to be one hundred percent committed to if you want to make it."
Eyster is working at for an insurance brokerage firm (Gibson and Associates) in Irmo. He had originally interned there last fall and was able to turn that into a fulltime job.
"We do group health benefits for small businesses and some larger businesses too," Eyster said. "For me, it's an opportunity to stay involved in the community. I'm not stuck in the office all day. I'm able to hit the pavement and meet people and business owners. That's what I'm passionate about because I grew up watching my dad build boats in our back yard. He's still building boats. He has always worked for himself and has his own business. So, I want to help out those kinds of people. Everyone I've spoken to has told me it can be a very rewarding career.
"I find myself having a lot more free time. I've never had that much time. It's not difficult though because I work with a lot of great people."
Coming out of Forest High School in Ocala, Fla., Eyster was a 27th round selection of the Arizona Diamondbacks in the 2017 Major League Baseball Amateur Draft, but he opted to play in college. He began his career in junior college at Sante Fe College in Gainesville where he batted .413 with 13 home runs and earned second team NJCAA All-America honors in 2018. After being selected in the 2018 MLB Amateur Draft in the 32nd round by the Cleveland Indians, Eyster opted to come to South Carolina, where he played four seasons with the additional COVID year of eligibility.
"Coming out of high school, I just wasn't ready," Eyster said. "I was 18 years old and for the money I would have had to take, it wouldn't have been worth it. It was the same thing after my JUCO year. Financially, it wasn't a smart decision (to sign professionally), and I had an opportunity to come here."
Eyster hit .301 with 35 home runs and 139 runs batted in during his Gamecocks career, including a career-best .318 average to go along with 10 home runs and 53 RBI in 2022. Whether it was a great catch in the outfield, a ninth inning grand slam to help South Carolina rally for a win against UNC Greensboro in 2022, or back-to-back walk-off hits against Clemson in 2021, he had a knack for coming up big in the clutch. Despite his solid collegiate career, Eyster's name was not called in the MLB draft again. When the last out was made in his 2022 season, Eyster took off his uniform and hung up his glove for the last time with no regrets.
"I don't have any regrets about anything. These last four years have been priceless with the memories I have and the people I've met. "
Andrew Eyster
"It definitely hit me after that last game of the SEC Tournament," Eyster said. "I did that interview, and that was hard. After getting back, it was nice to have some time off. After 55 games or so, it's tough on your body.  Then once I relaxed for a while, I said, alright, I can't sit around all summer. It's time to go to work!
"I don't have any regrets about anything. These last four years have been priceless with the memories I have and the people I've met. I couldn't be more content with how things are now. There is so much more to life than baseball. I have a lot of hobbies that I enjoy that I couldn't do as much of because of baseball. So, you just have to embrace it."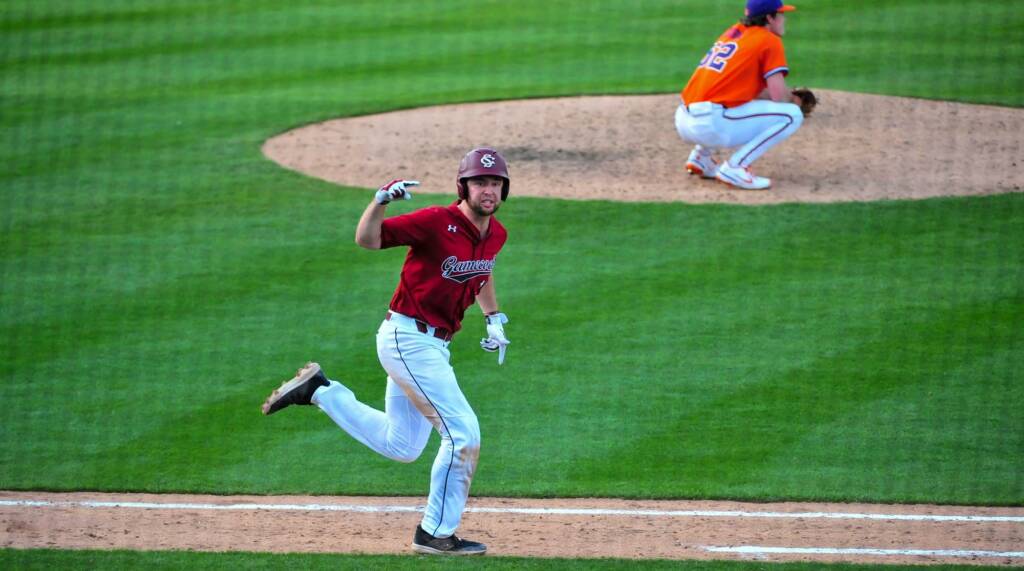 As for his South Carolina career, Eyster was proud to be a part of the program for four years where he grew more than just his game.
"This is a program that has so much history and culture," Eyster said. "If you embrace that and love being here, people will love you and take care of you. You'll have endless opportunities once you're done. I learned that first-hand. People care deeply about this program. I love it, this school, and the community.
"I have a lot of memories. The Clemson weekend a couple of years ago was just awesome. Doing that against our biggest rivals was great. When I first got here, I didn't really know much about it, but after being here a couple years, you realize how much it means to so many people. Later that year, we had a 14-inning game against Florida, and I hit a game-tying homer and we eventually won. But just getting to know so many people and build relationships with my teammates and coaches and so many people that aren't involved with the baseball program has been awesome. That's been the most rewarding thing."
Eyster was able to get back on the field recently and enjoyed working some South Carolina youth baseball camps this summer.
"I still want to stay involved with the University and the baseball program as much as I can," Eyster said. "Working the camp was fun. Kids were asking for autographs, so I guess I've still got some fans. At some point, I'll probably feel it and miss playing and probably join a beer-league or church league baseball or softball team. For now, I'll be living vicariously through next year's team and all the years after that. I'm excited to be a fan."
Terrific career numbers and two walk-offs against Clemson put him on a pretty tall pedestal, and Gamecocks fans of all ages won't forget Andrew Eyster anytime soon.