Softball Announces Fall Schedule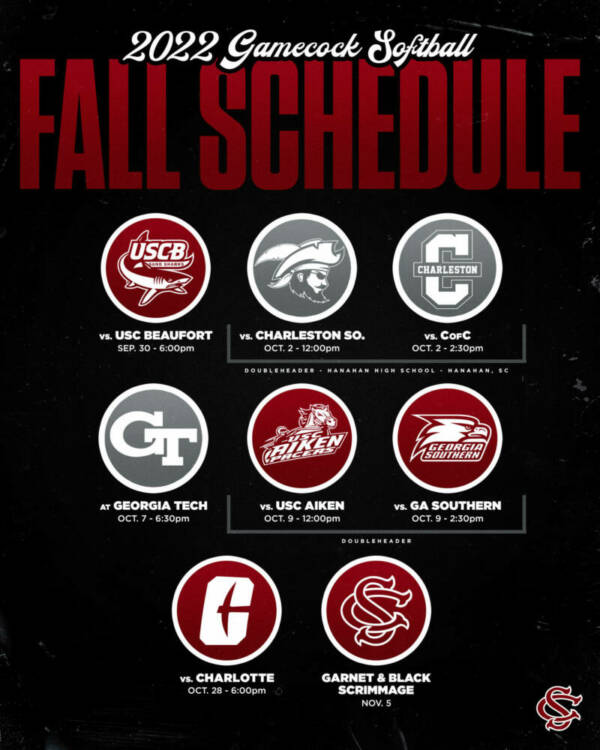 COLUMBIA, S.C. – The South Carolina softball team's fall schedule will see the squad take on  former Gamecock players and coaches, and even make a trip to Jordan Fabian's high school alma mater. Carolina plays seven games against opponents before the schedule concludes with the annual Garnet and Black scrimmage. All fall home games at Carolina Softball Stadium are free and open to the public.
The fall schedule opens September 30 when South Carolina faces USC Beaufort at 6 p.m. The Sand Sharks are led by second-year head coach, and softball alumna, Codee Yeske (2012-14).
Two days later on October 2, the Gamecocks travel to Fabian's former high school, Hanahan, which is just outside Charleston, for a doubleheader. While there, Carolina will take on Charleston Southern and the College of Charleston starting at noon.
The Gamecocks travel to Atlanta to face Georgia Tech October 7 at 6:30 p.m. South Carolina returns home that Sunday (Oct. 9) to host a doubleheader with USC Aiken and Georgia Southern starting at noon. It will be another homecoming against Georgia Southern, as assistant coach Heather Gelbard spent two seasons in the Soda City as a volunteer assistant.
Outside competition concludes October 28 at 6 p.m. when South Carolina hosts alumna Ashley Chastain (2009-11) and her Charlotte 49er squad. She is in her third season leading the 49ers and alongside her is former South Carolina volunteer coach Taylor Wike.
The fall season wraps up with the annual Garnet and Black Scrimmage which is scheduled for November 5. The time for the intersquad scrimmage will be announced at a later date.
For the latest on South Carolina Softball, visit GamecocksOnline.com or follow the team's social media accounts on Twitter @GamecockSoftbll, Facebook /GamecockSoftball, and Instagram @GamecockSoftball.