Softball Announces 2023 Non-Conference Schedule
COLUMBIA, S.C. – The South Carolina softball team and head coach Beverly Smith announced the team's 2023 non-conference schedule today (Jan. 4). The Gamecocks' schedule will feature 32 non-conference games, 18 of which will be played at the Carolina Softball Stadium at Beckham Field. The schedule will see the squad host a pair of tournaments along with a home-and-home matchup with Clemson for the annual South Carolina Education Lottery Palmetto Series.
Carolina opens its season on the road, traveling north on I-77 for the Charlotte Invitational February 9-12. The Gamecocks begin their season on Thursday against the 49ers at 6 p.m. While there, South Carolina will also face Miami (Ohio), Campbell, East Tennessee State, and Charlotte a second time. The 49ers are led by former Gamecock standout Ashley Chastain.
The Gamecocks open their home schedule at Carolina Softball Stadium February 15, when they host the College of Charleston at 6 p.m. The following day, Carolina kicks off its first home tournament, the Carolina Classic, in a rematch against ETSU. That weekend they will also host Delaware, Western Kentucky, Campbell, and former Gamecock Chrissy Schoonmaker's George Washington Colonials.
South Carolina hits the road the following week to take on former volunteer assistant Heather Gelbard and the Georgia Southern Eagles February 22. The Gamecocks then head to Macon, Georgia, for the Mercer Bear Invitational February 24-26. Carolina faces off with Tennessee Tech twice, Belmont, Jacksonville, and the host Bears. It will be the first meeting between the Gamecocks and the Belmont Bruins.
Carolina returns to Beckham Field for back-to-back mid-week games against Stetson (Feb. 28) and North Carolina (March 1). South Carolina kick off its spring break by hosting the Gamecock Invitational March 3-5. The Gamecocks have never faced three of their four opponents in 50 years of softball; Columbia, Illinois, and North Carolina A&T. They close out the tournament against UNCW. The Illinois squad features the familiar face of Laura Trout, who spent two years as a volunteer assistant coach for coach Smith from 2013-14.
Before kicking off SEC play, South Carolina host a mid-week game against Winthrop (March 7), before traveling to the College of Charleston on March 8.
After SEC play begins, the Gamecocks host four non-conference opponents, all coming against in-state foes. They will play Presbyterian March 15, followed by a doubleheader against Furman March 22, before wrapping up the non-conference schedule with a doubleheader versus Charleston Southern April 19. The Palmetto Series games are set for March 28 at Clemson, with the Gamecocks hosting on April 11.
The SEC adjusted a pair of series for the Gamecocks, with the home LSU series moving to Sat-Mon (March 11-13), and the road Alabama series moving to Thu-Sat (April 6-8).
Season tickets for the 2023 season are available now and can be purchased online here. Season tickets are general admission seating and are $25 for adults and $10 for youth (17 and under).
For the latest on South Carolina Softball, visit GamecocksOnline.com or follow the team's social media accounts on Twitter @GamecockSoftbll, Facebook /GamecockSoftball, and Instagram @GamecockSoftball.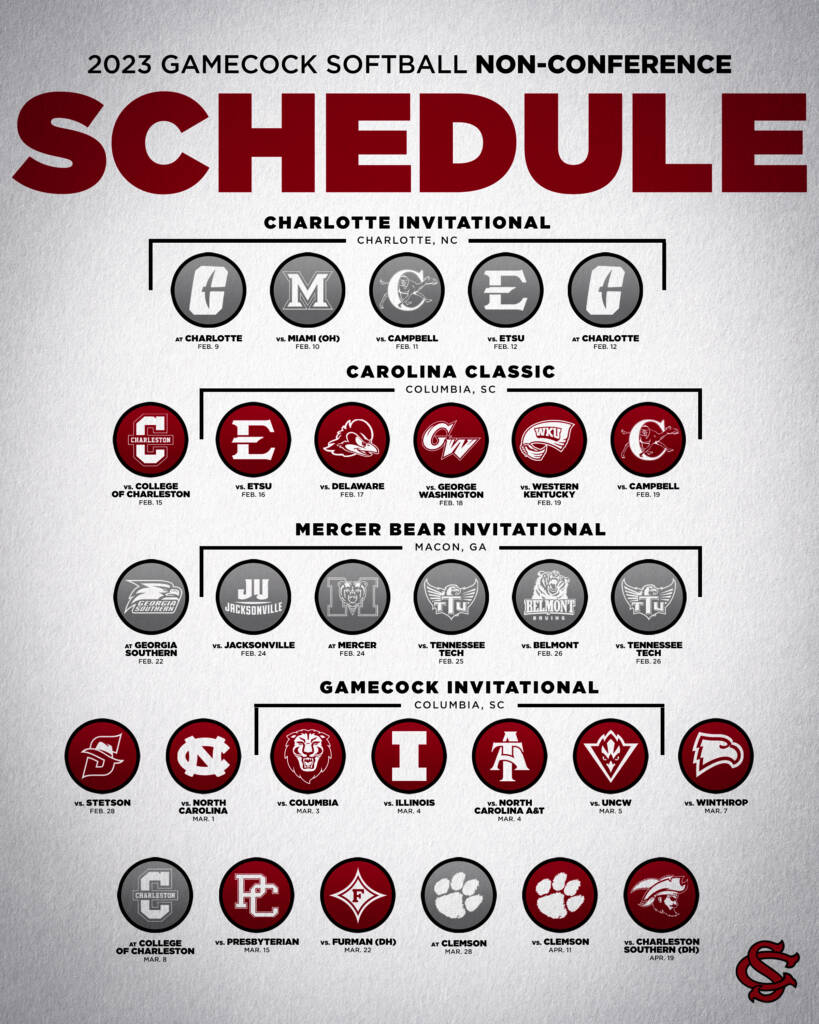 Season Tickets
2023 Gamecock softball season tickets are on-sale now! The Gamecock softball season ticket includes admission to all home games at Carolina Softball Stadium at Beckham Field.
Three types of season tickets are available:
Adult: $25
Youth (17 and under): $10
Donate: $10
All season tickets will be fully mobile and can be accessed through the South Carolina Gamecocks App.