Aniyah Black is a small-town girl with big time dreams. Hailing from Chauncey, Georgia, with a population of around 300, the junior outfielder who transferred to South Carolina from Georgia after last spring, aspires to go to medical school and become an anesthesiologist.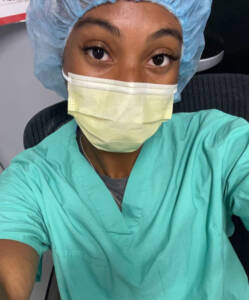 "I have a lot of nurses and things like that in my family," Black said. "My mom (Rickina) is a nurse. My sister (Tristynee) is in nursing school. Two of my cousins are respiratory therapists. I chose anesthesia because I had an ACL surgery from basketball during my junior year of high school. I was really scared, but my anesthesiologist really made me feel comfortable. He told me about his journey as he was also a former athlete. His story encouraged me. The toughest part of having the surgery was the mental part of it and staying positive."
She is currently a retail major, but she had nearly finished requirements for a biology degree at Georgia and needs three more such classes to satisfy that requirement. She plans on taking the MCAT next year and apply to medical school, including the University of South Carolina School of Medicine. She has gained some experience after shadowing an anesthetist last summer at a women's health center to earn internship hours.
Black knows that going to medical school will be a huge challenge, but the demands of being a student-athlete and learning time management have trained her well. Once she achieves her goal, she knows she can pay it forward and make a difference, drawing on her own experiences.
"I think I want to work with kids, maybe in a cancer center and do anesthesia there or maybe work with athletes. I just want to be somewhere I can give people hope at a young age, just like the man did for me."
Growing up in a small town, sports and outdoor activities have been a big part of Black's life from the beginning.
"You go outdoors, and you ride four wheelers. You hunt, and you fish. It's a country kind of life," Black said. "My favorite thing to do is ride my nephews and my little cousins on the four-wheeler.
"I started playing softball first when I was around six or seven. I started out playing baseball in the yard with some of my cousins, who were boys. I do feel like I can do it all, from school to sports. I've got a big life ahead of me after softball as well."
"She reminds us that we can do whatever we want, whenever we want to do it, and there is nothing holding us back."
Aniyah Black .
Black was a three-sport athlete at Dodge County High School where she excelled at softball, track and field, and basketball. She was a star student in the classroom as a member of Beta Club, math club, the Principal's Advisory, student council president, and was named 2019 homecoming queen among many other accomplishments. By the time she hit high school, she knew softball was her best sport.
She spent her first two years at Georgia. Last year, she played in 39 games and hit .258 on the season with five home runs, and although she enjoyed her time, she wanted a fresh start.
"I just found a better opportunity," Black said. "Everything about Georgia was great, but I felt like South Carolina was looking for some power in the lineup, and UGA already had a lot of power. I felt like I can stand out more here and help where I'm needed. I felt like I was needed more here. The best thing about being here is that the people are genuinely invested in you, and not just as a player. I had also played travel ball with three of the girls (Zoe Laneaux, Riley Blampied, Leah Powell) here, so it already feels like a family."
Like medical school, Black knows excelling on the diamond and getting to the level she wants to be will take a lot of work.
"I'm working to be a better outfielder," Black said. "I was a DH a lot. I was an infielder going into college. I want to be more consistent in batting. I want to hit 10-plus home runs this year, but I want to be consistently getting on base. I want to make an All-SEC Team. I would like to be an All-American either this year or next year."
Whether it's excelling on the diamond or chasing her dreams off the field, Black has drawn inspiration from her mother.
"She didn't finish school until all of her kids were out of (high) school," Black said. "She went back and got her degree, and now she's a successful travel nurse. She has had the biggest impact on me after seeing her work so hard and encouraged us to work hard. She reminds us that we can do whatever we want, whenever we want to do it, and there is nothing holding us back."