Gobourne Selected in 2023 WPF Draft by OKC Spark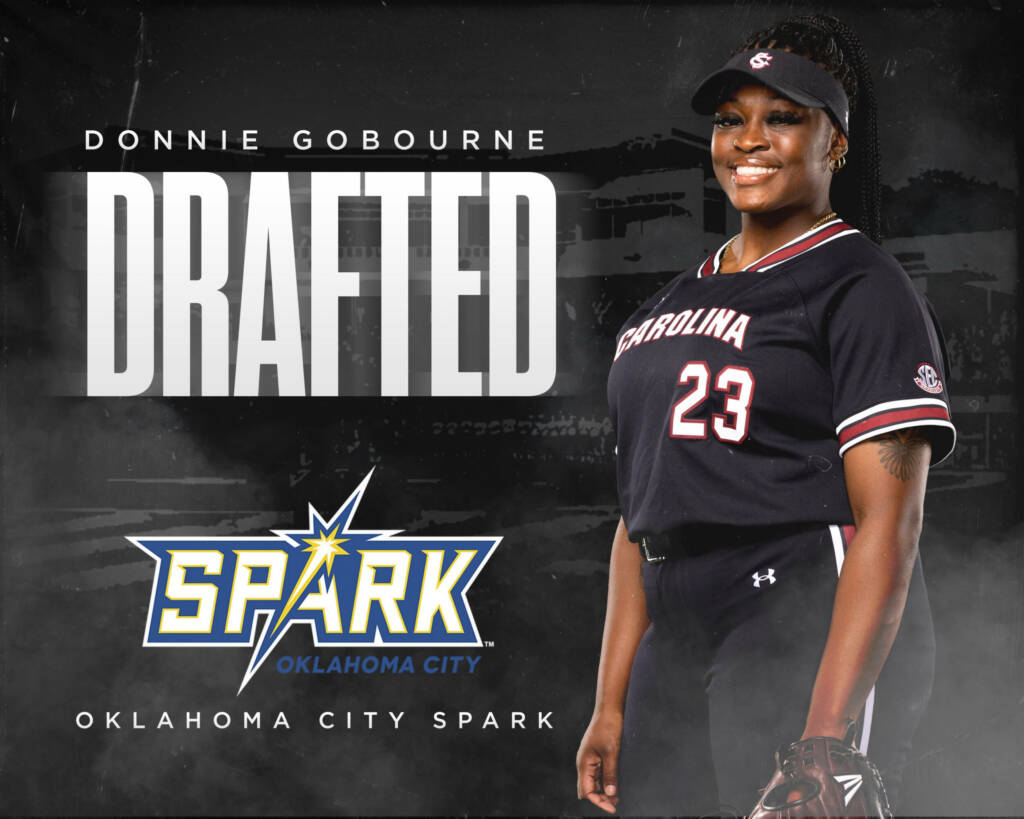 OKLAHOMA CITY – South Carolina softball right-handed pitcher Donnie Gobourne was selected with the 17th overall pick by the Oklahoma City Spark in the 2023 Women's Professional Fastpitch draft Monday night (Apr. 17).
A graduate transfer from Lake Placid, Florida, Gobourne was selected with the first pick of the fifth round.
With the 17th pick in the 2023 WPF Draft, OKC Spark select Donnie Gobourne, from the University of South Carolina! #Draft23 pic.twitter.com/iOZDxfLkUr

— Women's Professional Fastpitch (@wprofastpitch) April 18, 2023
From @GamecockSoftbll , Spark selects Donnie Gobourne! pic.twitter.com/4yAsU2o2ZM

— OKC Spark Softball (@okcityspark) April 18, 2023
Since entering SEC play, Gobourne has earned four wins and a save against four nationally ranked opponents in No. 11 Florida, No. 14 LSU, No. 16 Alabama, and No. 23 Texas A&M. She led the Gamecocks to a series win over Florida and a sweep of Texas A&M, throwing a one-hit and two-hit shutout, respectively.
The moment @DGobourne14 received the call from @okcityspark telling her she's been drafted during tonight's Gamecock Gala! #Gamecocks | #FearTheLashes pic.twitter.com/G3clrm5NXD

— Gamecock Softball (@GamecockSoftbll) April 18, 2023
Gobourne leads Carolina in every pitching statistic on the season with an 8-2 record and five saves. She has a 2.48 ERA and 128 strikeouts in 76 1-3 innings, while opponents are hitting .174. Nationally, Gobourne ranks second in Division I, averaging 11.7 strikeouts per seven innings and is sixth in saves. She also ranks among the national leaders in total strikeouts, hits allowed per seven innings (4.22), and strikeout-to-walk ratio (3.12).
She becomes the first South Carolina softball player to be professionally drafted since Samie Garcia in 2013 by the NY/NJ Comets of the former National Pro Fastpitch league.
blessed is an understatement! 🤞🏾 https://t.co/gyk4txJbD4

— don🦋 (@DGobourne14) April 18, 2023
Women's Professional Fastpitch (WPF) is the official professional softball league in the United States, founded by USA Softball, USSSA, and Smash It Sports. WPF showcases the best athletes in softball, provides a world-class experience for fans, and connects young fans to their idols. The season begins June 15.
For the latest on South Carolina Softball, visit GamecocksOnline.com or follow the team's social media accounts on Twitter @GamecockSoftbll, Facebook /GamecockSoftball, and Instagram @GamecockSoftball.