Jake Epstein Named Softball Assistant Coach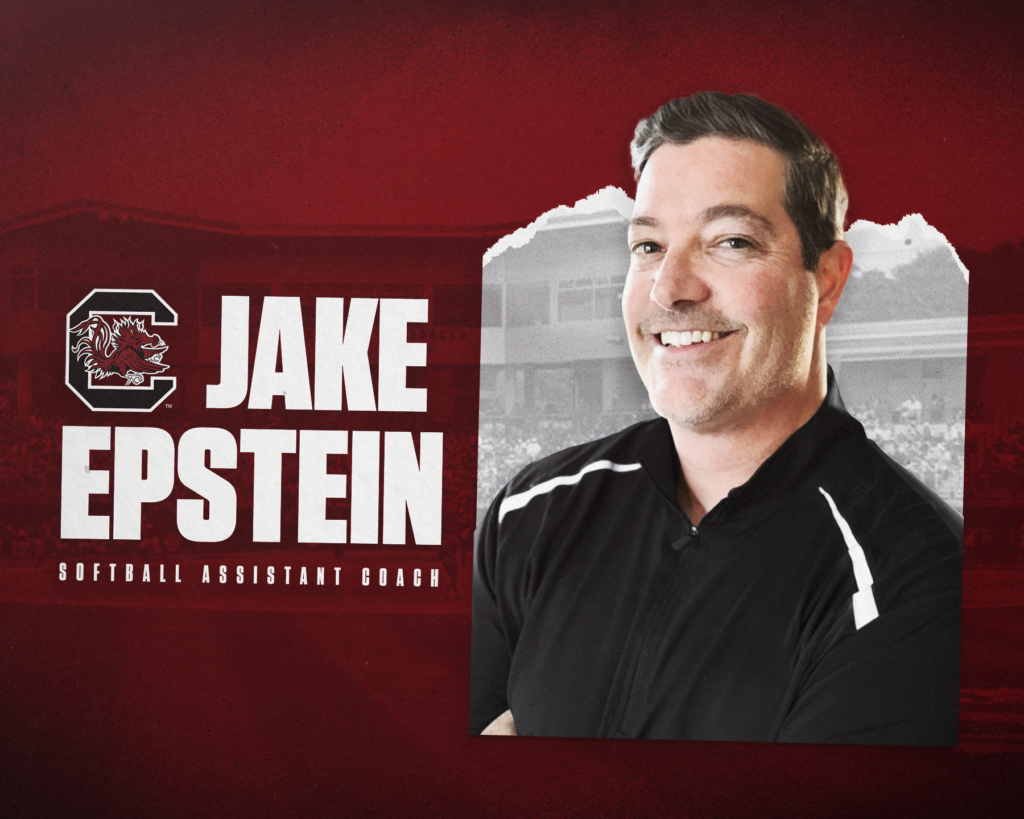 COLUMBIA, S.C. – South Carolina softball head coach Beverly Smith announced Thursday (July 27) the addition of Jake Epstein to her coaching staff. Epstein will serve as the hitting coach for the Gamecocks.
"I am thrilled to announce the addition of Jake to our coaching staff", Smith said. "With his extensive experience and expertise in hitting, I am confident that he will be an asset to Gamecock softball. Jake's proven track record of developing successful hitters at all levels of the game makes him an ideal fit for our team. I look forward to seeing the positive impact he will make on our players' performance."
Regarded as one of the top hitting instructors in the country, Epstein brings a wealth of playing and coaching experience to Carolina. For the past 20-plus years, Epstein has served as a full-time hitting instructor with professional and amateur players, while also spending the last six seasons working as a hitting consultant for the Milwaukee Brewers organization.
As the founder of the Epstein Online Hitting Academy, he has consulted with multiple Major League Baseball organizations, including the Padres, Giants, and Brewers, as well as several Power 5 baseball and softball programs. He has personally trained countless professional baseball players as well as collegiate baseball and softball student-athletes. His college softball athletes have included former SEC players Casidy Chaumont of Missouri, who is currently playing for the USSSA Pride of the Women's Professional Fastpitch league, along with two-time All-American and 2021 SEC Player of the Year Bailey Hemphill of Alabama.
He served as a hitting coach for the University of Missouri baseball program in 2019, helping the Tigers to a 34-22-1 record. Under Epstein, the Tigers improved in every major offensive category from the previous season. Two of his hitters were drafted during the 2019 MLB draft, with Kameron Misner being selected in the first round and Chris Cornelius in the 16th.
Epstein enjoyed a standout playing career prior to his coaching tenure at the University of Missouri and Cal State Fullerton. He was named a co-captain for the Tigers following a Big 12 All-Conference campaign in 1998. After three seasons at Missouri, Epstein played his final season with the Titans.
Following his final college season, Epstein signed with the Anaheim Angels organization and hit .336 with 14 doubles, five home runs and 33 RBI in his lone season of professional baseball. He was originally drafted in the 34th round of the 1996 MLB Draft by the San Diego Padres out of Mount Carmel High School.
Epstein earned his degree in communications from Cal State Fullerton in 2002. He is married to his wife, Jamie, and with whom they have three daughters – Ella, Hannah, and Vivienne.
For the latest on South Carolina Softball, visit GamecocksOnline.com or follow the team's social media accounts on Twitter @GamecockSoftbll, Facebook /GamecockSoftball, and Instagram @GamecockSoftball.