Softball to Play in Mexico at Puerto Vallarta College Challenge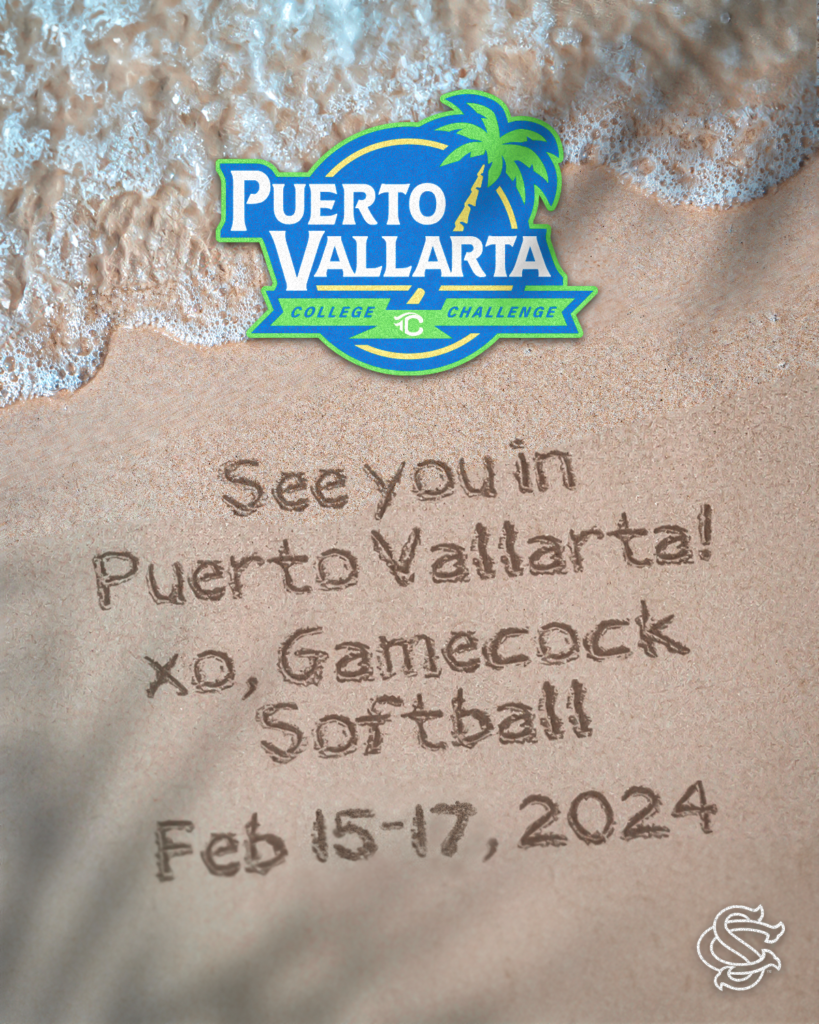 FORT COLLINS, Colo. – It was announced Wednesday (Oct. 3) that the South Carolina softball team was among the programs selected to play in the 2024 Puerto Vallarta College Challenge February 14-18 at Nancy Almaraz Stadium in Puerto Vallarta, Mexico.
Carolina will play in the second tournament session in which six of the eight teams made the NCAA Tournament last season. The Gamecocks will face a two of those teams in Wichita State and Women's College World Series participant Utah. They will also take on UC Davis and UC San Diego. The session also includes Auburn, Clemson, and Mississippi State. South Carolina last participated in the Puerto Vallarta College Challenge in 2019, marking the second time the Gamecocks have played outside the United States. Session one of the tournament will take place Feb. 8-11.
South Carolina is coming off a stellar 2023 season that saw them advance the SEC Tournament Championship, becoming the first double-digit seed in SEC history to make the final. The Gamecocks finished the season 40-22, their first 40-win season since 2018. Carolina advanced to the NCAA Regional Final, before falling to eventual national runner-up Florida State in a winner-take-all final. The 2024 South Carolina squad reloaded in the off season, bringing in five transfers and four freshmen. The transfer class was ranked No. 2 and No. 4 by Extra Inning Softball and D1 Softball, respectively. Three of the freshmen were ranked in the top-20 by Extra Innings Softball, two of which earned Gatorade Players of the Year honors in their home state.
The Puerto Vallarta College Challenge began in 2015 and has evolved into one of the premier tournaments designed to launch the softball season. It was the first-ever D-I softball event held outside the United States and has included programs from well-known Power 5 conferences as well as the deep pool of strong mid-major schools — the Mexican Olympic team also played in the tournament in 2020.
Puerto Vallarta remains a safe and easy-to-navigate destination and is excited to welcome back tourists. The area is full of other diversions and entertainment options for fans attending the PV College Challenge. Visit www.pvcollegechallenge.com for more information.
All games will be live-streamed by FloSoftball. Below is the complete schedule for session two (all times CT):
Feb. 14
Noon – Clemson vs. Wichita State
Feb. 15
10 a.m. – UC San Diego vs. Clemson
12:30 p.m. – UC Davis vs. Auburn
3 p.m. – Utah vs. Auburn
6 p.m. – Wichita State vs. South Carolina
8:30 p.m. – Utah vs. South Carolina
Feb. 16
10 a.m. – Mississippi State vs. UC Davis
12:30 p.m. – South Carolina vs. UC Davis
3 p.m. – UC San Diego vs. Mississippi State
6 p.m. – Clemson vs. Utah
8:30 p.m. – Auburn vs. Wichita State
Feb. 17
10 a.m. – South Carolina vs. UC San Diego
12:30 p.m. – UC Davis vs. Wichita State
3 p.m. – Clemson vs. Auburn
6 p.m. – Mississippi State vs. Utah
8:30 p.m. – Mississippi State vs. Clemson
Feb. 18
10 a.m. – UC San Diego vs. Utah
For the latest on South Carolina Softball, visit GamecocksOnline.com or follow the team's social media accounts on Twitter @GamecockSoftbll, Facebook /GamecockSoftball, and Instagram @GamecockSoftball.