Career Mentoring is a Key Component of Women's Soccer Program
Oct. 20, 2015
Chelsea Drennan is an expert at assisting others on the soccer pitch. The junior midfielder is already tied for second place in school history in career assists, but it's the assistance of a former Gamecock goalkeeper that may mean more to her future. Drennan is pre-pharmacy and is being mentored by Dr. Mollie Patton. Patton was a NSCAA Scholar All-American during her playing days at South Carolina (2006-2010), and is now the Pharmacy Supervisor at the Center of Excellence for Kroger in Cincinnati, Ohio.
"It's a standard that's always been around our team," Drennan said. "We've always been a family. Regardless of whether you were on the team at the same time; we're all part of the Gamecock soccer program. It's understood that you just do that. So when I mentioned I wanted to do pharmacy to our coaches and (athletics trainer) Stephanie (Rosehart), they told me right away that I should talk to Mollie."
After hearing that Patton was working in the field, Drennan reached out to get some assistance in going through the whole application process for pharmacy school. That led to a connection. The two talk at least once per week, and while she was supportive, Patton didn't sugarcoat the road ahead.
"I told her that your time management skills have to be on-point," Patton said. "When I tell people that I did pharmacy school and played soccer, they just about fall over. I told her it's completely possible, but you have to be committed. It's not easy. Your social life sort of declines, but in the end, it's 100 percent worth it. It was probably the best choice I made."
"She basically tells me that if she could do it, then I can do it," Drennan said. "She always tells me how she knows what I'm going through and always offers to help me and is always available just to talk to me. A lot of what she does just motivates me to not give up. Sometimes it's just a pat on the back that helps keep me going."
Drennan has excelled in the classroom and has been named to the SEC Academic Honor Roll each year, but keeping up with academics isn't always easy.
"I have nine pharmacy classes this semester," Drennan said. "Some may be only a one credit hour class, but you still have to know a lot of material. Pharmacists have to know everything about medicine. You have to know about drug interactions, and there is a lot of material. We're all in it together in the school. There are people there who are very helpful in helping you manage sports and school. They're really good at working with me. One of my teachers ran cross country and track, so he understands what it's like."
Here, we really focus on being a team and being on the same page. They're all trying to reach goals together. That kind of culture helps because these freshmen know that when the seniors graduate, they have mentors who will be there to help them outside of soccer.

Coach Shelley Smith
"I know when I was going through it, the hardest part was when you were in season," Patton said. "It's super stressful. I just gave her some advice to reach out to her instructors and professors and make sure you know what you are getting into and so they know right away when you are on the road. Our pharmacy school at South Carolina is amazing. They embrace that we are student-athletes."
Some days, Drennan can go from a morning practice to classes and labs which last until late in the afternoon. Then she'll work at a local pharmacy until 9 p.m. before heading home to study and go to bed.
"It is pretty overwhelming sometimes," Drennan said. "She has helped me a lot now. I have two or three tests per week. So I talk to her a lot. It's all about time management, and she has helped me with that and taught me ways to study for certain classes. Just knowing that Mollie did it, and that she went through what I'm going through, gives me confidence."
South Carolina head women's soccer coach Shelley Smith recognizes the Importance of having a former student-athlete working in the same profession as a resource for current student-athletes, so these mentoring opportunities don't happen by accident.
"Some of the current players may have played with some of the others in the past, so they're able to keep up with them that way as well," Smith said. "We were talking recently to one of our freshmen about their relationship with their teammates here compared to their club teammates somewhere else. Here, we really focus on being a team and being on the same page. They're all trying to reach goals together. That kind of culture helps because these freshmen know that when the seniors graduate, they have mentors who will be there to help them outside of soccer."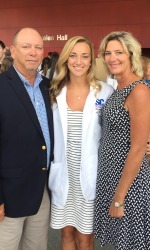 Even if the current student-athlete did not play alongside the former Gamecock, there is a relationship because they not only have the same professional interest, but they also have an understanding of everything at student-athlete must endure and balance during their career.
"I'm one of the only people who can fully understand what she is going through," Patton said. "Even your classmates don't totally get it. During preseason, she had her white coat ceremony, which is one of the most exciting moments in pharmacy because you get your white coat, and you've just been admitted. That happens to fall right in the middle of preseason. She texted me about what she should do because of practice. I told her just to talk to coach, and she'll work with you. It's important that you go to the ceremony. Soccer is our life when we're playing, but now I can say pharmacy is my life. I told her that one thing is first now, but in the end, your future is what's most important."
"They've had the same experiences and the difficulties of trying to balance athletics life with academics," Smith said. "We, as coaches, are a common bond between them. We work with them. It's not easy, and they have to miss practice at times. We understand that's their first goal. So they know coming in that they can achieve the success in the classroom and as professionals in whatever they are studying, but still play at the top level of collegiate soccer because we're behind them in all those areas."
This sort of communication is not unusual in the program, as former Gamecocks who have been beneficiaries of alumni mentors are giving back by doing the same. Drennan is already seeing the process come full-circle.
"I already had someone ask me about pharmacy," Drennan said. "It's a competitive profession. There's a recruit coming here next year who I played with in club soccer, and she has already talked to me about pharmacy. I'm not even there yet, and it's already started. I'll be there for whomever needs it."