Tragedy Guides Former Gamecock Swimmer to Assist Others
Nov. 9, 2015
Former South Carolina swimmer Kassy (Kugler) Alia's life was forever changed on September 30, 2015, when her husband, Greg, who was a police officer, was killed in the line of duty. As the 28-year-old mother of a seven-month old little boy copes with her grief, the attributes that made her a competitor come to the surface as she emerges from the tragedy to make an impact on others.
"When presented with challenges in life, I try to find a solution," Alia said. "With my husband, it's the one thing that I've encountered where there is nothing I can do to change the outcome. I just miss him. What I can do is identify different ways of giving back, staying positive and using this experience and my grief in a positive way. So I think that does come from experiences as an athlete. When presented with a tough practice or tough round of meets, you have the option to push through and take responsibility and take action to improve."
Greg Alia, who was a Forest Acres police officer, was fatally shot at the Richland Mall in Columbia while responding to a call about a suspicious person. He was a seven-year veteran of the police department. The night of her husband's death, Kassy posted a message on Facebook, thanking everyone who had been supporting her.
"My initial reaction was to ask for two things," Alia said. "One was to share stories about my husband, so that our son (Sal) could learn about the man that his father was. The second was to continue to share stories about other police officers doing great things every day. My husband was a great man and a great police officer. Thankfully, we've been able to see some of the good deeds he had done that I had never even heard about. There are many other examples of officers doing that every day."
A Facebook page was set up dedicated to this cause, which can be found under the name "HeroesinBlue," (all one word). Alia is taking it a step further and working to push Heroes in Blue to a much larger campaign, and is hopeful of it becoming a non-profit organization.
"My long term vision is to have a liaison available through Heroes in Blue, that in the event of a tragedy, that person would work close with the spouse and the family of the fallen officer to help them navigate the multiple components of that process," Alia said.
First I would want to continue this growing advocacy and awareness of the positive acts that police officers do every day that may go unnoticed. Secondly, I'd like to be able to give back to their families.

Kassy Alia
She added that there would be two primary purposes for the organization.
"First I would want to continue this growing advocacy and awareness of the positive acts that police officers do every day that may go unnoticed," Alia said. "Secondly, I'd like to be able to give back to their families. The spouses of police officers kiss their husbands or wives goodbye every day, not knowing, but willing to accept that they may not see them again. I want to make sure that we can continue the support for their families.
"A vision that we have is that Heroes in Blue could be used to raise resources for families of fallen officers. I recognize how tremendously fortunate that I've been for the outpouring of support, both financial support and human support, that has been provided from the community — both locally and nationally. I hope that we can find a way to structure those efforts to give back to those families so they have a similar experience."
Alia earned her bachelor's degree in psychology in 2009, her master's in clinical community psychology in 2012, and she is currently working on her doctorate in clinical community psychology at South Carolina. While she may not have intended for her initial Facebook post to become lifelong mission, Alia admits that the effort is starting to grow in that direction.
"Based on the love for my husband and the connection that we had over his work in law enforcement, and a lot of the skills I've learned as a community psychologist, it all really relates to this work in terms of bridging law enforcement with community support," Alia said. "It does seem that this could be a fitting role for me moving forward."
Kassy had met Greg following her junior year at South Carolina, and she has found strength in the support she has received, with a lot of that coming from ties to her alma mater.
"The USC community has been incredibly supportive of me throughout all of this," Alia said. "Of course the swim team has been incredibly important in terms of having some of my closest friends be there for us and be a part of our family. Many of my teammates reached out, and in fact, many of them came to the funeral. They travelled from all over the country in support. (South Carolina Swimming and Diving Coach) McGee Moody has continued to be a very positive supporter. It almost feels like he's still my coach in many ways, which is really nice.
"The psychology department has also been incredible. The fraternity and Greek Life people — there have just been so many intersections of Carolina life that have come together in support of my family. Greg's fraternity (Phi Sigma Kappa) brothers have been outstanding. President (Harris) Pastides and Mrs. (Patricia Moore-) Pastides were at the vigil that was held for Greg. What a tremendous community of support. I know Greg would be so proud of his Gamecock family, and I am too."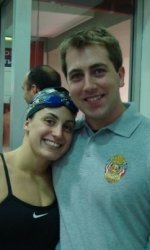 In addition to looking to support families of fallen law enforcement officers, Alia was quick to pay it forward in community support. The week after Greg's passing, she volunteered at a local shelter and Harvest Hope Food Bank to help others recover from the recent floods in Columbia.
"I felt compelled to give back to the community that had given me so much over the past few days," Alia said. "There are many factors that have been incredible in helping me cope and move forward. One of the major contributors of that was the love and the support that was given by the community. In that first day following the major floods, I felt I couldn't just sit at home while the rest of the community was hurting so badly."
As she endeavors to give "Heroes in Blue" some direction, she has a simple message for all.
"Small acts of appreciation toward a police officer make a difference," Alia said. "My husband knew how dangerous his job was and the risks that were associated with being a police officer. I knew that as well. I was so proud of him. When I found out that he had been killed, there was a moment when I thought about the negative attention that the media had been paying towards the police and the lack of appreciation for the sacrifices, such as my husband's, that they are willing to make every day. Having an avenue for those positive messages to be shared so immediately has been incredible for my grieving process.
"There are moments when I miss him so much it's hard to handle," Alia continued. "Then I let myself find my moment, take a deep breath, and you just try to pick yourself up again and keep moving forward. That's what you do as an athlete. I can remember many a swim meet with tears in my goggles. You take a deep breath and you push even harder. Sometimes that leads to the fastest swims or the fastest runs or the best events to make the most of whatever opportunities you're presented with."