Former Gamecocks Fired Up to Play in NFL Playoffs-Divisional Round
Jan. 15, 2016
As the NFL playoffs move into the divisional round, a handful of former South Carolina Gamecocks still have their Super Bowl dreams alive. Those still hoping to take part in historic Super Bowl 50 include defensive backs D.J. Swearinger of the Arizona Cardinals and Darian Stewart of the Denver Broncos.
"I'm feeling great," said Swearinger, who is now in his third NFL season and making his first trip to the postseason. "I feel humbled and blessed for the opportunity. Making the playoffs is a great honor."
"This time of the season is what we all came here for," Stewart said. "You just soak it all in and make sure you are ready to go. The fans are great out here. It's similar to college in that we just have the best fans."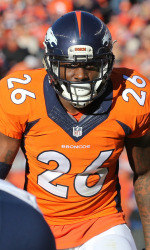 Stewart, playing in his sixth year in the NFL and first with the Broncos, is in the postseason for the second straight year after intercepting Pittsburgh's Ben Roethlisberger in the fourth quarter during last year's 30-17 win in the AFC wild-card round while playing for the Baltimore Ravens.
While both former Gamecocks are enjoying professional success, they've had to pay their dues as they learned to adjust to the NFL.
"You always have your 'welcome to the league' moment," Stewart said. "Mine didn't come until my second year (while with the St. Louis Rams). It was my first real start, against Baltimore. They were picking on the newcomer, and (Baltimore quarterback) Joe Flacco got me that day. That was a learning experience. You have to be able to have amnesia on defense after a bad play and just play the next down. You just have to keep learning from others. It can be humbling."
"I had a couple of rookie moments," Swearinger recalled. "I had one where Rashad Jennings ran right through me and went for a touchdown, and I had a game where Peyton Manning hit a post route over my head. So those were two wake up calls my rookie year.
"You can't take plays off. Everybody has talent in the NFL, and the quarterbacks have pinpoint accuracy so your technique needs to be on point at all times. It's all business here. I like that the most."
Stewart and Swearinger enjoy keeping up with a lot of former teammates who are also playing in the NFL, and occasionally playing against them.
"Of course you're cheering for your team, but you also cheer for your ex-teammate and your friends," Swearinger said. "It's a blessing to see guys that you fought hard with in college in the NFL."
"During the offseason, we all get together and do workouts," Stewart said. "It'll be me, Captain Munnerlyn (Minnesota Vikings), Jonathan Joseph (Houston Texans), and Stephon Gilmore (Buffalo Bills). We all get together and workout, and we talk a lot."
"Coach Spurrier did a lot of great things. Now it's time for a change, so I wish the best of luck to Coach Muschamp and all the guys…I'm looking forward to seeing them next season."

D.J. Swearinger
While he hasn't delivered any of his signature big hits to any former teammates, Swearinger said he wouldn't go easy on them if he has the opportunity in a game.
"I tackled Ace Sanders a while back, but it wasn't a big hit," Swearinger recalled. "Once you get in the game, it's all tunnel vision. I take the approach that those guys are trying to take what's mine, but after the game they're still my boys, and we'll still laugh together."
"I haven't done that yet, but I always wondered what would happen if I had that opportunity," Stewart laughed.
Stewart added that his experience at South Carolina helped prepare him well for life in the NFL.
"Playing in the best conference in football helped me get ready for the NFL," Stewart said. "You've got the competition week in and week out. Just the competition in the SEC, and what you are able to do against it, prepared me."
Steward does admit, however, that South Carolina did not prepare him for the cold weather in Denver.
"It's real (cold) out here," Stewart said. "It's fun. Those heated benches keep us warm. We had a snow game this year, which happened to be my first one. That was actually a fun game. You can't run from the cold though. As cold as it was in that Minnesota (playoff) game last week, I probably would have been in a hoodie."
As they look back on their South Carolina careers, each has his own favorite memories.
"Being in the locker room and just having fun with the fellas was the biggest thing for me," Stewart said. "I still have a lot of close friends from South Carolina. That's probably what I miss the most ââ'¬" just being around my teammates in the locker room, having fun."
"My best memory was the Alabama game (in 2010)," Swearinger said. "They came in with a lot of hype, and they were number one in the nation at the time. We handed it to them in our back yard. The next best moments were the four straight wins we had against Clemson when I played."
While they are focused on their current careers, Stewart and Swearinger are excited about the future of South Carolina football with the hiring of Will Muschamp following the departure of their former coach, Steve Spurrier.
"I think it's a good change," Swearinger said. "Coach Spurrier did a lot of great things. Now it's time for a change, so I wish the best of luck to Coach Muschamp and all the guys. I know the defense will by hyped and amped. I'm looking forward to seeing them next season. I think his energy and that defensive mindset will be great for South Carolina."
"That's big," Stewart said of Muschamp being hired. "Being in the SEC, you have to have that defense. It's tough enough stopping SEC running backs, so if you have a great defense on a solid team. That's what gets it done in the SEC. That's a great pickup. He can get it done there."
With NFL experience under their belt, the former Gamecocks are looking forward to coming back to Williams-Brice Stadium if their schedule allows next fall.
"I always try to get back on a bye week, but it seems like it's always during an away game," Stewart lamented. "Hopefully next year I'll be able to get out there. I've been trying to get back for homecoming for a long time. I can't wait to come back sometime and spend some time with the DBs (defensive backs) and watch some film with them."
"Most definitely," Swearinger said. "I'm looking forward to next year. Hopefully I'll have a bye week during a (South Carolina) home game so I can come back and show South Carolina some love."