Gamecock Softball Seniors (Part 2 of 2): Leaving a Legacy
Jan. 27, 2016
Three straight NCAA Tournament appearances aren't enough to satisfy the members of South Carolina softball's 2016 senior class. As key components in restoring the program to national prominence, seniors Ansley Ard, Jordan Bizzell, Lauren Masters and Alaynie Page are hungry to do more.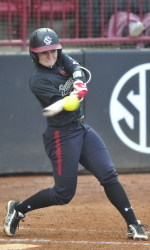 "I want us to get to OKC (Oklahoma City)," Page said of her desire for the Gamecocks to reach the Women's College World Series. "It's not out of our reach. We all want to make a statement. I've said that so many times to Coach Bev (Beverly Smith), that I want to be a part of that team that gets us back on the map. We want to be one of the top programs in the country. It's stated every day that that is our goal. We're on the rise."
"Our mentality gets stronger every year," Ard said. "We have our core values and everything we want our program to stand for."
"One of the most awesome moments during my freshman year was the fight and grind just to get into the tournament, and now it's just part of our culture to get to the postseason," Masters said. "Now, we have the feeling that we're going to be in the postseason. That's a no-doubter."
"It's time to set a new standard," Bizzell said. "That's a goal for this year. We've made the NCAA Tournament every year that I have been here, so why not have a new and higher standard for the team?"
Those standards are shared by the coaching staff.
"The expectations have changed," said head coach Beverly Smith. "Our players have created that. We recruited them all with that thought in mind that we want to bring South Carolina Softball back to where it had been. South Carolina Softball has been to the Women's College World Series eight times. That's where we want to go, so we recruited people with that mindset that they could be the change and make a difference."
You're not going to find coaches that care about you as a person more than what we have at South Carolina.

Lauren Masters
Staying True to Their Roots
All four members of the senior class grew up less than two hours from the South Carolina campus, and they were the first freshman class to play in the new Carolina Softball Stadium at Beckham Field. With all of the positive changes on and off the field during their careers, the selling points that originally attracted them to the program remain the same.
"We have coaches that care," Ard said. "All of our coaches want to get to know you and have a personal relationship with you. Some coaches will just tell you what you want to hear on your recruiting trip, but these coaches tell you exactly what they're thinking. Each has a different personality. 'Nav' (Associate Head Coach Lisa Navas) is a ball of fire, and she may get on you quick, but she is going to be the first one to build you back up. Coach Cal (Assistant Coach Calvin Beamon) wants to give you the best advice, even past softball. Coach Bev is like your mom. You can call her any time, and her door is always open if you need to meet with her one on one."
"We always say we have 21 sisters," Page said of her teammates. "The family aspect of everything and the support you have here is amazing. Each coach different. Coach Bev is the boss-lady, but she has a mother role too. Coach Cal is like the big brother, and 'the Nav,' she can be the goofy one and the hard one at the same time. Each coach brings something different to the team."
"You're not going to find coaches that care about you as a person more than what we have at South Carolina," Masters added. "All of the resources and connections with graduates from South Carolina, and everyone's willingness to help you after softball sells itself. There are a lot of programs out there that really don't care what you do after softball, but our coaches and this school, they're with you for a lifetime. When you come here, you're a family."
Walking the Walk
Getting back to the postseason won't be easy as the SEC has proved to be the most competitive conference in the country. The SEC has won three national championships in the last four seasons, and eight teams were ranked in the final top 25 poll at the end of last year. The Gamecocks seniors have backed up their desires for success with great performances on the field and will hope to lead by example again in 2016.
"Everyone has a role and job to do," Ard said. "Everyone is needed, or they wouldn't be here. So I want to remind them of that, whether they are in the game or not."
"We've progressed quickly," Bizzell said. "The girls that I've been with here have really bought in to what the coaches brought forward. They've been flexible in trying new things that have helped them grow as players.
Page put together one of the greatest seasons in school history at the plate last year, earning First Team All-SEC and NFCA All-American honors. She clubbed a school-record 15 home runs and batted .436 with 45 RBI and had 13 stolen bases while playing left field. Masters started every game at second base last year and drove in 26 runs at the plate, while Ard played primarily right field and was third on the team with a .315 average and nine stolen bases. Bizzell hit .290 with five home runs, 20 RBI and 10 stolen bases while tallying the fifth best on base percentage in school history (.473), and will move from third base to catcher in 2016.
Each of the Gamecock seniors appreciates what the others bring to the team, on and off the field.
"The class that I came in with is like no other in my opinion," Masters said. "Ard listens to all of the teammates and is like the mom. Alaynie Page is a freaking All-American, and then you've got Bizzell who is just calm and confident. Then you have me; the little spark plug. I hope the younger players will see all of our differences and see that this is how the program should be."
"We all have different personalities, and it's amazing that we get along like we do," Ard laughed. "If I were to describe each one, Boo (Alaynie Page) is confident. She has a lot of energy and confidence about her. 'Biz' has a big heart. She loves everyone. Lauren cracks jokes on me every day. She is going to push you to open up."
The student-athletes and coaches have shared in the commitment of creating a culture of success that is seen with the other sports, including the women's basketball program reaching the NCAA Final Four and the equestrian team winning its third national championship last year.
"I feel like the whole athletics department is on that same page here," Page said. "Look at women's basketball and the soccer teams have done here, and look at men's basketball now."
"To me it's about the people here," Smith said. "When student-athletes are looking at other SEC schools, they're going to see nice facilities, and all of their needs will be met. When parents and recruits come here, they see the Athletics Village, and they see that softball is right in the center of everything. The differentiator for me is the people. It's our staff. It's (Athletics Director) Ray Tanner, and it's our other head coaches that are here too. (Women's basketball) Coach Dawn Staley makes herself available to meet with recruits as did (former football) Coach (Steve) Spurrier for me. I would argue that most recruits aren't going in and meeting with the A.D., the women's basketball coach and the football coach when they visit. Here, it's just how we all support each other.
"The fact that we were building a brand new stadium, and we were planning for it in my first two years, and I was in it in year three is really unbelievable. We have a fabulous facility, and then we added the SEC Network. South Carolina committed to having all of our home games on the SEC Network,* and that really changed the ball game too. So the stage that these student-athletes get to play on has certainly changed just in my short time here."
*All South Carolina home games not aired on regular network television are broadcast on SEC Network+, the online platform of the SEC Network.