Ard Excited to Make Impact On and Off the Field
March 31, 2016
South Carolina senior Ansley Ard is excited about going to physical therapy school after she graduates in May with her degree in exercise science, but before that, she is doing all she can to help the Gamecock Softball team remain healthy in the win column.
"For me, hitting in the 9-hole, my job is to just get on base, whether it's a base hit, bunt, whatever I can do," Ard said. "I just want to get on base so I can turn the lineup over for (the top of the order) to come up and score me."
She has done more than that. The Sumter, S.C., native has had a flare for the dramatic in 2016 for head coach Beverly Smith's Gamecocks. She was named the Southeastern Conference Player of the Week on March 21 after stroking a pair of game-winning home runs. She hit a grand slam with two outs in the bottom of the sixth to rally the Gamecocks past Buffalo on March 16 in game one of a doubleheader. In the second game against the Bulls, Ard provided the game-tying RBI bunt single to help South Carolina sweep the doubleheader. She later slugged a walk-off home run in the bottom of the seventh to rally the Gamecocks past No. 12 Georgia on March 20. She even had the chance to come in from centerfield and pitched in a game earlier this year for the first time since high school and ended up getting the win.
"That's one of the beauties about our team," Ard said. "We don't quit fighting. Honestly before a lot of those at bats, I've just said a little prayer. I ask God for courage to stay in my at bats. I just try to stay in the moment and enjoy it. I don't want to think too much."
After missing a game in February in order to go on an interview for physical therapy school, Ard found out she was accepted to Brenau University in Gainesville, Ga., the next week. She responded in her next game after the interview by going 2-for-3 with 2 RBI, including the game-winner in a victory over Coastal Carolina.
"I missed our home game against UNC Greensboro," Ard said. "That was hard, but Coach Bev was very understanding. I was headed to the field when I found out I got in to P-T school. I almost started crying with the lady on the phone because I was so excited. I called my parents and started crying. My mom thought I had been in a car wreck or something."
With both of her parents being South Carolina graduates, her decision to be a Gamecock four years ago was a no-brainer. Likewise, ankle injuries in high school and a shoulder injury which required surgery following her freshman year at South Carolina have led her down the physical therapy career path thanks to her own experiences with rehabilitation professionals.
"I chose physical therapy because you really get to have a one on one with your patients, and that's really what I like," Ard said. "I also have a minor in psychology. It all started with a therapist from my hometown. He really worked with me and got to know me. He made a relationship that helped form a trust. With someone that is injured, a lot of times their first reaction is not to open up and trust someone you don't really know because you know what you'll have to do is going to hurt. When you make that relationship, then they (patients) are more willing to trust you and work with you."
We have so much talent, and so much depth. I want our team to have the full belief that we can overcome anything and beat anyone.

Ansley Ard
Recovering from the torn labrum and rotator cuff suffered during her freshman year furthered her resolve that she was making the right career choice with her studies.
"I really enjoyed working with (South Carolina Athletic Trainer) Jenn Herod and the others," Ard said. "It made it clear that this was the sort of thing I wanted to do and to keep pursuing."
Ard was able to take part in some professional job shadowing with a physical therapist last summer as well as throughout the last school year to give her an idea of what everyday life is like on the job. She has continued to communicate with her mentors, which has helped her along in the process.
"I look a lot at how people walk now," Ard said. "I start to notice things more now, especially when our athletic trainers talk to me about certain things. I ask more questions. I know our first semester of P-T school will be a lot of anatomy, so I want to get to know a few things before I get there.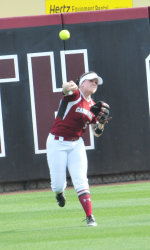 "It's helped to get to know what to expect with P-T school. I've been there as a patient, and I know how hard it can be when you first start rehabbing. Just seeing how you can calm someone down and really develop that trust is big. I started thinking in my head, `What would I say to that patient?' Being able to relate, really meant a lot."
While she is in physical therapy school, Ard will have the opportunity to discover areas for which she may be interested in specializing.
"When you're doing your clinical work, you can be in a hospital setting, you can be in an orthopedic setting, you can work with kids, or you can go neurological," Ard said. "So I'll have plenty of options and have plenty of time to decide if I want to specialize somewhere. With my current practicum, I've worked with the geriatric population, and I've really enjoyed that. I've been in a hospital, and I've really enjoyed that. I didn't know that I would at first."
Ard has worked in cardiac rehabilitation at Lexington Medical Center as part of her practicum for her undergraduate work. That takes anywhere between 25-30 hours per week, so coupled with softball, there's not a lot of free time for anything else.
Physical therapy school is a three year commitment, and students are in school year-round for fall, spring and summer semesters. Maintaining the active lifestyle to which she is accustomed as a student-athlete may be a challenge.
"It's non-stop," Ard said. "I'll never stop missing softball when it's over. I'll probably see if there are any intramural teams for sure. I love playing sports, so I don't think I could ever give it up, even if I had to find a slow pitch team to play on."
While she is excited about her professional future, Ard is still keenly focused on helping the South Carolina softball team be the best it can be.
"I want to see this team do well," Ard said. "We have so much talent, and so much depth. I want our team to have the full belief that we can overcome anything and beat anyone."
Sounds like good advice for her future patients.