George Rogers Documentary Set to Air on SEC Network
Aug. 31, 2017
As humble as George Rogers was during his South Carolina and professional football career, it's somewhat ironic that ESPN's new film on the 1980 Heisman Trophy winner is titled "King George." The documentary which airs on the SEC Network on Tuesday, September 5, at 9 p.m. was produced by ESPN's Kenan Holley and directed by James Weiner of NFL Films.
"If it wasn't for the University of South Carolina, there would be no George Rogers," Rogers said. "It's a true story, obviously. I just wanted people to know that I've been through changes and a lot of growing up after I had thought I was a grown man. You're not invincible. Things happen, and I came through a lot of stuff. I came through things that I'm ashamed of. I came through some things that I wouldn't want anyone else to go through."
"As far as George Rogers, the person, he's warm, and he's friendly," Weiner said. "He just comes off as being extremely likeable, and for completing the project, he could not have been more cooperative. I do a lot of these. I came away with a very positive feeling, and that doesn't happen all the time. A lot of times I deal with subjects who are used to publicity and, frankly, are tired of it. George Rogers wasn't that way. He was great."
"I think he's a stereotype breaker," Holley said. "Some people think of athletes as being cocky and celebratory, and there is sort of stigma with that. George came at a time when he could just be himself, and being himself meant being humble. His personality was able to bridge a gap. That's something that sports can do – create bridges with people of different economic, cultural or racial statuses. He did that by being a great player and genuine person.
"George is an affable guy. He has a laugh in his voice. He is the kind of person you want to be around and you like working with."
The film goes into great detail of Rogers' success at South Carolina, where he won the Heisman Trophy in 1980, as well as an outstanding NFL career that saw him earn Rookie of the Year honors with the New Orleans Saints in 1981 and earn a Super Bowl ring in his last season with the Washington Redskins.
"He did a lot of good things," Holley said. "He led the league in rushing in his rookie year. He was incredible. I forgot he was so effective as a pro. At South Carolina, he did some great things. With him, they competed with [Southern California] and beat Michigan. Those were huge accomplishments."
He's just a good guy, and a good guy to have a statue of.

James Weiner, Director
In chronicling his Heisman season, the 1980 matchup at Georgia, which spotlighted Rogers and Herschel Walker of the Bulldogs, is also a significant piece of the story.
"I was not really aware that that was really the only game that George's father saw him play," Weiner said. "His father had just been paroled from prison. For George, it wasn't a significant deal. For the media is was an interesting subplot. George just wanted to play the game.
"The other part about that game is South Carolina is down 13-0 and George almost single-handedly brings them back. It looks like they're going in for the winning touchdown, and George gets hurt. They take him out for one play. They put him back in, and he gets hit on that hand that had been hurt. He fumbles and they lose the game. You see it in his emotion that he's as upset about it now as he was then. The reaction by the fans wasn't that he blew the game; it was how close he game to pulling it off. That's not typical. That just tells you how much the people in South Carolina loved this guy."
Weiner noted that there was plenty of footage to use from Rogers' NFL days, but finding other archival footage from his days as a Gamecock wasn't as easy.
"The most satisfying thing that happened in that regard is that we sent a researcher to WIS TV in Columbia, and she dug up some tapes that hadn't been touched in 35 years," Weiner said. "On one of those tapes is the scene where he came back to Columbia after winning the Heisman Trophy and is greeted by 10,000 people. That's a shot that probably hasn't been seen in about 35 years."
The film also details Rogers' drug use in the NFL.
"Some things are a little difficult to talk about, but to be able to tell your story, that's what you have to go through," Rogers said. "To get yourself right with God, you have to go through some things, I guess. I feel like I'm there at this time."
"The biggest challenge is really just telling the story that has some highs and lows," Holley said. "You can't tell anyone's story without telling the lows. George was so good because he was open in talking about that."
"If I could talk to my 18 year old self, I'd tell myself that you've got a lot of growing up to do before you go to college," Rogers said with a hearty laugh. "There are a lot of things you'll experience where you'll let people get one over on you. Giving people my time is sometimes my weakness. I've learned that sometimes you have to say 'no.'
"Coach [Jim] Carlen was like my dad to me. He was a father figure."
That piece of the story is only one chapter in what makes Rogers so beloved by South Carolina fans, and vice versa.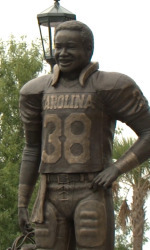 "I don't think people really know George outside of the South Carolina region and realize how much he means to Columbia, the University and to the people of the state for how much he was able to accomplish," Holley said. "George going [to South Carolina] was a huge coup. Winning the Heisman was an enormous accomplishment. George as an individual was the perfect fit for South Carolina at that time. He talked about everything being 'our' accomplishment."
For now, life is good for Rogers, who recently got engaged. He spends a lot of time fishing and some time on the golf course, but he's quick to point out that he enjoys being an ambassador for the University whenever he is asked.
"They never turned their back on me," Rogers said of the University of South Carolina. "They never did. I'm appreciative for everything they've ever done for me. They put up the statue [at Williams-Brice Stadium] and gave me a street [George Rogers Blvd.]. All of that is for my teammates. I want them to know that a lot of them are the ones that made me look good."
Whether or not fans had chance to watch Rogers play, those involved in putting "King George" together think fans will be pleased with how his story is told.
"He's just a good guy, and a good guy to have a statue of," Weiner said.
"I've watched in several times," Rogers said. "I'm happy with it. I told the true story about George Rogers."
Rogers and some of his fellow lettermen will be previewing the film at Wild Wing Café in the Vista Thursday night.