Leaders Look to Step Up for Women's Soccer Team
Armed with 26 underclassmen, the Gamecocks are young, but talented.
The South Carolina women's soccer team is coming off the best two-year stretch in program history, and as the Gamecocks open the 2018 season Friday at Stone Stadium, they'll be doing it with a program record 26 underclassmen and only one senior on the roster. That doesn't faze head coach Shelley Smith even though she will also have to fill some holes in the absence of a few of their top returning student-athletes, at least early on.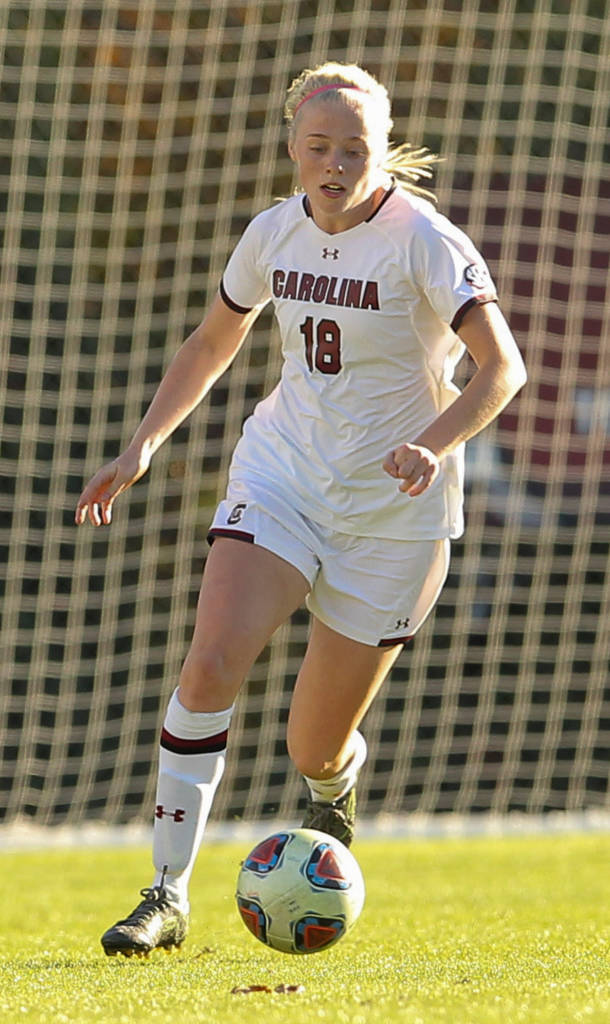 Grace  Fisk
"I'm very excited about this team," Smith said. "We're very young with a huge group of new faces. They're definitely willing to work hard, and we're excited about the future. People will have to step up. 
"We really have very few that we will be putting back on the field that started for us in the last game last fall. They are such a neat group. They get along. They have a very good culture in the locker room. On and off the field, they're like a family. That makes a difference when you come on the field."
Having a young team is nothing new for Smith as freshmen accounted for 15 of the team's 37 goals last year on the way to its second straight SEC Championship, first-ever appearance in the College Cup semifinals, and 19-3-1 overall record. The year before, South Carolina won a program-record 21 games. The Gamecocks have gone undefeated with one tie in SEC regular season matches over the last two seasons.
"We were young last year, and we went further than we thought we could have," Smith said. "You just have to be optimistic and build up the young players no matter what level of play they're at. Last year they (freshmen) did that, and we have an even more talented group this year."
The Gamecocks graduated several key players, including All-American and two-time SEC Offensive Player of the Year Savannah McCaskill (8 goals, 9 assists).  An injury will keep the team's top returning goal scorer, junior forward Elexa Bahr (8 goals in '17), out for at least the first few games, and junior All-America defender Grace Fisk, who earned SEC Defensive Player of the Year honors last season and is the lone team captain this year, will be absent early on while playing for England's national team in the U20 World Cup in France.
Now in her 18th year at South Carolina, Smith noted that this has been the most difficult time she has had in picking out a starting lineup.   
"It's very competitive," Smith said. "We're going to need a learning curve as those young players get put in situations against top opponents. That's the only way we're going to get better. The team we are to start the season, is not the team we'll be at the end of the season. We have to remember that and grow every day." 
"Any time you come off a year like last year, the expectations rise."
Coach Shelley Smith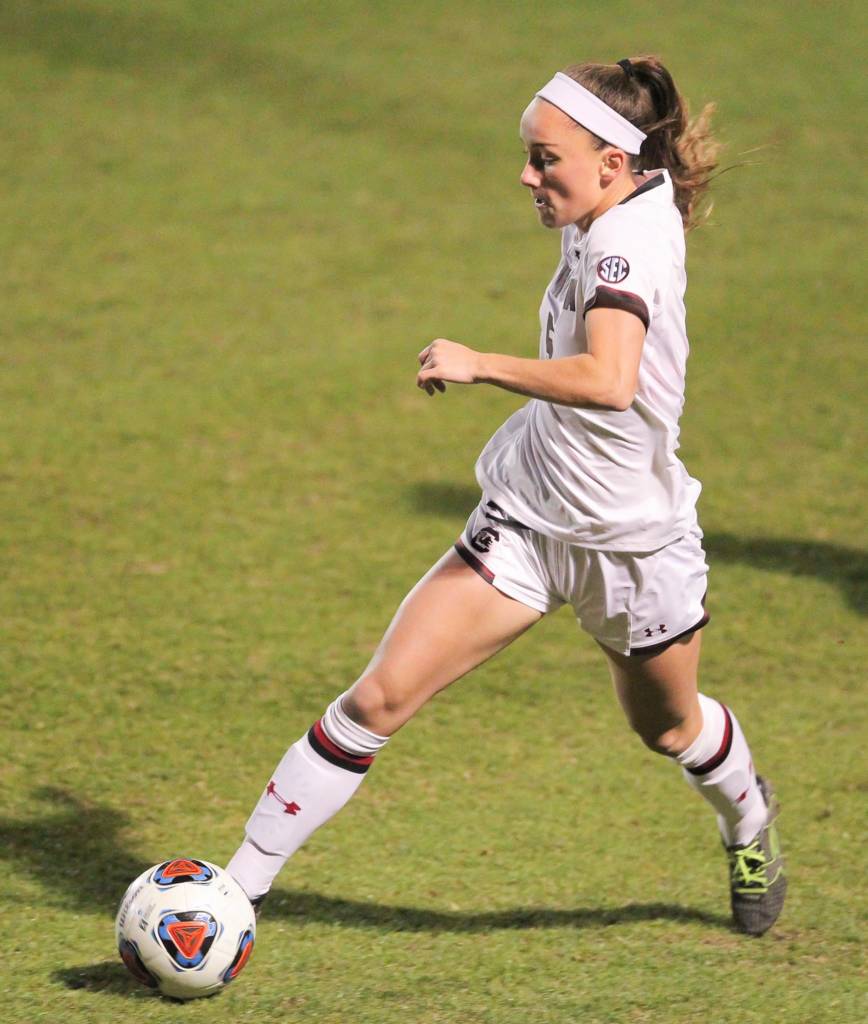 Luciana  Zullo
Simone Wark missed last season with an injury, and the lone senior is not concerned about leadership for the team.
"I don't think it puts more pressure on me at all," Wark said. "I think I have a really cool opportunity to see a lot of underclassmen take on new leadership roles. It's all coming together well, and everybody is playing their part.
"I'm super excited to get back after taking last season off with injury. You can learn a lot just from observing."
"It just allows our juniors' roles to change a little bit," added junior goalkeeper Mikayla Krzeczowski. "We're just a little bit more in the guidance roles, speaking up, helping out where we can, and things along that line. We have a lot of new talent, and we're really excited to get going."
After leading the SEC in fewest goals allowed (11) and a program-record 16 shutouts last year, Smith knows that defense will be key once again, especially as they work through the early part of the season. 
"I think we have the most returning players in those positions for sure," Smith said. "Our defense was excellent last year. Grace was a huge addition, and when she gets back that will be a big piece.
"We expect great things out of her. As the lone captain, we know she is capable. She was a unanimous choice as captain for this team, and deservedly so, not just with her playing ability but with what she does off the field as a leader and a person. So, there's pressure on her, but I know she has a good core group around her."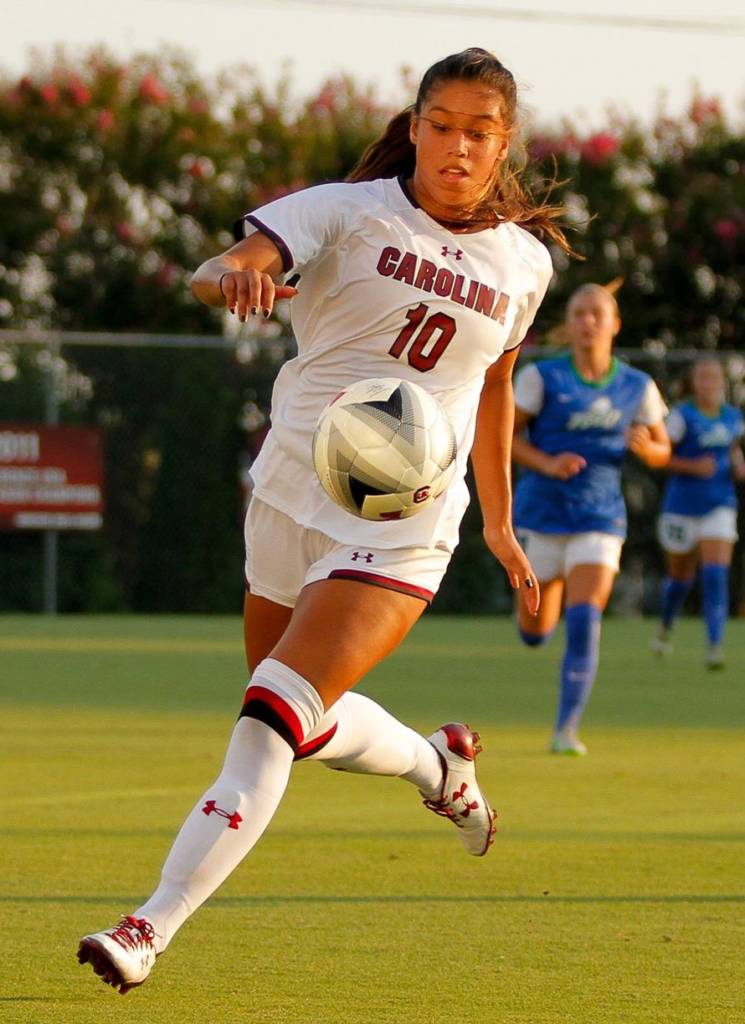 Elexa  Bahr
"Every game is a new opportunity," Krzeczowski said. "I love thriving on pressure. If you make one mistake back there, it's going to end up being a goal. I love communication and organizing. Somebody once told me that goalkeeping is like the quarterback position; you have a lot of communication, and you get to see the whole field."
While returning sophomores Jackie Schaefer, Tatumn Milazzo and Sarah Eskew saw plenty of minutes last year to bolster the defense along with a list of newcomers, the Gamecocks will look to replace both center midfielders who played most of the minutes a year ago. The competition there is "wide open" according to Smith. Offensively, Bahr is a threat when healthy, but she's not alone in the ability to find the back of the net.
"Elexa is someone we can count on when she is healthy," Smith said. "Savannah took a lot of attention last year and left Elexa open at times, which was great for her in building as a player and her confidence to show what she can do. This year, she needs to figure out, if she is the focus of our attack, how she is going to handle that. I think we have enough depth and variety in our attack that Elexa won't be the only one they're keying on.
"(Sophomore) Luciana Zullo (5 goals in '17) is very capable as well and is the most dangerous attacker."
The 2018 Gamecocks may have a lot of new faces on the pitch in 2018, but the goals remain the same.
"Any time you come off a year like last year, the expectations rise," Smith said. "What that shows, is that they have the ability to play with the best in the country. Players that come here, come here for a reason; to play at the top level and to win SEC Championships."
"Every year, we try to raise the bar," Krzeczowski said. "Making the Final Four, breaking records, and making program history is huge. So, yeah, that will be the new standard to follow every year."