Making the Most of an International Opportunity
It may not have exactly been the "luck of the Irish," but Eric Favors' Irish heritage afforded the South Carolina track and field thrower an outstanding opportunity in his athletics career. The redshirt junior from Pomona, N.Y., has dual citizenship in the United States and Ireland, which allowed him to compete at the Irish Senior Championships this summer in Dublin, and he hopes to eventually wear the green at the 2020 Olympics in Tokyo.
"Just going there will set things up for me next summer and possibly after that to compete in Ireland and other places in big international competitions," said Favors, a criminal justice major. "Not being used to the environment, I didn't know what I was going into at first, but I think this will really help me for my future in competing.
"I didn't know anyone there, but I went and had a great experience."
His path to dual citizenship started a couple of years ago while back home in New York after he attended some training sessions from Paddy McGrath, a 2000 Olympian who competed for Ireland and is currently a renowned high school track coach near Favors' hometown. He told Favors, whose grandmother is Irish, that he could apply for dual citizenship.
"I applied and got my passport, and then I was able to join an Irish club and compete at the Irish Senior Championships," Favors said. "My grandmother is from County Mayo in Ireland. She came over to the United States in the 1950s." 
"The hospitality was great. They took me in as one of their own."
– Eric  Favors
Favors has put together a solid career in two years competing for South Carolina after qualifying for the NCAA East Regional both years. While competing in the SEC in challenging enough, the opportunity to compete internationally was something he could not turn down.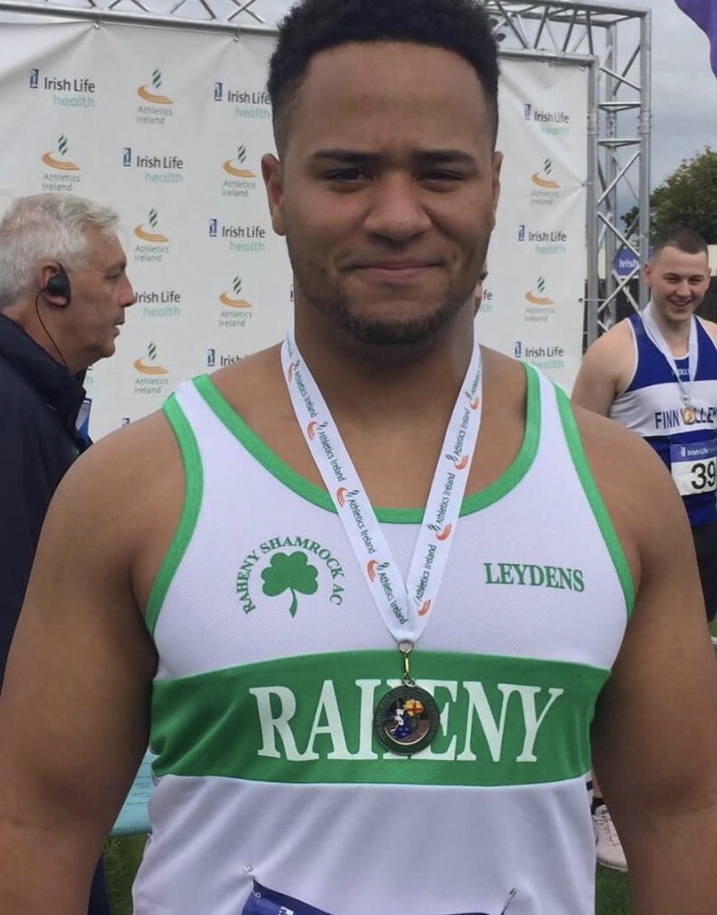 "I had never been overseas," Favors said. "The furthest away I had been was Canada. It was an awesome experience to go to Ireland. I was a little shell-shocked at first."
Competing for the Raheny Shamrocks Track Club, Favors finished second in the shot put in Dublin with a mark of 16.45 meters, and he took third in the discus with an effort of 50.26 meters.
"It was tough because my (college season) ended when nationals were over a couple of months before this, so it was hard to get back into training," Favors said. "I had taken such a long break, so my performance lagged a little bit. I think the time off really affected my shot put, but it was still a great experience, and I really enjoyed it. I'm definitely going to pick up my performance by next summer.
"The hospitality was great. They took me in as one of their own."
Favors also had time to enjoy the scenery and culture of his relatives.
"I toured all around Dublin and saw all of it," Favors said. "It was really fun. Just walking around and experiencing the culture and how different it is, that was really great."
Favors admits it took some time to understand some of the locals due to a thick brogue. 
"Sometimes I would really have to concentrate and listen when people were talking to me," Favors said. "I started to pick up some of the slang and things like that, though."
As he moves forward into another year of competing for the Gamecocks, Favors looks forward to improving his skills in the hopes of becoming the next great thrower to wear the garnet and black, following in the footsteps of first team All-American and 2018 NCAA silver medalist Josh Awotunde. For now, his goals are simple.
"I just want to throw as far as I can each time," Favors said. "Eventually, I would love to compete for Ireland."