Kurtz is Grateful and Humble in Winning Professional Title
At her current pace, former South Carolina women's soccer standout Kaleigh Kurtz is going to run out of fingers for her rings. When you're winning championships at different levels, in addition to finding room for your school ring, it's a good problem. Now playing professionally, Kurtz is a member of the National Women's Soccer League's North Carolina Courage, which won the league title in September.
"I've got the SEC Championship ring, and a ring for the (NCAA) Elite Eight, and my graduation ring from South Carolina, and they're all massive!" Kurtz laughed. "I didn't run around and ask at first, but, yeah, we should get a ring for winning the NWSL final four tournament."
Kurtz, who earned SEC Defensive Player of the Year honors as a senior with South Carolina in 2016 while leading the Gamecocks to the SEC Regular Season Championship, was on the Courage's roster this year along with former Gamecock teammate Sabrina D'Angelo (2011-2014).
"It was really cool because coming into preseason, she was the only person I knew," Kurtz said. "The first day of preseason, we did some fitness, and she was right there cheering me on and making sure I kept up with everybody, so I could get a spot on the team. I couldn't have done it without her."
The NWSL title game was played in front of a sold-out crowd at Providence Park in Portland, Ore., on September 22 as the Courage defeated the Portland Thorns in the championship match for the second straight year.
"I don't think they could have picked a better place for the championship than Portland," Kurtz said. "There were about 20,000 people in the stands! It was great to be in that environment and to have that many people cheering. You could feel the energy, whether it was for our team or not. It was great for women's soccer."
"It's humbling to know how cocky I was in college and then get knocked down a few pegs, and now I'm able to play with these unbelievable people. They're so humble about how good they are."
-Kaleigh  Kurtz

The Courage had a memorable year, after winning the Women's International Champions Cup in July, the NWSL Shield (regular season title) as well the NWSL Championship at the end of the season.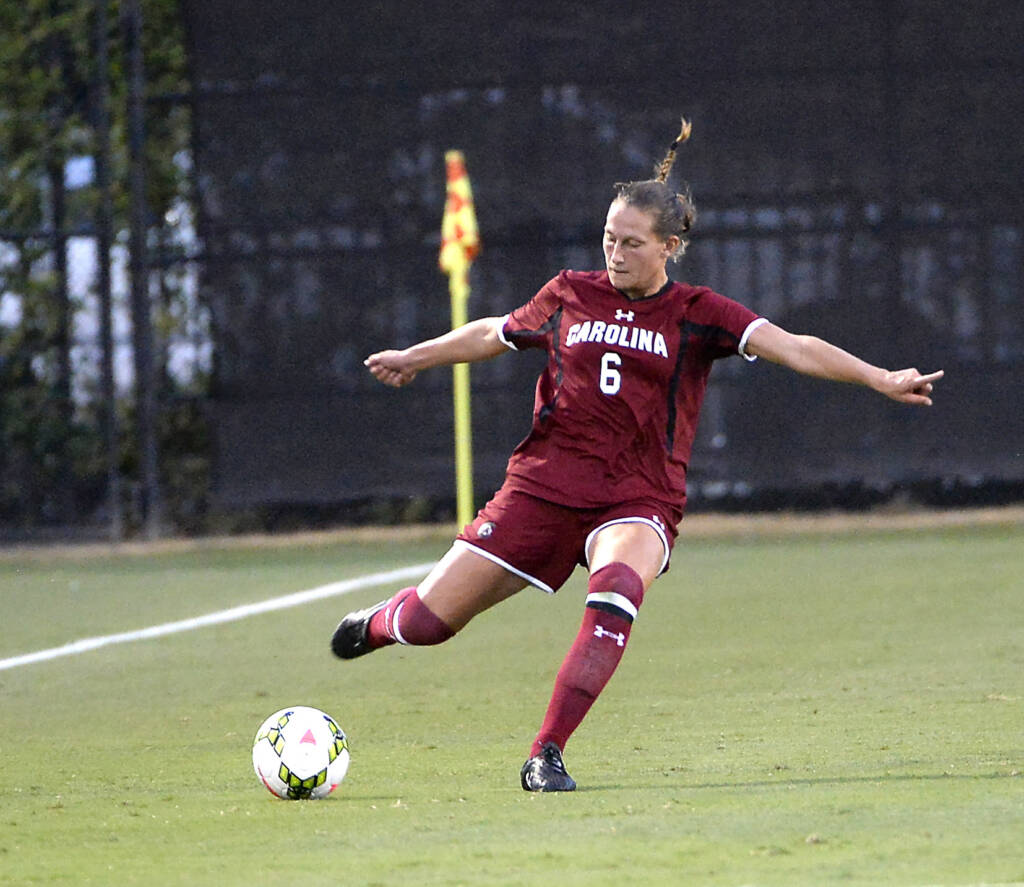 "Winning these championships feels pretty much the same as winning the SEC because that's the goal for whatever team you're on; to win a championship," Kurtz said. "Winning the SEC was huge when I was a Gamecock. It's a championship environment no matter where you are. In Portland, you had the confetti being blown on the stage in front of everybody. For my senior year at South Carolina, we won the championship on senior night. A championship is a championship. They're all cool!"
After graduating, Kurtz began her professional career in Sweden before returning home and finding an opportunity in the NWSL. Despite her many accolades, playing professionally in the United States was a little humbling at first.
"I went from playing every minute as a Gamecock and when I played professionally in Sweden to sitting the bench for a majority of games," Kurtz said. "Because I'm a center back, you don't really sub that position unless there's an injury. Having a different role on the team was hard at first. The speed of a game was a huge adjustment for me."
In the end Kurtz is fulfilling a life-long dream of playing the sport she loves as a professional, and she has a better understanding of how competitive professional soccer is in the United States.
"These veteran players in the NWSL are true professionals and are the best of the best in the game," Kurtz said.  "It was intimidating at first. We have some big names on our team, and when I was in training camp, I knew I had to keep up with them or else I wasn't going to make the team. When the national team players left for their camp, I felt like it calmed down a bit and that allowed me to get my confidence back up a little bit.
"To see how different things are from the beginning of preseason to the player I am now, with the speed of the game, it's humbling to know how cocky I was in college and then get knocked down a few pegs, and now I'm able to play with these unbelievable people. They're so humble about how good they are."
Kurtz earned her degree in exercise science with a concentration in scientific foundation and a minor in chemistry. Whenever her professional soccer career is finished, she'll consider taking a few more classes so she can become a veterinarian. For now, Kurtz looks forward to being back with the Courage when training camp opens in February.