Lessons Learned in Athletics Propel Sorin in Business
Bert Sorin's rise as a track and field athlete would make a good Hollywood script. The son of a former Gamecock track star, Sorin went from being an unheralded walk-on for South Carolina to becoming an SEC Champion in his event. But his story doesn't end there as the 42-year-old businessman recently came back to compete against current student-athletes and won his event at the Gamecock Inaugural last month, which opened up South Carolina's new indoor track and field facility.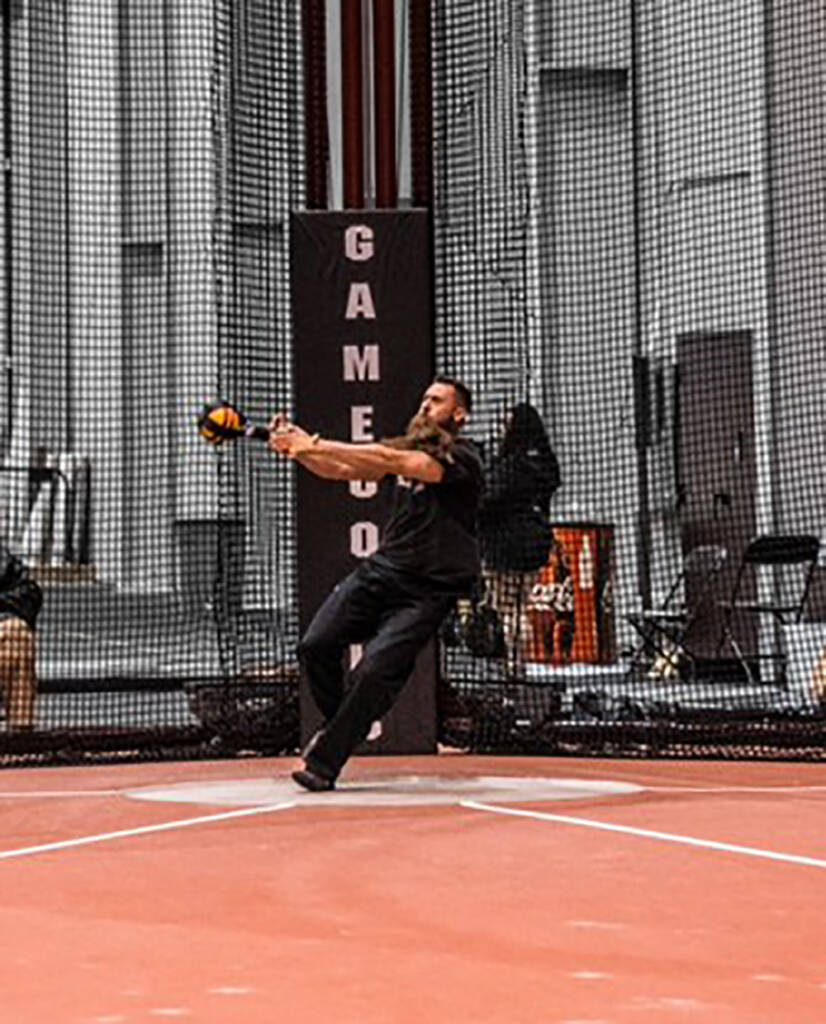 "I owe my athletics career to the University of South Carolina," Sorin said.  "It all boiled down to my walking on to the team. I guess they realized my dad had a good career there years before and maybe they thought I had some of those genes. I tried really hard, and I had a lot of passion. Honestly, I think the coaches kept me around as the 'good attitude' guy. I just worked really hard."
Sorin currently lives in Lexington, S.C., where he runs the family business, Sorinex, which was started by his father, Richard, in 1980 after a successful track and field career from 1968-72.
"He threw the shot put for Coach Weems Baskin," Sorin said. "I came to South Carolina in 1994 and walked on to the team as a javelin and hammer thrower. I grew up as a Gamecock. I wasn't planning on being an athlete in college. I wasn't a very good athlete in high school, but through a couple of crazy Forrest Gump-like turn of events, I ended up on the team.
"I had thrown the shot put and discus in high school, but I wasn't very good at it. I was 6'2″ but only about 175 pounds when I got to college. That's not exactly the typical thrower build. My dad had done it, and I thought I would try. Then I realized I walked on to one of the best throws programs in the country in the mid-90s. I didn't realize it at the time, but there were a lot of All-Americans and SEC Champions on the team during that time. Then Coach (Curtis) Frye came in, and I saw the professionalism, and I caught the bug and decided I wanted to be like one of those people."
The skinny kid transformed himself during his career, earning All-American honors in 1998 and 1999, in addition to becoming the SEC Champion in the weight throw in '99. He went on to compete at the U.S. Olympic Trials in 2000 and 2004 and enjoyed a professional career afterwards.
Sorin also learned some valuable life lessons along the way. Prior to Coach Frye's arrival, it was somewhat customary for anyone who scored at the SEC Championships to be put on scholarship, if they were not already. However, Frye had planned on giving an available scholarship to a high-profile incoming freshman named Terrence Trammell, who would go on to become a six-time NCAA champion, so Sorin only received a partial scholarship.
"Under (former coach) Greg Kraft, if you had a NCAA provisional mark at that time, that was an automatic full scholarship," Sorin recalled. "So, as a walk-on without a lot of cash, that's where I set my sights. Coach Frye came in, and I think he gave me enough for books or something like that. He told me that he was trying to make South Carolina a full track & field school and not just a throws school, and to do that he was going to have to invest in athletes other than the throwers. He gave me a lot of respect, but he told me about this young kid coming in who was one of the best track and field athletes in the nation. He said that this was going to make us all better.
"I was mad at first, as anyone would be at 19 years old. It was an immature way for me to think. But this was one of my first lessons in business. This is what was best for the business of South Carolina track and field. We went to the first indoor meet with Terrence. I had a nice personal record. I go to watch Terrence, and he's staring down the track like a lion, and he runs the fastest mark in the nation in his first race. I remember walking over to Coach Frye and saying, 'that was (scholarship) money well spent!' "
"I appreciated his analysis of the situation," Frye said. "I know when you make tough decisions, that everybody is not happy. Sometimes it can last a long time, but for him to get it, it made me feel good."
"Being there was like revisiting an old friend."
Bert  Sorin
Sorin enjoys serving as president of the family business and has built innovative training solutions for many professional sports teams and celebrities and recently produced 20 custom pieces of equipment for the weight room in the new Long Family Football Operations Center at South Carolina. In addition to the football team, the track & field squad uses the facility for their daily weightlifting sessions.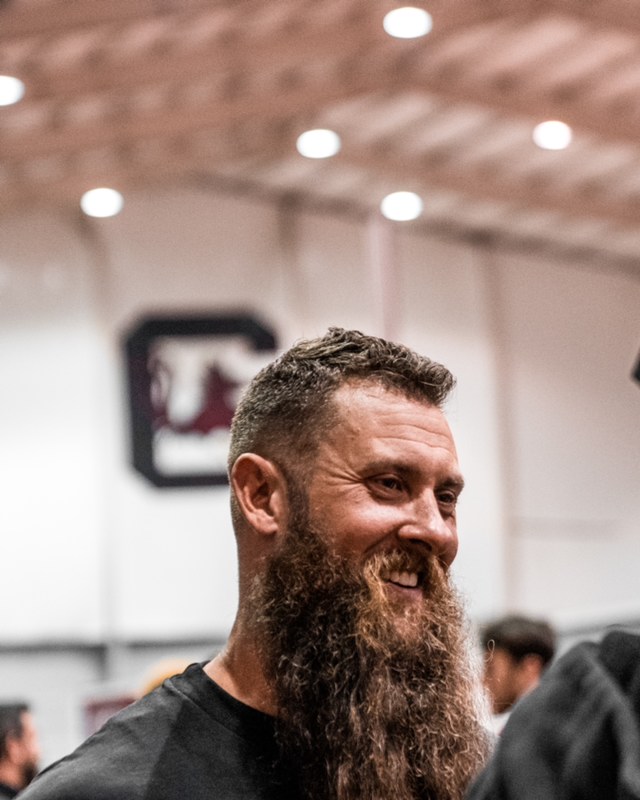 "We've done work with South Carolina for a long time now," Sorin said. "In 2000, we built things for what was the new weight room then, and in 2008 we built a lot of stuff for the weight room at the (Williams-Brice) stadium. (Director of Football Strength and Conditioning Coach) Jeff Dillman challenged us to come up with something that would be the best of the best. We designed something that no other school has. These work stations are customized for the unique needs of our coaches and staff. It's a combination of free weights, cable resistance, band resistance, and leverage resistance. It utilizes all the modalities that you would generally see in a weight room, and it's pulled into one piece of equipment.
"Not only can use the four different modalities, but you can interchange and combine them within the same activity, which is something that hasn't been done before. I'm very proud that my Gamecocks have such an innovative tool.  It's going to change the way they can train."
As noted earlier, the former All-American-turned-businessman's story doesn't end there. When South Carolina's new indoor track and field facility hosted its first event, the Gamecock Inaugural, Sorin came back and entered as an unattached competitor and proved he was still in top form by winning the Open Weight Throw event.
"When I was at South Carolina, Coach Frye was always telling us how we're going to get a new track," Sorin said. "I had joked with him a while back and said that whenever you get that new track, I'll come back and throw. The night before the meet, I found my old throwing shoes in the garage and had to make a new glove out of a gardening glove. I took a Dramamine so that when I spun around, I wouldn't get sick because I had gotten motion sickness a few years back doing what I used to do as a job!
"A lot of the student-athletes from the other schools were wondering why this old bearded guy just showed up. Being there was like revisiting an old friend. My goal was to not get hurt, not finish dead last, and I thought it would be cool if I could pull off a decent throw and win so I could have the new field record, at least for an hour! So, I had that until the Invite section of student-athletes came in and beat it, like they should have. It was fun."
Sorin loved the new facility and said he likely won't be throwing again soon. Of course, never say never, because who doesn't love a good sequel?
"I had a good career there at South Carolina and I always love to give back," Sorin said.