Unique Opportunity Provides Inspiration for Gamecocks
Even when the score doesn't matter, an off-season scrimmage can make an impact on a team. The South Carolina women's soccer team recently traveled to Cary, N.C., to scrimmage 2018 National Women's Soccer League champion NC Courage. While the Gamecocks dropped the exhibition match, it was a great opportunity for the young student-athletes to compete while also giving former Gamecock standout and SEC Defensive Player of the Year Kaleigh Kurtz (2014-2016) a chance to play against her alma mater.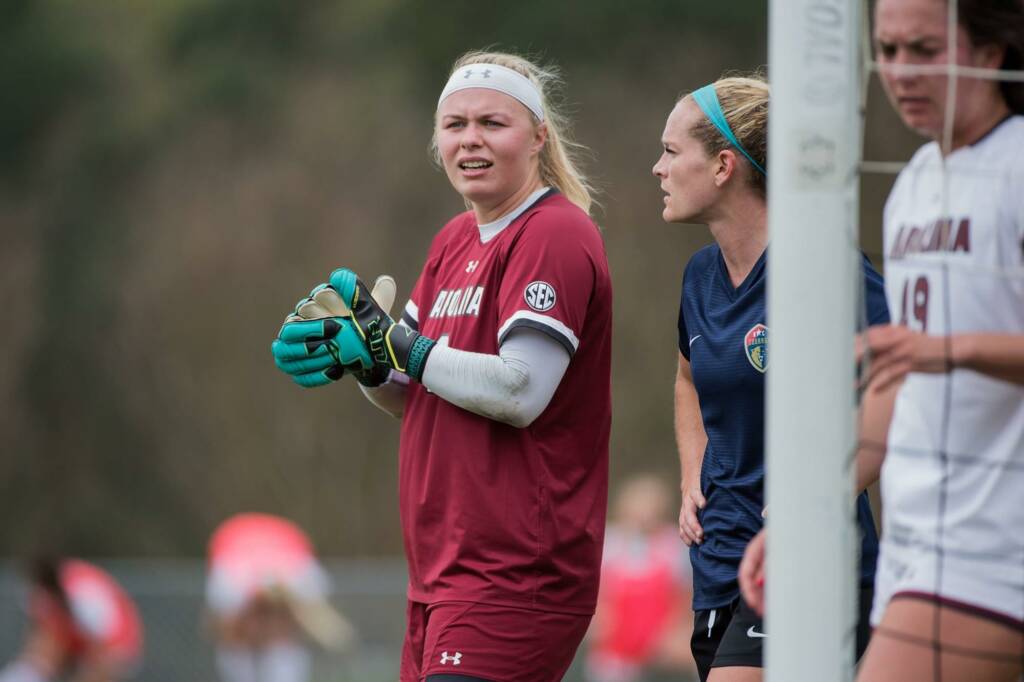 "It was good to see where they have developed, and what kind of changes (head coach) Shelley (Smith) and (associate head coach) Jamie (Smith) have made to the program," Kurtz said. "I only know one class that's still there, so it was weird to see all these new faces, but it was really good."
"It was a lot of fun having her out there and seeing her grow," said junior goalkeeper Mikayla Krzeczowski who played with Kurtz during her final season with the Gamecocks. "My freshman year, she made my job so much easier. I don't think I've ever seen her take a day off or take the easy way out. Her progression through her professional career has been outstanding and so much fun to watch. She is so dedicated and is an inspiration to us. She's somebody we can always talk to and go to. She's always accessible and is always helping us."
Kurtz helped the Gamecocks win the SEC Championship as a senior in 2016 and advanced to the Elite Eight of the NCAA Tournament. She was a part of NC Courage's NWSL championship last season as well. She also enjoyed the opportunity to speak to the South Carolina team after the scrimmage.
"I told them that this program that Jamie and Shelley have developed is certainly good enough to get them into the pros if that's what they want to do, but it also takes hard work and dedication," Kurtz said. "If you don't show up to practice and give 100 percent, then you're just wasting your own and everyone else's time."
"It was fun to see where we are now and what our potential could be."
– Mikayla  Krzeczowski
South Carolina coach Shelley Smith enjoyed having Kurtz on the other sideline.
"Kaleigh is a great example of what can happen if you put your mind to it," Smith said. "She transferred in and didn't play much her first year here. She had to learn a lot. Then she took over in a starting role the next year and became an All-SEC defender, and she's in the pros now. Her story is inspirational. If you believe in something and put your mind to it, great things can happen. She definitely didn't take it easy on us!"
"It's a huge inspiration for us," Krzeczowski added. "When you see someone out there that you played with, you think, 'hey, they did it. So can I.' They trusted the process and went through it. It reassures us because it's the same staff. This athletics program allows so many people to go pro, not just in soccer, so it gives us hope that we can get there."
For Kurtz, she was able to see a little of herself in the younger players.
"When some of my (NC Courage) teammates were walking through the locker room, some of the (South Carolina) players were in awe to see someone like (former college National Player of the Year and U.S. Women's National Team member) Heather O'Reilly walk through and just strike up a conversation with them," Kurtz said. "I think it made some of them a little star-struck. That was cool to see because I remember that's how I was when I first got here last year. I remember thinking, 'holy cow, I'm speaking with Heather-freaking-O'Reilly right now.'"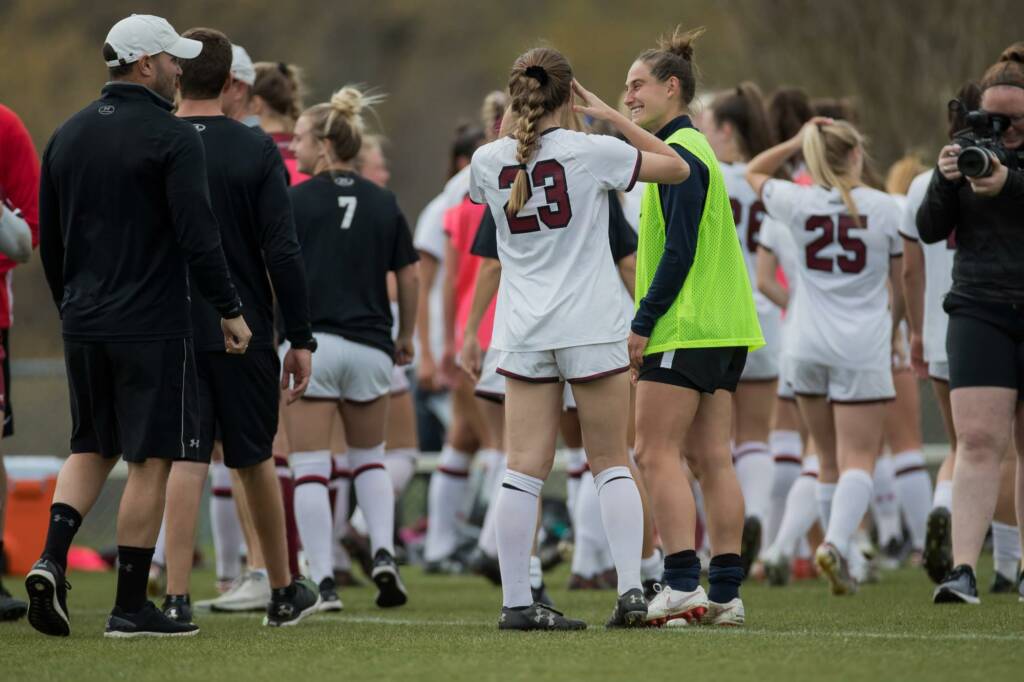 As for the scrimmage itself, it was a valuable experience for the Gamecocks as they prepare for the 2019 season next fall.
"We wanted a challenge and see how we would do under that much pressure," Smith said. "We know they'd have some of the best athletes we'd face and that the ball movement would be quick. We wanted to see how we'd stay together as a team in a scenario where the other team would have the ball a lot.
"I thought they handled it really well. I think they passed the test of supporting each other and staying together. They did some things that we had been working on, instead of panicking in moments where they put us under good pressure. We stuck together as a team defensively and limited their opportunities. Our attack was a little lacking, but we did some good things in the middle-third, which is something we've been working on. We did create some chances and did some things that can make us look pretty dangerous. If we do that against some other college teams, we would have a lot more scoring chances."
"It was awesome to get that opportunity and be introduced to the professional level; seeing how fit these girls are, how much they devote their lives to just soccer," Krzeczowski said. "Here, we're also getting an education and have other things going on. It's really cool to see how the professionals handle their business. We knew going in that they were going to be faster, stronger and more skilled, but we wanted to take it one play at a time. I think we handled it pretty well.
"It was fun to see where we are now and what our potential could be."