Women's Tennis Puts Up Impressive Numbers, but Team has Larger Goals
South Carolina women's tennis is putting up some pretty impressive numbers this spring. Whether its record-setting national rankings for the team or individuals, or finding ways to win in unlikely places, the Gamecocks are hoping those numbers will add up to something special at the end of the year.
"We really haven't operated with specific goals this year," head coach Kevin Epley said. "We've operated in a next-match philosophy and making sure our consistency is there. The only goal is the next match. We feel if we adhere to our standards and principles, then we're very hard to beat. We look at the rankings as more of a live tracker of where we are."
That won't stop us from taking a look inside those numbers!
3
On April 2, the Gamecocks earned a program-best No. 3 national ranking in the Intercollegiate Tennis Association weekly poll. That broke the record the team had achieved just the week before when it was ranked No. 4. Epley noted that the team is taking the accolades in stride.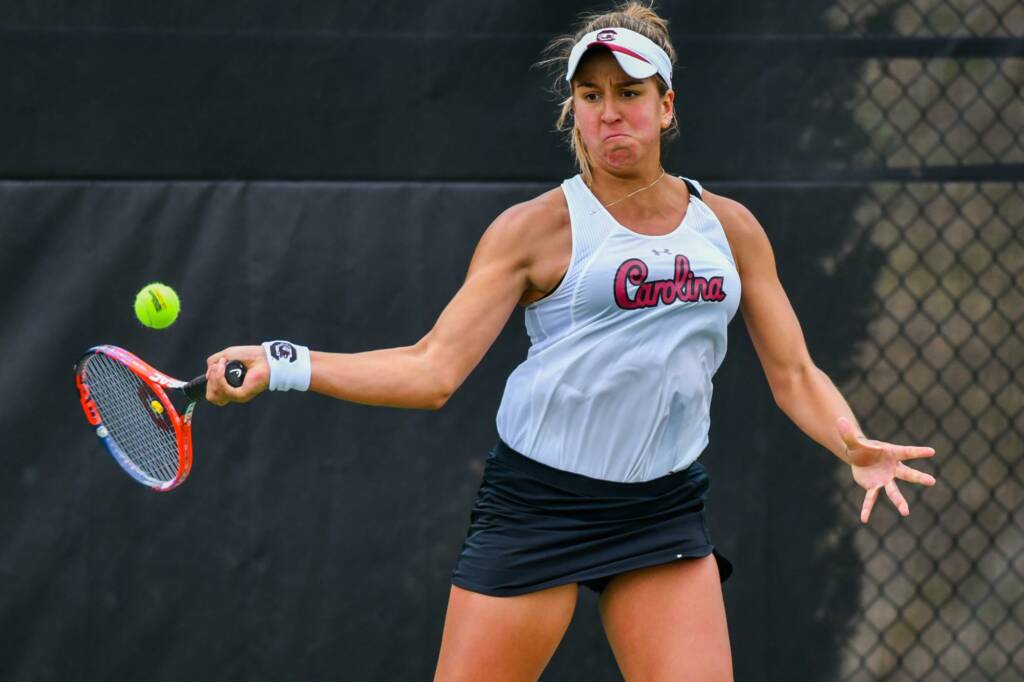 Ingrid  Martins
"In the past, when the last match ends with a win, we'd storm the court. We don't storm the court anymore," Epley said. "It all started with (senior) Paige (Cline). She closed out a match and just said, 'Let's get out of here.' I think she was annoyed with something that had happened two points before, and we didn't even realize she had won because she had no expression. So, that's our new thing.  We're not going to storm the court until we win something big."
"Seeing the rankings and making history is great, but we're not satisfied yet," said junior Mia Horvit. "We have bigger goals that we're trying to reach, and that's winning NCAAs as a team. We're not focusing on the rankings. We're just focusing on each match."
"We never talk about the rankings," said senior Ingrid Martins. "We have to be ready for each match every day and do our jobs."
1
Earlier this year, the doubles tandem of Martins and Horvit was ranked No. 1 in the nation, marking the first time in program history that a South Carolina duo topped the list. They're currently ranked No. 2 in the latest polls.
"They've been playing together for the last two years," Epley said. "When we first put them together, we weren't too sure about it. Mia had some issues with her serve, and Ingrid had some issues with her backhand, but sometimes you put some ingredients together and you come out with a really great meal. There are just some things that they do together that mesh really well. Ingrid's serve is really big, and Mia started moving forward more. Mia's return is massive, and Ingrid is rangy and can play some defense. They throw a bunch of different things at you that have really worked out in their favor. They've become much more aggressive.
"They're very close off the court. Mia is more vocal. They're both aligned in their goals. They really want to win a national championship."
For their part, the Gamecocks don't feel any added pressure as they move up in the national rankings.
"When we found out at practice that we were No. 1, we said, 'no way,' and then 'OK, let's get back to practice,'" Horvit said. "It's great to see that when you put in the work, on and off the court, and see it all work, it's nice to see it all come together. Still, we're just looking at the next match we have to play and that's all that matters."
"It's funny because when we first played together three years ago, it was our worst doubles match ever, and I'm thinking we're never going to play together again," Martins recalled with a laugh. "We've been living together for three years, and we're really good friends. We understand each other. We know how to help each other out. The main thing is having fun on the court. We have to laugh a lot, even if we're losing."
"This year has been special. I don't think anyone has a team as united as we are."
– Ingrid  Martins

32-4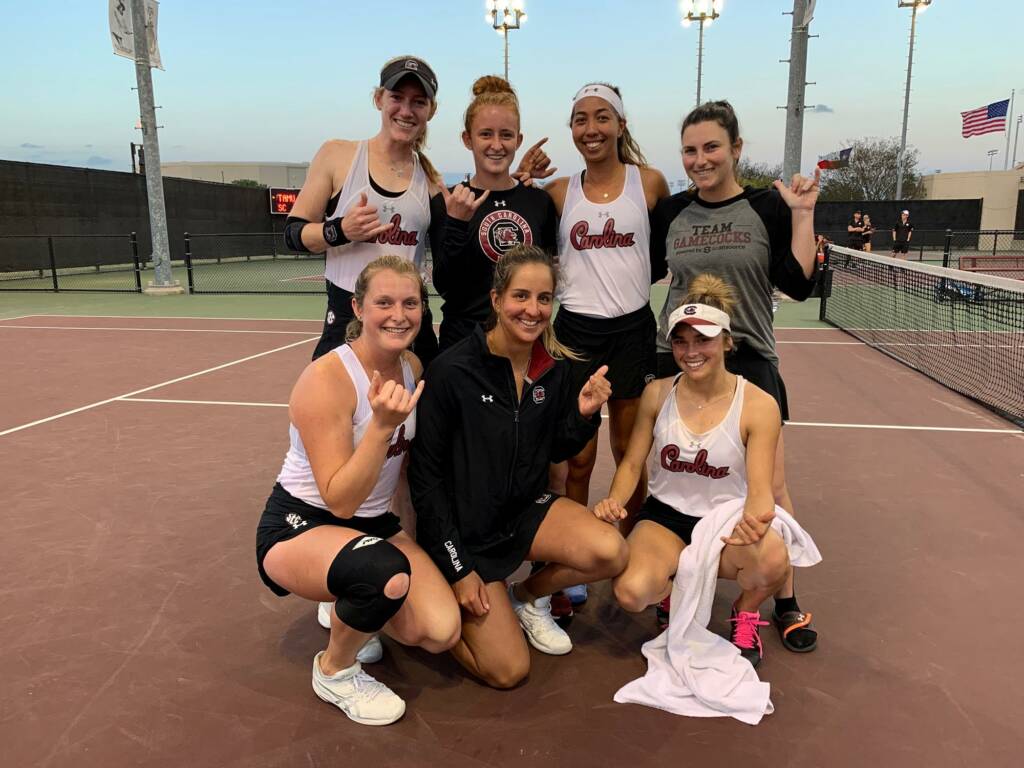 In the last 36 matches going back to last spring, the Gamecocks have won the doubles point 32 times. For the unfamiliar, in college team tennis, there are six singles matches that count as one point apiece for each victory, while only one point is awarded for the team that wins the best of three doubles matches, which are normally played first. Getting that doubles point sets up the Gamecocks for success.
"That kind of record is sort of unheard of," Epley said. "It's tricky to do that today because the new scoring with the first to win six (games) with no ad (advantage), it can favor some unpredictable results and underdogs (winning) because there is so much more thrown to risk and chance. It's just one set to 6. If I double-fault twice in the first game, that could mean the set. It doesn't allow you to come back. So, to have a record like that is just unheard of.
"We pride ourselves in our doubles. That point is pretty big. It gives you momentum going into singles.  We make it part of our practice structure and dialogue on a day-to-day basis."
"Coach Epley puts a lot of emphasis on doubles," Martins said. "He wants us to play 'Gamecock doubles,' which means we have to be aggressive and dominant. When we play in our comfortable zones, that's when you can get beat. So, sometimes you have to do things that aren't comfortable."
"Doubles weighs in as much as singles," Horvit said. "The main mentality of doubles is being dominant and dictating out there on the court because that lays out the foundation for how we're going to perform in singles, even if we don't get that doubles point."
16-0
During the last two seasons, South Carolina is 16-0 on the road in SEC matches. So much for the home court advantage.
"Whomever we're playing that day, it's the most important match of the year," Horvit said. "We like to face adversity.  How you face chaos we'll determine how you perform in that present time and in the future, on and off the court."
"We're thinking about making shirts that say, 'Road Warriors,'" Epley quipped. "We're almost better on the road for some reason. I think it's because we have a very controlled environment and structure on the road. It seems like everyone is more focused on the road, although it's not as fun as playing at home because you're in front of your crowd.
"A lot of kids can get taken down by opposing crowds. I've seen it happen here at our place. Our kids do the opposite. They look at it as a challenge. They love it."
 "I think we embrace the challenge," Martins said. "We embrace it when people are yelling at us. We like that. It doesn't bother us. It's extra motivation for us.
"This year has been special. I don't think anyone has a team as united as we are."
As the program has steadily grown over the last few years, Epley doesn't worry about any accolades going to the student-athletes' heads.
"The bottom line is, in the last two years, we didn't do what we intended to do later in the season," Epley said. "We were great early in the season last year, but later, we kind of fizzled out in the SEC Tournament. Now rankings just show us where we are. They're nice, but we're looking toward performing in the big venues."
Want More?
Want to see more great numbers with South Carolina women's tennis, check out the latest team and individual rankings here.