Former Gamecock named ITA Region Men's Assistant Coach of the Year
After serving as a graduate assistant for two years, former South Carolina women's tennis standout Brigit Folland (2013-2017) is off to a great start in her transition from student-athlete to coach. Folland, who recently completed her second year working with the men's and women's programs at Lenoir-Rhyne University in Hickory, N.C., was named the ITA Southeast Region Men's Tennis Assistant Coach of the Year last week. She was the only female to earn the honor on the men's side this year.
"Coming from a massive program that plays in the SEC like South Carolina to a division II school, I think I had respect from the guys," Folland said. "They wanted to learn from me. They may not have ever had a woman coach them before, but I tried to make sure I related to them very well from the start. I had to build a relationship before I could really coach them.
"In transitioning from a player to a coach, I called on a lot of things I had learned at South Carolina in terms of building a culture and having standards and accountability. I think being a captain when I was at South Carolina helped me a lot with coaching because you have to show leadership and be a role model."
"Brigit has been instrumental in turning around the culture and competitiveness of Lenoir-Rhyne Men's Tennis," said Head Coach Tom Rees in a release by the school. "When she came in two years ago, the guys record was 11-10 and they were unranked and eighth in the SAC. At the conclusion of this season, the guys went 18-4 (8-2 in conference) and tied for second in the conference along with being ranked No. 21 nationally. She has endless energy, tremendous hunger to grow as a coach and cares deeply for her players."
"Coaching guys taught me how to do things better with the women, and vice versa."
– Brigit  Folland
Folland helped the men's team to the best season in program history with the 18-4 overall mark, and the Bears reached the SAC Tournament semifinals for the first time. The women's team also had a good season, posting an 18-5 record with a 7-3 record in conference play. Adjusting to coaching men was not a difficult transition for her or the student-athletes.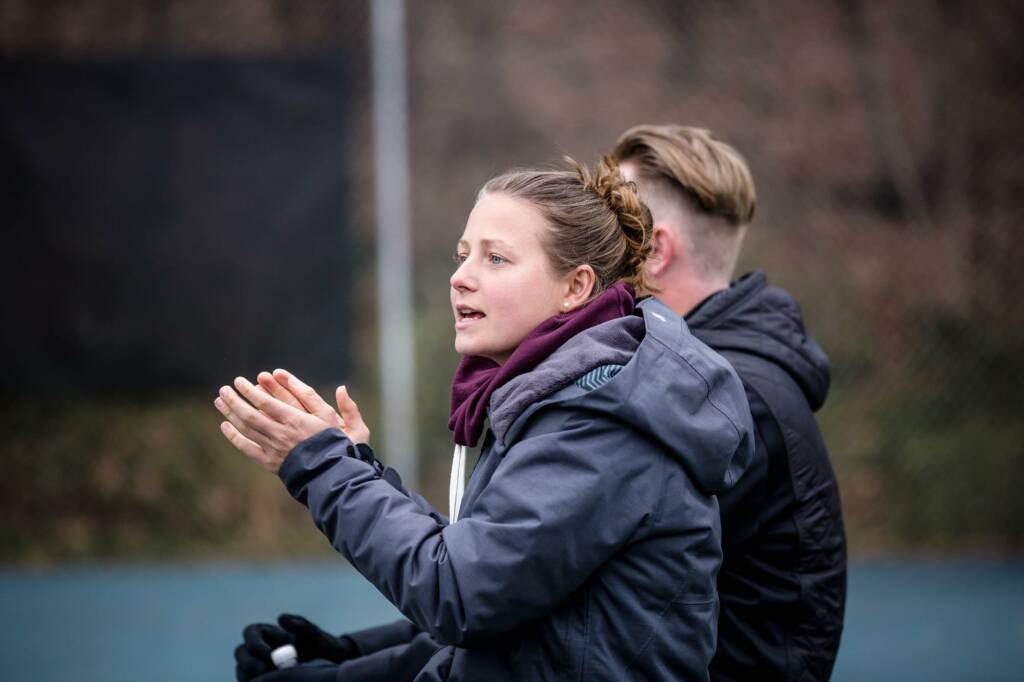 Photo courtesy of Lenoir-Rhyne Athletics
"I was fresh out of college when I first got there, so I would play them and 'beat them up' a little bit. That helped my credibility," Folland said with a laugh. "I would join them in the workouts and things like that to gain their respect. Getting to know them on an individual basis was important so they would feel comfortable talking to me.
"I worked with both teams. We'd practice at the same time. At (NCAA) division II, we have one coach for both teams, and we travel for matches together. So, it was like one big team."
Folland noted there are differences in coaching men and women, but the experience of coaching both taught her a lot.
"With women there is a lot more emotional development and learning how to deal with emotions," Folland said. "With the men, you can get into a little more of the tactical side of things. Overall though, there is a lot of similar stuff and parallels. I liked it because I had never coached men before.
"Coaching guys taught me how to do things better with the women, and vice versa."
In her transition from student-athlete to coach, Folland found herself repeating a lot of things she used to hear when she was the student.
"When I first started coaching, I felt like I had to call my previous coaches and tell them 'thank you' and that I was sorry for anything I used to put them through!" Folland said with a laugh. "As a coach, you see things from a different perspective. Now I could see how I used to do the same things as a player. The hardest thing is to be calm and have a concise approach with the players. I like to talk a lot, so the hardest thing for me was to make it short so they could process what I was telling them."
Folland graduated from South Carolina in 2017 with a degree in sport and entertainment management and recently earned a Master of Business Administration degree from Lenoir-Rhyne. Armed with two degrees and an impressive accolade, she's looking for work as a full-time coach.
"I would love to continue coaching in college, and that's what I'm looking for now," Folland said. "This is my passion, so I want to continue doing that. I love coaching both (men and women)."