Former Gamecock's Pro Career is on the Rise After Playing French Open
After crossing the pond from France to South Carolina, former women's tennis student-athlete Elixane Lechemia (2012-2015) found a lot of success on and off the court. Now she's using her knowledge and experience to carve out a professional tennis career and recently had the opportunity to fulfill a dream by competing back home in the French Open as a wild card entry with doubles partner Estelle Cascino.
"It was the very first time playing a major for me, so it was kind of crazy," Lechemia said. "We knew about the wild card just five days before our first-round match. It was very sudden, so it was hard to remain calm. I was excited and very happy to finally get to play a grand slam after all these years hoping and working for it. I was also a little stressed out because I wanted to do so well!
"My French partner and I have played a lot of tournaments together since the end of last year, and we had very good results, winning three $25,000 tournaments late in 2018 and early 2019. I'm currently the third best doubles player in France and Estelle is fourth, so we decided to ask for a wild card for the French Open together, and we got it! My goal is to reach a better world ranking in doubles so that I can play grand slams with no wild card needed."
Although she lost in the first round, Lechemia is determined to make it on the professional circuit.
"After I graduated from South Carolina I came back home, to Lyon, France, and started practicing again with the tennis coach who coached me when I was 10 to 18 years old," Lechemia said. "I got up to 343rd in the world in singles in April 2017, after winning 3 professional tournaments in 2016 and having a very good come back year on the tour. Then, from October 2017 to August 2018, I practiced in an academy in Valencia, Spain. After that, I moved to Paris to practice with Yannick Hesse, my current coach, and decided to focus on doubles. So, I have been playing doubles only since the end of last year. I'm currently 140 in the world in doubles."
Lechemia has no problem with finding success through hard work. After coming to South Carolina in 2012, she quickly found a spot in the lineup, playing much of that first season at No. 3 singles. She would work her way to the top spot in the lineup in her final two seasons, earning first team All-SEC honors in 2014 and second team All-SEC honors in 2015.
"My experience as a whole in South Carolina just made me a better person."
– Elixane  Lechemia
She is one of only nine Gamecocks to compete in both the NCAA Singles Championship and the NCAA Doubles Championship over the course of her career. Just as strong academically, Lechemia was an honor roll student-athlete and earned ITA Scholar Athlete honors in each of her last two seasons. She double majored in Marketing and Management and minored in Sports Management. Among her many fond memories at South Carolina was graduation day.
"That was one of the few moments I actually felt fully proud of myself, because it was symbolically meaningful," Lechemia said. "I made it at every level.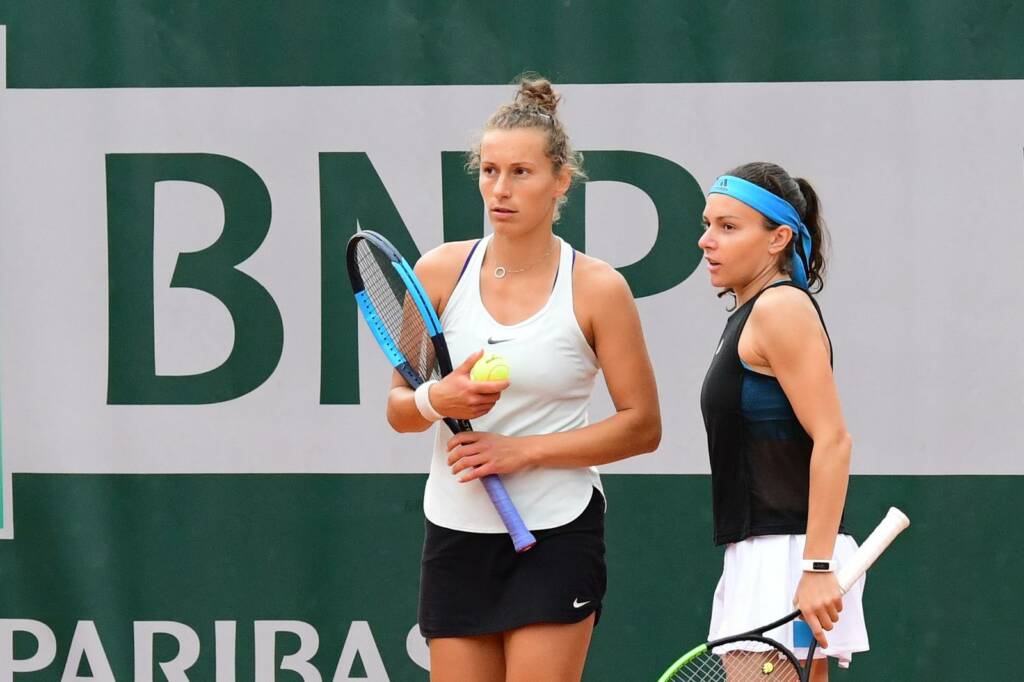 "I enjoyed every single second of it, and even though no one from my family came, I'll remember that day forever. Also, because it is the kind of ceremony I had always seen in the American movies, it was sort of surreal for my French eyes! If someone had told me five or six years before that day that I would graduate from college in the U.S., in a huge Coliseum, wearing the traditional cap and gown, I wouldn't have believed it!"
Lechemia is also thankful for what she learned from her teammates and coaches.
"My experience at South Carolina gave me the best life lessons I have ever been taught," Lechemia said. "Tennis-wise, it made me much tougher, mentally. It helped me see tennis more as a game and more as a team sport, and it taught me that even though tennis is said to be an individual sport, a team will always be on your side, somehow.
"Each win with my team was something special, as well as all the extremely hard practices that we have been through as a team. What better feeling is there than finishing really tough and hard, long practices together as a team?
"My experience as a whole in South Carolina just made me a better person. Whenever I'm talking about my college experience in France, I feel proud and realize how lucky I am having done all this. I recommend it to many young players I meet."
Trying to make it in professional tennis is tough, and while she has thoughts of eventually working for an environmental organization someday, she's not ready to put down the racket.
"The hardest part would be traveling and financial instability," Lechemia said of pro tennis. "I hate missing family and friends' birthdays, weddings, or not being able to plan getaways or vacations with my friends in advance. But the best part is also traveling and being your own boss. I do what I want with my practice days and my schedule!"
Lechemia is currently in China to play two WTA events in the hopes of improving her doubles ranking.
"Hopefully I'll be able to play a grand slam next year!" Lechemia said.