Opportunity with National Team Helps Patten Develop Her Game
Never underestimate the value of a good night of sleep. In the last couple of weeks, South Carolina junior defender Anna Patten flew to England to compete for her native country's Senior National Team and then flew back to the Palmetto State to rejoin the Gamecocks as they boarded a flight to Indiana to play a pair of matches. After catching a few Z's she helped South Carolina pick up a pair of wins, scored a goal, and was named SEC Defensive Player of the Week.
"I woke up at 4 a.m. that Wednesday and had to get on three different planes to arrive in Columbia, and the next day, we're on a plane again," Patten said. "I don't think anyone wanted to be near me that day because I was so done with flying! I got a good night sleep that night, and I was really excited to play and perform for the Gamecocks."
Patten was named to the 25-player squad on Aug. 19 for England's Senior National Team for a pair of international friendlies in Belgium and Norway.
"I was on the road with my team here (South Carolina), and I got the call prior to our exhibition at Coastal Carolina," Patten said. "I was so happy. I was out in the corridor, and once I hung up the phone, I'm not going to lie, I did a little song and dance!
"As soon as I got into football, I knew playing for the National Team is something I wanted to do.  There are some players, who I used to watch on the senior team when I had made that decision, that were still there on the team. It felt crazy that some of my role models were now going to be teammates that I was going to be able to train with. I tried not to be a fan when I saw them, and I tried to keep it professional, but the little girl in me was excited.
"The best part was learning from my role models, whom I had looked up to, and knowing what they do to be the professionals that they are."
"It's a huge step up at that level with the quality and intensity that everybody had and brought to training."
– Anna  Patten
Patten is not a stranger to international competition, having been a part of the Lionesses' U15, U17, U18, U19 and U20 teams, playing more than 40 matches for her home country. While she has had plenty of international experience, wearing the jersey of the Senior National Team was exhilarating.
"When I arrived for the Belgium game and saw 'Patten' on the back of my shirt, which was hung up, it was a surreal experience," Patten said. "It's something I've dreamt about since I was a young girl. I was so honored to have that and be in that situation.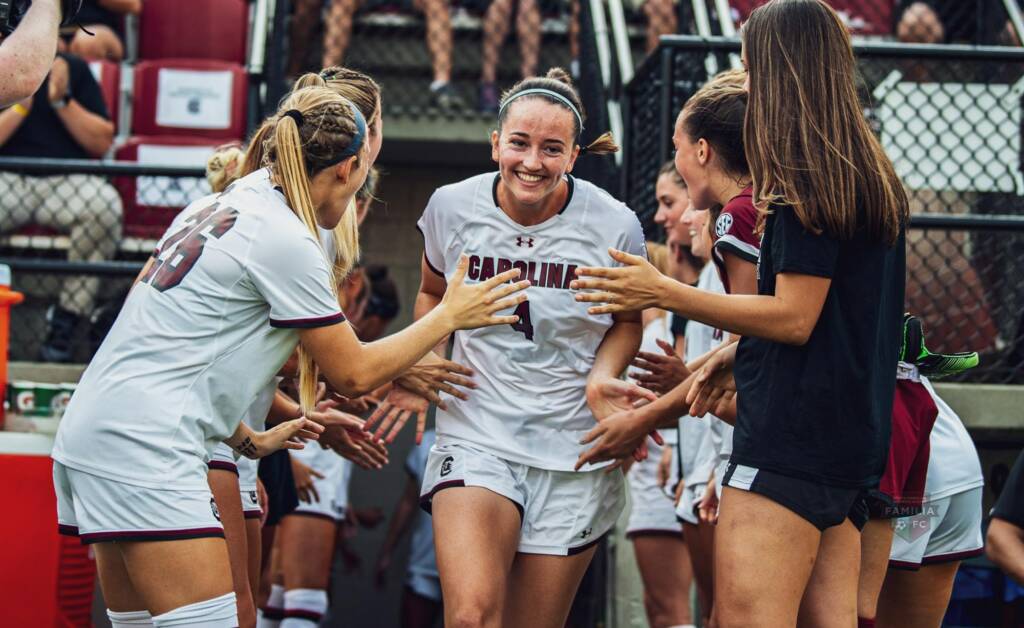 "It's a huge step up at that level with the quality and intensity that everybody had and brought to training. The pace of play was an obvious difference, compared to the college game. That took a couple of days to get used to. Learning to play quicker, knowing the next thing before you get the ball, and the physical play and intensity they have during training sessions; that's what I need to bring here at South Carolina."
Patten had one of her biggest fans in the stands to watch her, even if it was a difficult trip to make.
"My dad traveled for both games in Belgium and Norway. That was nice. He's actually Scottish though, so I think it's hard for him to put on the England shirt and support me," Patten said with a laugh. "He's definitely gotten used to it."
Not only did Patten have the chance to compete alongside some of her childhood heroes, she also had the chance to be a teammate of her soon-to-be rival opponent, as Clemson goalkeeper and England native Sandy MacIver was also called up for the National Team. 
"We were roommates! There was definitely some trash talking when we were in our room talking about the game," Patten said with a smile. "It was all good fun."
Patten is playing her first season with the Gamecocks after transferring from Florida State, where she played her first two seasons and helped the Seminoles win the national championship in 2018. Current South Carolina teammate and fellow countrywoman, Grace Fisk, whom Patten had known for many years prior, helped Patten find the Gamecocks once she decided to transfer.
"I wanted to come here and play the position where I could see myself playing in the future," Patten said. "I was talking to Grace about it, and she told me how everyone would love to have me here. Then I came on a visit, and when I saw the facilities, and met the coaches and players, it just seemed like the right fit."
Patten didn't exactly ease into things upon her return from England to the Gamecocks as she was named SEC Defensive Player of the Week this week after scoring a goal and playing all 180 minutes of South Carolina's two games, both wins, over Purdue and DePaul at the Boilermaker Challenge Cup in Indiana. On Thursday, she scored again in South Carolina's 2-1 win over Notre Dame.
"I was excited to get on the pitch," Patten said. "I went away with the National Team, and I experienced the training and what they do on match days, but I didn't get to play in the two games. So, I watched 90 minutes of football, and I was thinking how much I want to be out there, playing.
"When we were playing Purdue last Friday, I wanted to take what I had learned and put it into the match. That's a big takeaway from being with the National Team."
Patten looks forward to another opportunity to prove herself and participate with England's National Team in the future, even if her dad has to grit his teeth while cheering for England.