Olds Has a Passion for Immersing Himself in the Community
David Olds doesn't ever seem to get tired. For a middle-distance runner, that's a good thing, but in addition to having a busy schedule as a student-athlete, the redshirt freshman on South Carolina's track and field team has a passion for youth empowerment and is constantly creating new opportunities to immerse himself in the community.
"My passion has always been empowering young people and making sure their voice is heard. These opportunities have only reassured my desire to pursue a career in youth development in underserved communities across the states and eventually world-wide," said Olds, who is an international studies major with a minor in French and business administration.
"I really want to work with community improvement and community empowerment. I feel like I've had a community that brought me up and pushed me to be who I am. That community is my mother, my teachers, my coaches, and the people I saw day to day, who got me to where I am now. So, I want to give that back, especially to communities that are underserved and don't have the privileges that I have had."
He isn't just "talking the talk" either. The native of High Point, N.C., founded "Wiley's Warriors" while in high school a couple of years ago to raise awareness of childhood hunger in the area by assisting Calvin Wiley Elementary, a Title 1 school, in nearby Greensboro.
"This really tugs my heart strings," Olds said. "The idea behind Wiley's Warriors is that I'm receiving all these blessings in my life from community. The community is uplifting me, so as teenagers and young adults, we need to use our blessings and the privileges that we have, to also support the community. One issue that is huge in that area is food insecurity.
"The area is always among the top 10 in the nation for food insecurity. Where I came from, I had food and was never food insecure, but you have to be cognizant that this is going on 20 minutes down the road. There are kids who are missing meals and go to school not focused or falling asleep in class because they don't have food. They need meals every day to be the best that they can be.
"There are a lot of low-income families where kids are on free and reduced meals for school. I had food every day, but a lot of these kids don't. That's a concept that's hard to believe when you're 15 or 16 years old. We want to support them and be their community."
The idea was not only to raise awareness to the issue, but it also conducted food drives and created awareness of sustainable food sources for those kids.
"I need to play my part in being a good community member."
– David  Olds
One of these food drives raised over 3,000 food items for the food pantry at the elementary school, providing meals for kids on the weekend who might not otherwise have something to eat. The program also evolved into some mentoring opportunities, known as "Wiley Week," where Olds and other students went to the elementary school, partnering with the children to let them know there were people in the community that were there for them.
"It created some great long-term relationships with these kids," Olds said. "It was great for them to know there were other people out there who wanted to see them succeed, stay in school, graduate and maybe go to college or go into the workforce."
Olds passed the torch of leadership to other students after he graduated, and Wiley's Warriors is still run out of his high school. Olds assisted with social media and helped with food drives even as he transitioned to college life. He hopes to develop a similar program in Columbia.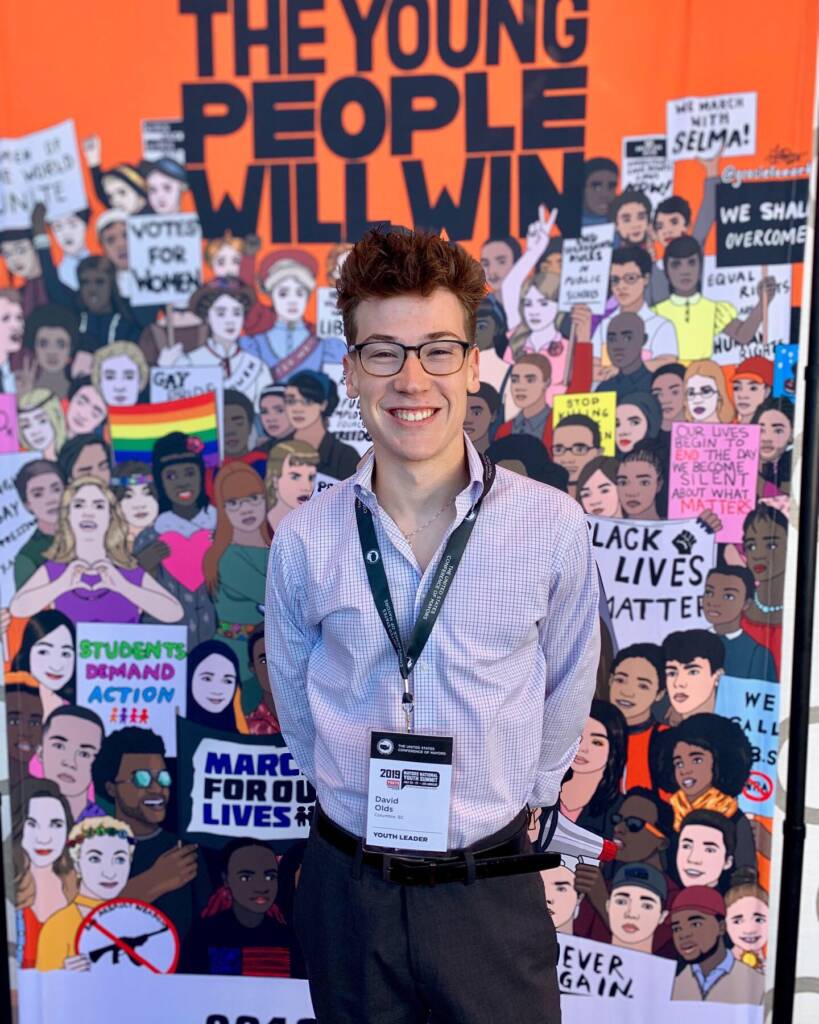 Since then, Olds hasn't been taking it easy. He serves on the USC City Advocacy Commission where he collaborates with local government officials to find solutions on issues relevant to student populations on campus.
"My identity as a student-athlete is something I value a lot, but my identity as a community member goes above all that," Olds said. "There are a lot of issues in the community that I feel connected to, even if I'm not directly affected by it. I feel empathetic towards it. Whether it's food insecurity, elementary education, and education policy. I need to play my part in being a good community member.
"Our job is to serve a communicator of student interests at South Carolina. We research issues and connect people to city officials to find out ways we can find solutions. It's a lot of logistical work."
After attending a Columbia City Council meeting "on a whim," Olds spoke to Mayor Steve Benjamin about learning more about city government. That led to an internship over the summer where he worked with the city's Youth Commission.
"It's a group of young teenagers who want to have a voice in local government," Olds said. "Young teens make up a large portion of the population, but their interests aren't always looked at. Part of my job was to revitalize this Youth Commission program which the city had in the past. We made sure it had a mission, having elections, gauging interest, and deciding how it could be as effective as possible in having their voice heard by the local government.
"I joined other young leaders to dialogue about important issues like teen voter engagement, town halls and creating youth commissions in cities to hear and work with our nation's young people. It was such an incredible opportunity."
Through the internship, he was provided with the opportunity to travel to Los Angeles to represent Columbia at the U.S. Mayors National Youth Summit.
"It was a gathering of young people and their representative mayors to discuss where the youth voice has a role in local government and how it operates, as well as discussing how we can engage young people civically," Olds said. "It was such a blessing to be a part of that and to be able to collaborate with other young people about creating effective town halls and increasing youth engagement."
Olds credits his mother, Shelley, for challenging himself and to look past his own interests in the hopes of looking out for others.
"I can have time for myself, but I can also make time to help other people," Olds said. "I hope that I've made a difference."
"What I've learned is that my experiences in life are very different than what a lot of other people experience. Some people are born into situations where they are at a disadvantage compared to others. I want to use my advantages to help support them and to help them rise above it. I know what I want to do with my career now."