Edwards Proud of Legacy He'll Leave Behind
Senior wide receiver Bryan Edwards wants to leave a legacy, not just as a football player, but as a father as well. Heading into the 2019 season, Edwards knew he was on pace to break a lot of South Carolina's hallowed receiving records, and he hasn't disappointed. He also thinks about being a role model to his son Braxton, who was born last spring.
"I always took pride in the way I carry myself and the way other people look at me," Edwards said. "I'm just constantly being me. You just don't think about yourself anymore. You have other people to think about. You've got other people looking up to you and looking to you for guidance."
The Athletics Department will have to update some signage around Williams-Brice Stadium as Edwards has broken many of the South Carolina's receiving records, despite missing the last game due to injury. He is the Gamecocks' career leader in receptions after surpassing Kenny McKinley (2005-2008), receiving yards after passing Alshon Jeffery (2009-2011), and consecutive games with a reception, surpassing McKinley again. He also tied the school record for receptions in a game with 14 earlier this season against Vanderbilt.
"It's a great feeling anytime you can break a record that was put up there previously by guys like Sterling Sharpe and Alshon Jefferey," Edwards said. "I still want to win.
"I always held myself to that standard. That's what I wanted to be when I stepped on campus. It's an honor to have your name up there. I feel like I deserve it because I've worked hard for it. I have to take advantage of every ball that comes to me and try to make the most of it. When I get the ball in my hands, I'm trying to do everything I can to make a play."
The former Conway (S.C.) High School standout burst on to the scene as a freshman in 2016 by notching 44 catches for 590 yards and four touchdowns. He followed that up in 2017 with 64 receptions for 793 yards and five scores. The numbers continued to pile up in 2018 with 55 catches for 846 yards and seven touchdowns. As a senior in 2019, he became an even bigger focal point of the offense with the departure of Deebo Samuel for the NFL, but he didn't put too much pressure on himself.
"I just try to come out here and be myself every day," Edwards said. "I'm not worried about pressure or what people think or say. All I'm doing is trying to control what I can control, and that's my effort and how I come to work every day."
With his consistent growth from year to year, Edwards had his talents evaluated after last season to see if he was ready for the NFL, but he felt there was more he could do to get better and came back for his senior year.
"I came back to win games, so that's always been my main goal," Edwards said. "I want to win every game I play.
"This offseason, I felt like I needed to improve in every area – catching the ball running routes, running after the catch and anything that good receivers do, I wanted to be good at it."
The hard work has paid off. In addition to great career numbers, Edwards has pulled off some highlight reel catches, including a one-handed gem against Tennessee on October 26 that tied him with Kenny McKinley for the top spot on the career receptions list.  He went on to break the record later in the game, but that catch drew the attention of national pundits and former NFL stars as well.
"You just have to keep coming to work every day and be professional about what you do."
"You look at the picture and you're like, wow, this really happened!" Edwards said of the catch. "It's something I've been doing since I was young. We just go outside and play catch. You used to dream of catching the ball with one hand.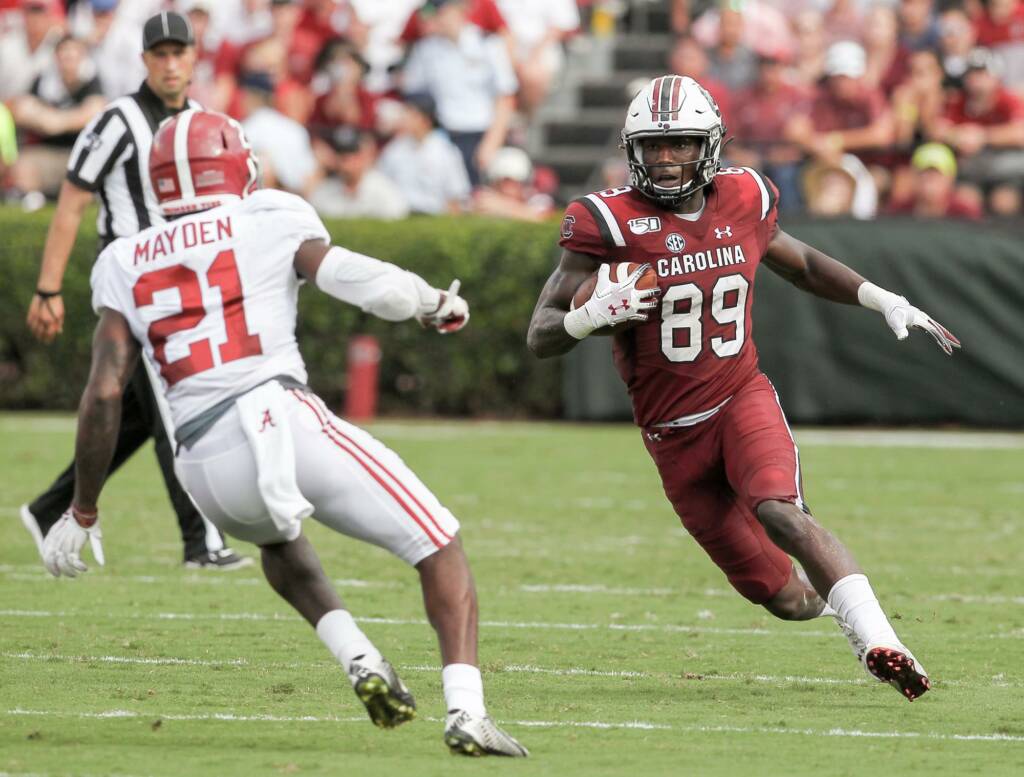 "It's pretty cool when you get a shout out from Randy Moss and all of those guys from Monday Night Football. Randy Moss is the G.O.A.T., a legend. He and Jerry Rice. It's always good to hear your name come out of his mouth."
While there have been some ups and down for the Gamecocks this season, Edwards didn't let it affect his approach to each game.
"You just have to keep working. You just have to keep trying to execute," Edwards said. "That's all you can do. Anytime you're losing, it's not fun. The food tastes worse when you're losing. Everything is bad when you're losing. But everyone out there for us loves football.
"That's life. You just have to keep coming to work every day and be professional about what you do."
With all his accolades and accomplishments, Edwards also understood his role in helping the younger receivers on the team.
"Being a leader is very important with me being a senior and all the experience that I have," Edwards said. "I just have to control my room and the guys I'm leading and make sure they know that they're role is important on the team and make sure that we're ready to play every week. 
"I've been playing since I was a freshman, and it's crazy because everyone calls me 'old man,' and I haven't even turned twenty-one yet. I guess you could say I feel like the old man in the room, I have a lot of experience that I can give to the younger players to help them out and make their job easier."
While a professional football career may be on the horizon for Edwards, he is also happy to be leaving South Carolina with his diploma in hand as he is scheduled to graduate with a degree in sports and entertainment management in December.
"I have a son and with him coming up and eventually seeing what his dad did here at South Carolina, that's going to mean something to me," Edwards said.