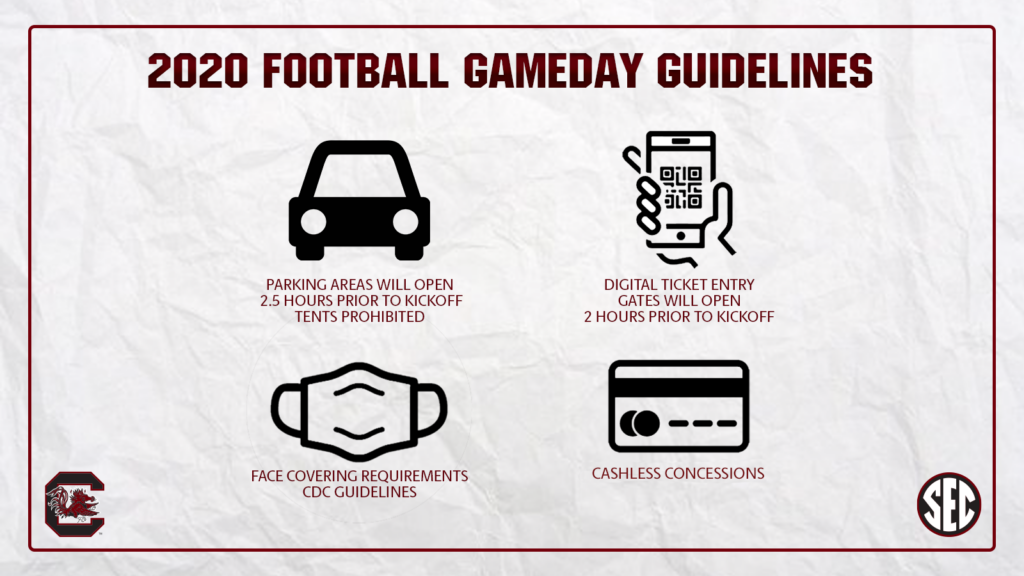 South Carolina Athletics is actively working with University leadership, the Southeastern Conference, and public health officials on a safe return to competition this fall. Precautions taken by South Carolina Athletics are consistent with the Governor's guidance for the State of South Carolina.
Fans are asked to do their part by conscientiously practicing physical/social distancing, frequently washing hands, using hand sanitizer, and wearing face coverings to ensure the safest possible environment throughout the 2020 season. All fans should keep a safe distance of 6 feet between their party and other fans while inside and in the surrounding area of Williams-Brice Stadium.
Fans who are not feeling well or have been in close contact with someone they suspect may be infected should stay home.
Below are current measures that are planned to be in place at Williams-Brice Stadium for the 2020 season, grouped by topic in alphabetical order. These measures are subject to change based on recommendations by University leadership, the Southeastern Conference, and public health officials. Additional details will be announced in the weeks leading up to the home opener against the University of Tennessee.
Attendance
Williams-Brice Stadium will host approximately 15,000 season ticket holders, as well as a limited number of students, visiting team families, and Gamecock band members on gamedays this fall. This decision was made while following state and local guidelines, policies, and regulations.
Event Staff Training & Support
All event and support staff will be required to wear PPE
Education and training related to COVID-19 precautions will be provided for all staff and 3rd party vendors
Face Covering Requirements
Face coverings (over the nose and mouth) will be required as a condition of all guest entry and throughout the stadium
Stadium workers and athletics staff are required to wear face coverings at all times
Face shields alone are not considered acceptable facial coverings for entry to athletics venues
Facility & Seating Areas
Available seating pods will be properly socially distanced according to CDC guidelines and available seats will either be designated by a chairback or marked with an "available seat" sticker
South Carolina ensures the set-up and operational procedures in all areas will provide physical distancing including, but not limited to, the following areas:

Guest Seating
Concourses and Gathering Places
Dining Areas (high top tables, extended countertops, etc.)
Concessions Sales
Merchandise Sales
Restrooms
Elevators
Escalators

Deep cleaning of the entire venue will take place, including disinfecting of all high frequency touch points and all high traffic areas
Staff will continue to clean and disinfect throughout the entirety of the game
Hand sanitizing stations will be readily available throughout Williams-Brice Stadium
Social distancing markers will be placed around the stadium in areas where lines may form such as restroom facilities, concessions, and merchandise locations
Additional wayfinding and safety signage will be added to indicate queuing at exterior gates, seating section entrances, and parking/transportation areas
The usage of traditional water fountains or other self-service drinking stations will be prohibited. This does not apply to apparatuses that use touchless technology.
Food, Beverage & Merchandise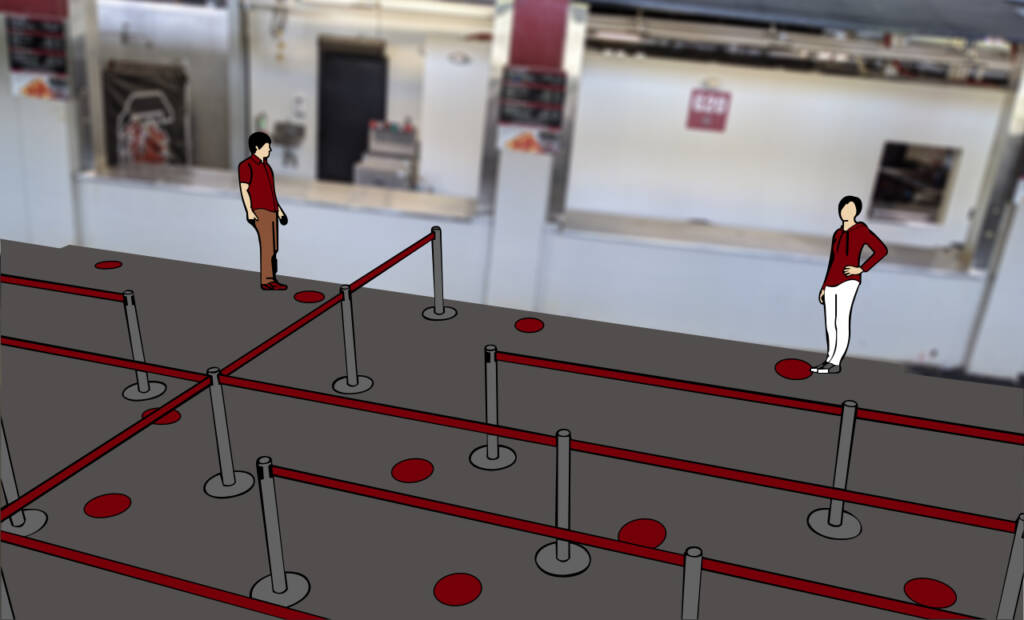 All concessions staff and points-of-sale are required to wear a face shield and a mask
Queuing lines at points-of-sale will allow for physical distancing between guests
"Grab and go" food/beverage options will be considered at points-of-sale locations
Beverages will be provided directly to guests. Machines designed to allow guests to fill or refill beverages must remain inoperable.
Portable kiosks will be strategically placed to maximize social distancing
Condiments will be offered only as single-serve condiments, and condiment carts will be prohibited
All points-of-sale throughout Williams-Brice Stadium will be cashless
BIGNON CENTER ACCESS

Face coverings required for all employees and customers entering the building and must remain on while inside the building
Maximum 50% capacity inside building at all times
Hand sanitizing stations will be available at the front entrance of gameday store
Check out areas will allow for physical distancing between guests and social distancing markers and signage will be visible
Barriers (e.g., plexiglass) will be installed at all points-of-sale
Check out areas, including credit card machines and surface areas will be consistently cleaned
Point-of-sale units have been upgraded to allow contactless payments and e-receipts
Gameday store will be cleaned consistently throughout the day and deep cleaned at close of each day
Hand sanitizer and face coverings will be available for purchase
Gameday Experience
Gamecock Walk

Gamecock Walk will not take place during the 2020 season

Gamecock Village

Footprint for Gamecock Village will be expanded to be properly socially distanced according to CDC guidelines
All vendors will be required to wear a face covering and be provided CDC information in advance to confirm they are not showing symptoms

Spirit Squads:

While cheerleaders, Carolina Girls and mascots will be in attendance and visible in some capacity, they will not be allowed to be on the sidelines during the game and their direct interactions with fans will be eliminated, due to social distancing precautions

The marching band will only play from their seats and will not conduct any pre-game or halftime performances on the field
Rally towel distribution will be in Gamecock Village and in front of the Bignon Center with proper validation to ticket holders through the Gameday app
Gate Entry & Exit
Gates will open two (2) hours prior to the game
Reduced elevator and escalator capacity will be enforced
Please review our Clear Bag Policy
The footprint at all gates and entry and exit points will permit physical distancing between guests
Signage will be installed at parking lots, pedestrian paths to the stadium, gates and/or other entry points that outlines mandates
Mandates include that all guests are required to wear face coverings, maintain physical distancing and states that guests cannot enter the stadium if they display any COVID-19 symptoms as outlined by the CDC
All tickets will be delivered via mobile device and will be digitally scanned
Parking / Tailgating
Athletics Department controlled lots will open two and a half hours prior to kickoff
Athletics Department controlled parking spaces in Gamecock Park and Fairgrounds will only be available to patrons for the games in which they have purchased tickets
Paid gameday parking will not be permitted in Gamecock Park or Fairgrounds
Tents will be prohibited
Tailgating, including grills, coolers and large buffet-style spreads, will be discouraged
Large gatherings will be asked to disperse
Face coverings will be encouraged to/from parking areas
Plans for Disinfection, Symptomatic Guests, Communication/Public Relations and American with Disabilities Act
The University of South Carolina will:

have a documented plan that outlines the procedures/protocol for appropriate disinfection of the stadium
have a documented plan that outlines the procedures/protocol for working with guests who exhibit COVID-19 symptoms
launch a communication/public relations campaign for communicating all COVID-19 procedures/protocol to prospective guests
ensure they comply with the Americans with Disabilities Act in the development and implementation of all procedures/protocols
Premium Areas
Premium areas will open two (2) hours prior to kickoff
Reduced elevator capacity will be enforced
Self-serve buffets will not be available
Suite and club hopping will be prohibited inside of Williams-Brice Stadium and suite contact tracing will be implemented
Soft seating and low-top table seating in premium areas will be removed to increase available space for social distancing
Socially distanced high-top tables will be the only remaining furniture inside premium spaces
Premium area locker rooms will be monitored and capacity limits will be enforced
Credit/debit cards will be the only accepted form of payment at premium level bars
Plexi-glass barriers will be utilized when possible throughout premium level, including food and beverage lines and guest services kiosks
Restrooms
Restroom layouts have been modified to provide proper social distancing
Restrooms will be limited based on size
Cleaning personnel will be assigned to each restroom for increased cleaning
Hand dryers will not be operable
Seating Configurations
Ticket holders will be notified of recommended gate entry times to assist with social distancing during stadium entry
Available seating pods will be spaced according to CDC guidelines and will be designated by chairback or seat sticker
Ticketing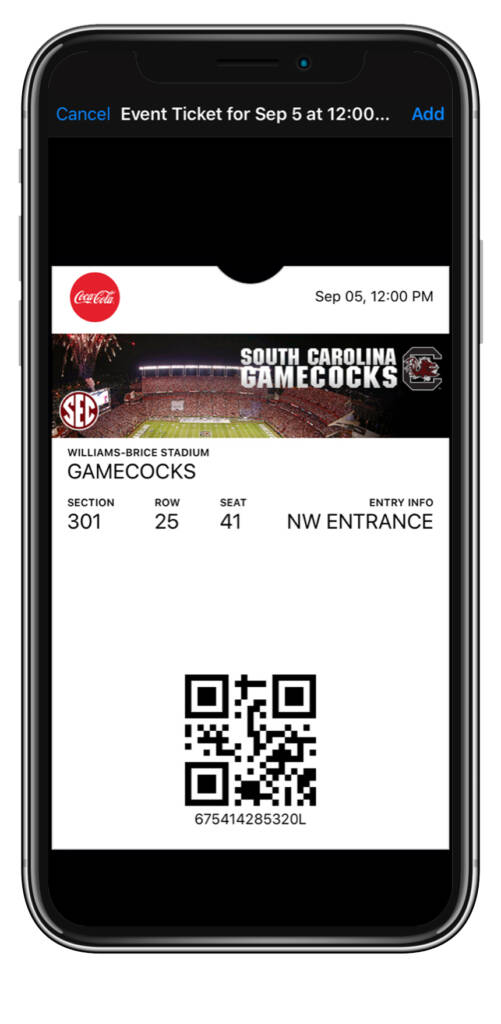 To offer greater convenience and safety, mobile-only ticketing (excluding premium seating) will provide contactless entry to Williams-Brice Stadium for all 2020 Gamecock Football games
To expedite entry and ensure the best possible gameday experience, fans should download their tickets prior to arrival and enter through the gate shown on their mobile ticket
Please review our Digital Ticketing Guide for a step-by-step guide to access mobile tickets
Download the Gameday App to manage mobile tickets
Student ticketing details will be sent directly to all eligible students from the Department of Student Life
Box office will open four (4) hours prior to kickoff
Please note that as we progress throughout the season, tickets for any rescheduled game will be honored at the future date determined. Be aware this may include a different opponent, date, and/or day of the week, depending on circumstance and the SEC's determining factors.