Catching up with former tennis standout Magdalena (Ringstrom) Sekkenes
Magdalena (Ringstrom) Sekkenes always enjoyed being part of a team as well as making her team be the best it could be. The former South Carolina tennis standout (1985-1989) is using her retail management degree to do just that, even though she hasn't completely hung up her racket! Now back in her native Sweden, Sekkenes works as a public relations manager at the Association of ICA Retailers. 
"ICA is the leading food retailer in Sweden," Sekkenes said. "What I like about my job is to be surrounded by passion for local entrepreneurship among the Swedish ICA-retailer. It reminds me of the passion for tennis I've always had.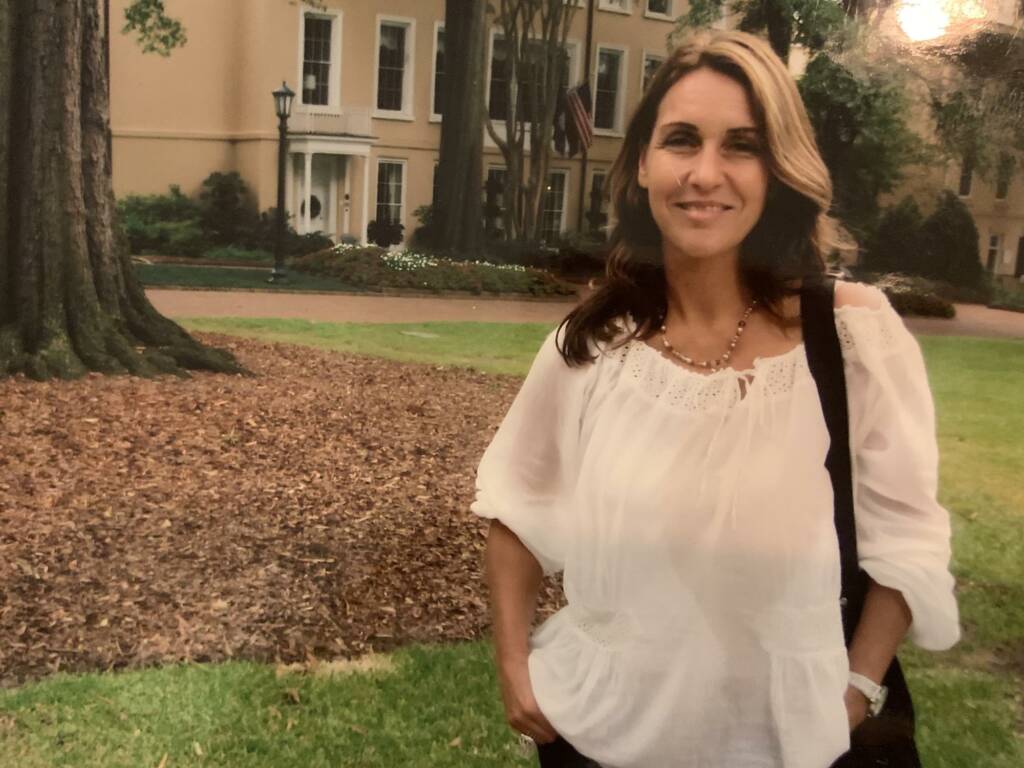 "I love my colleagues and the energetic retailers and also the combination of daily press-support combined with more long-term and strategic communications. Our business model is from 1917 and we describe it as a Swedish version of the American dream."
That passion helped coach Arlo Elkins and the Gamecocks win the Metro Conference regular season title in each of her first three seasons at South Carolina.  
"We were top 25 in the U.S. and I was part of a very strong and solid team with players from both the U.S. and from other countries," Sekkenes said. "We made it to NCAA-final (top 16) as a team one of my four years.
"Arlo was a fun and fantastic character with lots of tennis experience as a former pro. He had a temper but really cared about all of us on and off the court. We went to his house, met his lovely family and so on. I´ve been back a couple of times after my graduation and always enjoyed having a chat with him." 
A shoulder injury prevented her from enjoying a long professional tennis career, but she still likes to compete.
"Since graduation I have competed on and off throughout the years, but also with quite long breaks doing other things in life," Sekkenes said.  "Since the beginning of last year, I´m playing a lot more again. I had a comeback in 2019 with six Swedish gold medals as a senior. Now I'm looking forward to next year on the ITF senior tour as 55-year-old. The ITF World Championships are planned to be played in Boca Raton/ Miami in 2021 so let´s hope corona (virus) won´t put a stop to that."
Sekkenes has been chasing her off the court passions since graduating from South Carolina as well.
"As a student, I dreamed about becoming a fashion buyer but started out teaching Business Administration back in Sweden while doing some more studies," Sekkenes said. "Then I went into editorial and journalist jobs and found it very interesting. I worked many years in different positions in the publishing area, most of the time with a focus on the retail industry. I also did two years as Editor in Chief for the official Swedish tennis magazine when my employer got the contract from the Swedish Tennis Federation.  
"I did six years of free-lance living in Oslo (Norway) and Lisbon (Portugal). Since 2010 I have been with the retailer, ICA. I started out with environmental and sustainability issues before going back to communications and public relations where I am today."
"When you get older, you become more humble."
Coming to another country for education and athletics is no easy task, but Sekkenes said the experience helped her greatly for life after college.
"It was my first experience living outside Sweden, and I went on my own," Sekkenes said. "It made me more confident and also developed my values and taught me to accept other cultures, which is something I find has helped me a lot in life. The competition was much more intense, both in life in general and on the tennis court. On the court you came with your team and shared wins and losses. There was competition to be in our line-up. All the players were good, but once on the court, the team-spirit was fantastic. Of course, four years playing 20 hours of tennis per week also made me a very experienced tennis player. I am very happy for that.
"I have also lived three years in Norway and three years in Portugal and traveled the world, but Columbia was my first longer abroad experience and I believe it is helping me connect easier with people from other cultures and countries. I will always find that interesting. And important. Especially the way the world develops today where I believe in equal rights for all people. I do not agree upon closing borders between countries as an example. As an extrovert person I am also very fond of the easygoing culture in America. I always found it very welcoming and gave me a lot of positive energy. So, thank you for that."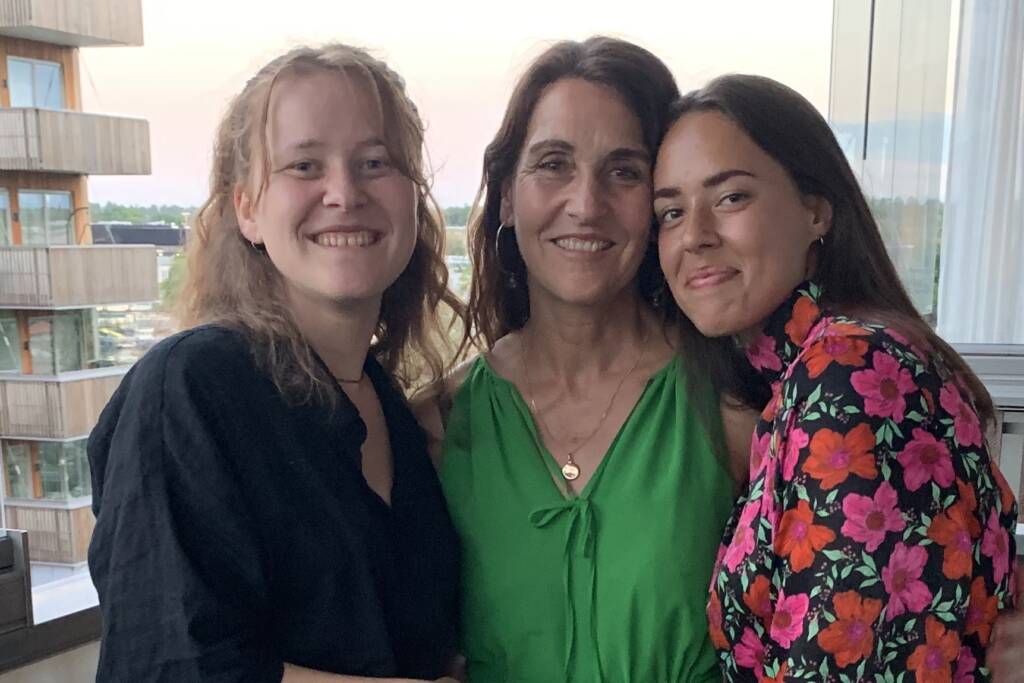 Sekkenes with daughters Emma and Martina
Looking back, Sekkenes has many fond memories of the simple things in her days at South Carolina.
"I'd say the daily walks from Bates House and Bates West dorms to tennis practice on Blossom Street meeting up with my teammates and coach Arlo and all our supporting staff from USC," Sekkenes said of her favorite campus recollections. "Also being part of the athletics department at USC and watching the Gamecocks in Williams-Brice Stadium as one of 80 000 spectators. When you get older, you become more humble about how everything was supported and served for us athletes to be able to concentrate on our sports and schoolwork.
"South Carolina is a beautiful university with lots of history. I remember being very fond of the Horseshoe area. I was the girl on the bike at school and yelled at by friends when biking home after dark.  I also liked getting friends from all over the world. I still keep in touch with some. The closest friend is my roommate, Linda, who was on the South Carolina swim team, from England. We still meet regularly."
Sekkenes has made a few trips back to her alma mater and enjoys seeing her former teammates, but she was also deeply saddened by Elkin's passing in 2012.
"At the team-reunion in 2008, it felt just like 1988," Sekkenes said. "We did decide to meet up again but then coach Arlo unexpectedly passed away from us far too early. My four years at South Carolina are a life-long memory, but it won't be exactly the same because our Arlo is not present there anymore." 
Sekkenes has two college-aged daughters, Martina and Emma and hopes to bring them back to visit her old stomping grounds someday.
"I would love to, and I will visit, South Carolina and Columbia again," Sekkenes said. "With my daughters or maybe grandchildren, show them my Columbia and USC footsteps.  A funny detail is that the Swedish tennis magazine, Tiebreak, that I was in charge of, is in the University library thanks to my Swedish friends Ann and Hans Olving in Lexington."