Coordinated Team Effort Led to Productive COVID Testing for Gamecocks
When South Carolina's student-athletes were given the green light to return to campus this summer in the hopes of preparing for a Fall 2020 season, the Athletics Department's medical staff wanted to do everything in its power to keep them safe during the current COVID-19 pandemic. South Carolina received a helping hand to do just that thanks to a great combined effort from Nephron Pharmaceuticals, Prisma Health and a few other outstanding local medical science professionals.
Nephron Pharmaceuticals played a major role in the testing area and continues to do so. South Carolina alumna Lou Kennedy, who is the president and CEO of Nephron, said she began looking into information about the best equipment on the market needed for testing early on in the pandemic.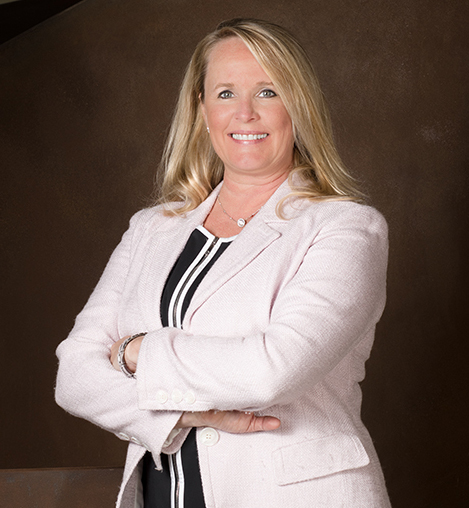 Lou Kennedy
"The idea came to me around my own company and our employees because we're considered essential," Kennedy said. "Once I bought the equipment and after looking at the fact that I had a million dollars in capital expenditures, I thought we should make this available to others. We reached out to Dominion Energy, since they're our neighbor, to see if their essential workers out in the field needed testing. I made sure to let (Athletics Director) Coach (Ray) Tanner and others at the University know that we would help. I also felt like it was an opportunity since we're already in the chemistry lab and micro lab business and have these outstanding molecular biology majors associated with the University, we should give them another place to practice their craft. 
"It's worked out that we tested not only the student-athletes but also the returning students to campus. As proud alums, my husband (Bill) and I are glad to be a part of it. We made the hand sanitizer for all the students. We made test kits. We're involved in a lot of different ways with the COVID-19 response."
"Nephron has done a tremendous job," said Clint Haggard, Head Athletic Trainer for South Carolina football. "Lou Kennedy is a big supporter of our program. The ease of use was great. I can call them, and they'll come out. If we have guys who are sick, we can send them over there and they get tested right away, and we're getting results back in four to eight hours from them. Nephron is still working with us now, and they're running all of our tests now."
Early in the testing process this summer, Prisma Health played a huge role as well.
"The two groups at Prisma Health, the lab group and the actual testing group, came out in June when all the guys came back, and they tested everybody," Haggard said. "Again, the ease of use and the way it was organized was fantastic. They got results (of nasal swab tests) back to us in about 12 hours. To go through and test 300 people and get the results back that quickly was really great for us and helped us move forward to try to make sure our guys were safe."
"This is just what we do," said Ann McNaboe, Manager of Outreach Lab at Prisma Health. "We've always had a relationship with South Carolina as far as doing the blood work for their athletes that come back every year and their first-year athletes for their routine lab work. They initially approached us to do the COVID testing, both the nasal swabs and the blood draws. I have a group of phlebotomists that we would bring out there, process, and give them the results.
"It made a big impact. Getting those results back allowed us to move forward quicker."
– Clint Haggard, Athletic Trainer
"South Carolina is really good about working with us and scheduling it out and giving us the information we need ahead of time. They had them on a really good schedule with five of the athletes coming in every ten minutes or so. It's like clockwork. It's a well-oiled machine now. The first day we did it, we were ahead of schedule."
Having the quick turn-around throughout the summer from the efforts of Nephron and Prisma Health allowed the student-athletes to not only work out consistently in their small groups or pods, but it also helped the medical staff reduce the spread of the virus by quickly isolating or quarantining any student-athletes who tested positive.
"It made a big impact. Getting those results back allowed us to move forward quicker," Haggard said.  "We were working on this about a month before the guys came back in June. The organization of it was fantastic."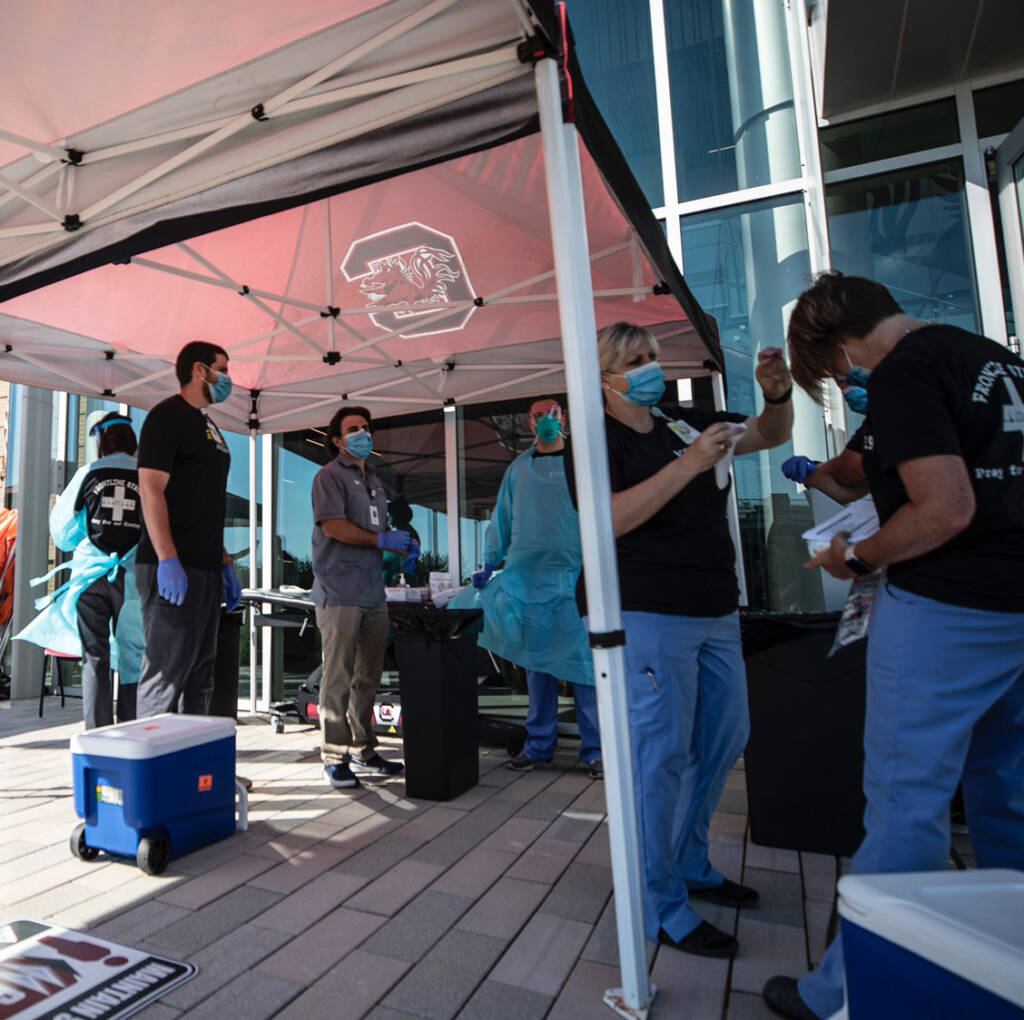 "They have great athletic trainers there at South Carolina," said Robin Mauldin, a registered nurse at Prisma Health and Administrator for Quality and Clinical Support, who was responsible for coordination with the lab. "I'm over COVID testing here at Prisma – Richland. This has been my fulltime job since March. The staff enjoyed it. There were no issues whatsoever.
"The reason why it was such a success was that we knew who was coming, and the South Carolina people brought them to us. There was no line, and everyone was social distancing. They came in, swabbed, got their blood taken and left. It was scheduled very well."
"I've participated in a panel with (White House coronavirus response coordinator) Dr. (Deborah) Birx when she visited the University of South Carolina," Kennedy said. "We received rave reviews from Dr. Birx, and one of the things she was very proud to hear about was the fast turnaround. We've been able to turn it around the fastest so far. If we test in the morning, we get the results to you after lunch. This is important because if someone is positive, you want them isolated, so they don't spread it to someone else. The SEC has put us on their lab list."
The medical staff had many other procedures in place to help prevent rapid spread within the team, such as seven-day isolation for the student-athletes when they first came back to campus, daily temperature checks, baseline testing, mandatory wearing of masks, and initially restricting players to small workout groups to aide in contact tracing. Initially, student-athletes were being tested weekly, but there were tests being given daily whenever someone displayed symptoms or may have had contact with someone who has the virus.
With the recent breakthrough in saliva testing, the Gamecocks are being tested three times per week and Nephron has played a big role in that as well.
Researchers in the university's College of Pharmacy developed the Saliva Assay Free Expedited test. Dr. Phillip Buckhaults, a cancer researcher and professor in the College of Pharmacy, said the noninvasive alternative to nasal swab tests identifies the virus's genetic material with results typically available within 24 hours. The Gamecocks were able to take advantage of this innovation as well.
"We're very good at detecting molecules of DNA and RNA at very low levels," Dr. Buckhaults said of his research lab. "That's what we do all the time for our cancer work. When this pandemic hit, I shut down my lab and sent everyone home. I started putting together a PCR test to detect the stuff. I teamed up with Dr. Helmut Albrecht to start testing the health care workers at Prisma. Two other professors in my department got involved. At some point, I began running out of the reagents to do nasal swabs, so I started poking around to find other methods.  Eventually I got it to work so you could do PCR from spit!
"Clint got in touch with me to start checking out people in Athletics. He started bringing a few samples to try to contain the spread within football. They were among the early adopters for South Carolina. Early on, this was with University testing in mind. In order to reopen the campus, we needed to test. It worked, and we learned a lot. They were able to isolate positives and keep them from spreading. We learned valuable things that we wouldn't have figured out otherwise that helped us get the data to file for emergency use authorization from the FDA. So, they were really instrumental in making that happen. Now we're testing the campus. A few weeks ago, we had some hotspots on campus, and I told them we can put a stop to this because we've already done it with Athletics!"
The inspiration for the saliva test came from Dr. Helmut Albrecht, an infectious disease doctor who also leads the USC School of Medicine academic Department of Internal Medicine
"He's the physician in charge of the doctors who are treating COVID patients," Dr. Buckhaults said. "He had the good sense to write the protocol for testing the healthcare workers. He was the one who pointed out to me that this whole swab thing was going to be a problem and asked me if I could make something cheaper. He saw that it was ridiculous to spend all this money on swabs and viral transport media and do this whole process to find out who was positive. He said we needed to make it work so it could work anywhere in the world, including third-world countries because everyone is going to need it. So, what we came up with was an answer to his insight."
Haggard noted that early in this process, South Carolina was setting a standard for which many other schools and conferences were trying to attain.
"We were getting results back faster than everybody else," Haggard said. "We were also able to test more people in a shorter amount of time. That really helped us a lot, and that was different than other institutions. It was a huge undertaking."
"The swift way that Coach Tanner and the Athletics Department jumped on testing and the repeatability was really a model for what should be done throughout all the other schools," Kennedy said. "I've been pleased to work with them."
While the medical staff looks forward to the day that they don't have to lean on their medical partners so frequently, it's nice to know they are there when needed.
"It was mostly work by other people," Dr. Buckhaults said. "If it weren't for the President (Bob) Caslen and Dean (Stephen) Cutler (Pharmacy), and Dean (G. Thomas) Chandler (Public Health), Dean Lacy Ford (Arts & Sciences), and everyone who was bringing all the samples in, all the people at the top who were making things happen, there is no way this could have happened."