Track & Field Alumni are Working on the Front Lines of the Pandemic
Track and field competitors are accustomed to pushing themselves to new limits and working through adversity. A handful of former South Carolina student-athletes, who are now working in the medical profession, are doing just that during the COVID-19 pandemic.


Kayla Lampe
"There are moments every day in your shift when it can get overwhelming, and with COVID, I don't know that I felt overwhelmed, but there were times when it became very real for me," said Dr. Robert Razick (2010-2013), South Carolina's record-holder in the mile run who is doing a fellowship in global health at the University of Kentucky after recently finishing his residency in emergency medicine at Prisma Health – Midlands. "Perception is reality. I remember when the first COVID patients came in early last year, and they were air-hungry, and we had to put them on a ventilator. That's when it became more real. Seeing is believing. Those are moments that I will always remember in my career; being part of that initial wave."
"When it all started in March, there were a lot of unknowns," said former distance runner Kayla Lampe (2011-2015), who is an emergency room nurse at Bryn Mawr Hospital just outside of Philadelphia, where she's worked for the last five years. "It was a little scary because we didn't know how we would react to it if we caught it. We didn't know what to expect. Now, with this second wave, we know a little bit more about the virus, how it spreads and there are more treatment options."
"No matter how hard we try to stay safe, it can be scary sometimes," said Dr. Louis Day (2010-2012), who competed in many of the throws event including shot put and discus and is now an orthopedic surgeon at SUNY Downstate Medical Center in Brooklyn, New York. "It's hard to avoid getting sick. You know any moment that you can get sick because you're exposed to it so much. Every few minutes you hear another code over the speakers that another person wasn't doing well. So, when you keep hearing those announcements, it can get a little stressful and overwhelming."
While medical professionals put themselves at risk of infection every day, the former Gamecocks embraced the challenge that comes with their chosen profession.
"At the beginning, when we didn't know as much, there was a lot of concern, but that's what you sign up for when you go into medicine," said Dr. Andrew Vaughan (2008-2011), who threw the javelin for the Gamecocks and is currently a family medicine physician at Prisma Health in Columbia. "You're going to be more exposed to pathogens than a lay person who is not around sick people all the time. I've been pretty confident in our hospital task force and leadership team as far as making sure that our staff always had personal protective equipment and patients have been great about wearing face masks when they're in with us."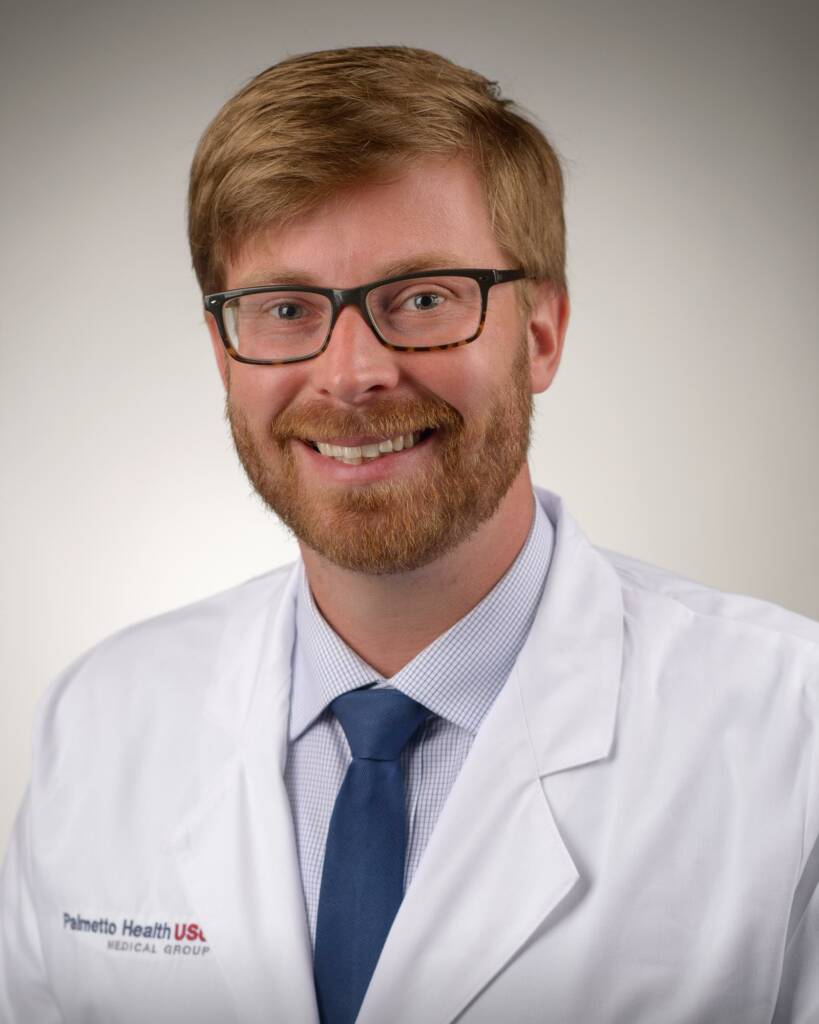 Dr. Andrew Vaughan
"I feel like most of us enter the field for the same reason; to help people," Day said. "It's what we signed up for."
"At first it was scary," Lampe said. "It does go through your mind at the beginning, but for me, it gave a lot of sense of purpose for this year. I felt like I could make a difference. This is why I became a nurse in the first place – to help people. This year just shows why we do this. This is why we do what we do.
"It's definitely stressful because if I were to get the virus, I think I would be OK, but if I spread it to my family or somebody else, that's my biggest fear."
"I think about that every day I go to the hospital," said Razick. "In emergency medicine, there's a baseline chaos to it and uncertainty. That's probably why most of us choose it, to a degree. It's a unique challenge, and I think I was ready for it. I had really great teachers and attending physicians back in Columbia. I'm right where I belong, and I like what I do."
"It does seem like a light at the end of the tunnel, but we're still not sure quite how long that tunnel will be."
– Dr. Andrew Vaughan
Reflecting on all that has happened in the last year, medical professionals have had to do a lot to adapt.
"It's been very interesting to say the least," Razick said. "I was finishing my residency when everything started to happen. The E.R. went from very busy to a ghost town when people started hearing about COVID and, unfortunately, dying from it. Seeing patients come in with it and their oxygen level would be so low. Getting used to the work and wearing an N95 (respirator) could be frustrating until you got used to it. As the year has gone on and we learned more about COVID and how to treat it, it's still strange, but we're finding a way to make it as normal as possible."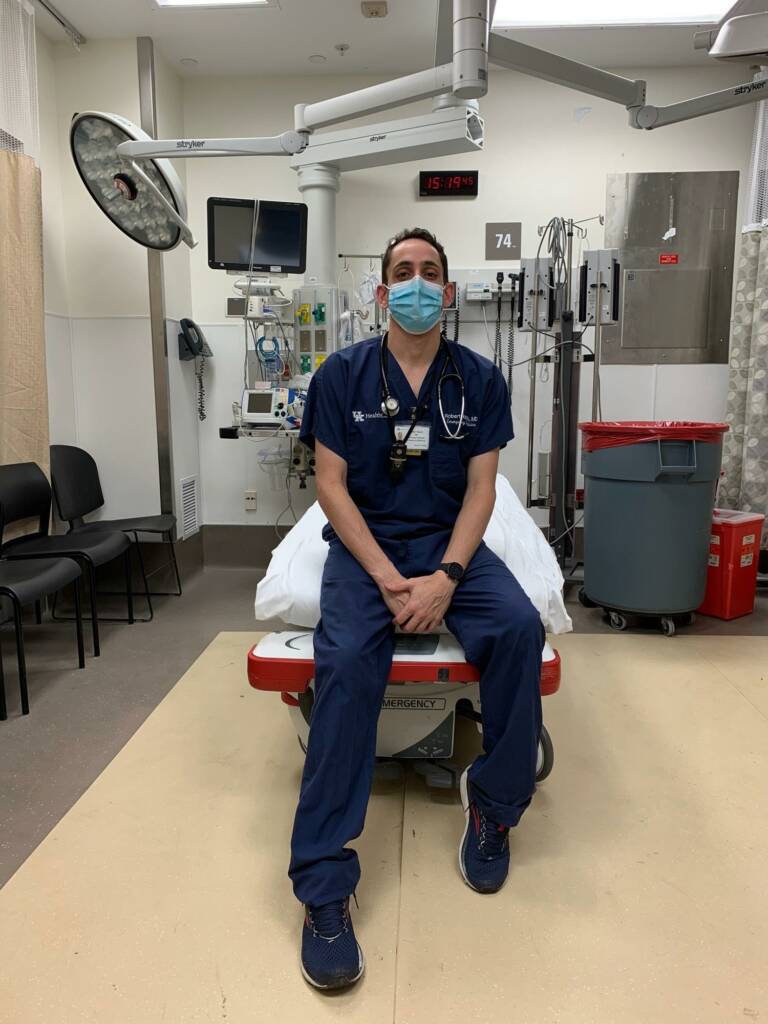 Dr. Robert Razick
"There have been a lot of changes," said Day. "When we first started all this, it was tougher because we were short on P.P.E. and we were still trying to figure the virus out. As we went along, everyone banded together and stepped away from their fields to help each other out. Even though we were orthopedic surgeons, we were trying to help out sick people in the ICU."
"It's been quite a year," Vaughan said. "At the beginning of the pandemic, when we knew less, we were mostly focusing on making sure we had enough protective equipment, and that we were doing our best to keep our staff and patients safe. Since we had put in safety protocols and doing more virtual visits as part of our patient care, things have been a little bit more smooth sailing. Now with the flu season in full swing as well, we are doing our best to make sure that patients and staff are as cared for as best they can be without putting them at unnecessary risk of infection."
With vaccines beginning to make their way across the country, the former Gamecocks are hopeful that it will help in slowing the spread of the virus.
"It's the light at the end of the tunnel right now," said Lampe who was scheduled to get the vaccine on her birthday recently. "I'm excited. There's an extra level of having the vaccine and going in to treat people, knowing that I have a little bit more immunity to the virus. It won't change the P.P.E. that I wear, but it will make me feel a little bit safer."
"It's encouraging," said Razick. "Cases are picking up here in Kentucky, and as hospitals get full, I'm definitely concerned about what's going to happen in the next few months. I'm a little concerned with some of the surveys they've done about how many people are going to get the vaccine. It's not going to really work in terms of herd immunity if a lot of people don't get it. But there is definitely hope now with the vaccines coming through."
"This really happened much quicker than a lot of medical professionals predicted," Vaughan said. "It does seem like a light at the end of the tunnel, but we're still not sure quite how long that tunnel will be."
"I think we're heading in the right direction," Day said. "Hopefully, this is the first step in getting back to normal."