Patience Pays Off as Gamecocks Head to NCAA Outdoor Championships
Just one more shot. That's what South Carolina track and field graduate students Aliyah Abrams and Eric Favors were hoping for. The COVID-19 pandemic wiped out what originally was going to be their senior season and last chance at going to the NCAA Outdoor Championships last year, but the extra year of eligibility granted by the NCAA gave them one more chance, and now they're excited to make the most of their opportunity after qualifying for nationals last week at the NCAA Regional in Jacksonville.
"I had just assumed everything was done, and I was looking at other opportunities, like going to grad school, maybe in Ireland because I have dual citizenship," said Favors, who qualified in the shot put. "As soon as they said they were granting the seniors another year, a weight was lifted off my chest because I had unfinished business."
"The majority of us were kind of devastated at how abruptly the season ended," said Abrams, who qualified for the 400m and the 4x400m relay. "I didn't think I'd get another chance. I'm just glad everyone was granted another year. If feels like I'm able to finish what I originally set out to do. I'm so glad I was able to make it back to the national championships because that's the goal you work for."
Neither was able to compete in the indoor season earlier this year as they had exhausted that eligibility, so there were some mental hurdles to overcome, in addition to some expected and unexpected physical hurdles in the long wait to compete in the outdoor season a year after sports were shut down.
"If there were any hiccups at all, it would be mental hiccups," said Abrams, who recently finished her graduate work in physical activity and public health. "Sitting back and watching everyone compete in indoors, you're just so anxious to get out there and perform. Just keeping up your strength and your health, especially during COVID, it's just so hard to do anything normal because we had all these restrictions. You didn't want to be around people because you might get sick and have to sit out three weeks. So, trying to train and get ready for outdoors was really a battle.
"I credit a lot of my mental strength to my boyfriend. He really has been a great motivator."
"I had COVID in the fall, and the biggest hiccup was getting back in the swing of things," said Favors, who is finishing his master's work in education technology after earning his bachelor's in criminal justice. "We weren't given an extra indoor season, and they weren't allowing the COVID seniors to just go out and compete somewhere, so getting back in competing shape and dealing with a bunch of small injuries was definitely an adjustment.
"All of my teammates are really good motivators. Whenever I'm angry, they keep pushing me and tell me to trust the process. The road to success is not a straight line."
"South Carolina has provided numerous opportunities for us to grow as student-athletes and people."
– Aliyah Abrams
A five-time All-American, Abrams qualified for the NCAA Outdoor Championships for the for the fourth time in her career. She was also a part of the 2019 4x400m relay National Championship team at the NCAA Indoors. Favors is making his second appearance at the NCAA Outdoor Championships after qualifying in 2019, and for both Gamecocks, those previous experiences will help in their final meets in the Garnet and Black.
"I think the first time, it was more about getting to the championships," Favors said. "I wanted to compete well, but just experiencing the high intensity, the anxiety took over and I didn't do as well. This year I'm really in a solid place."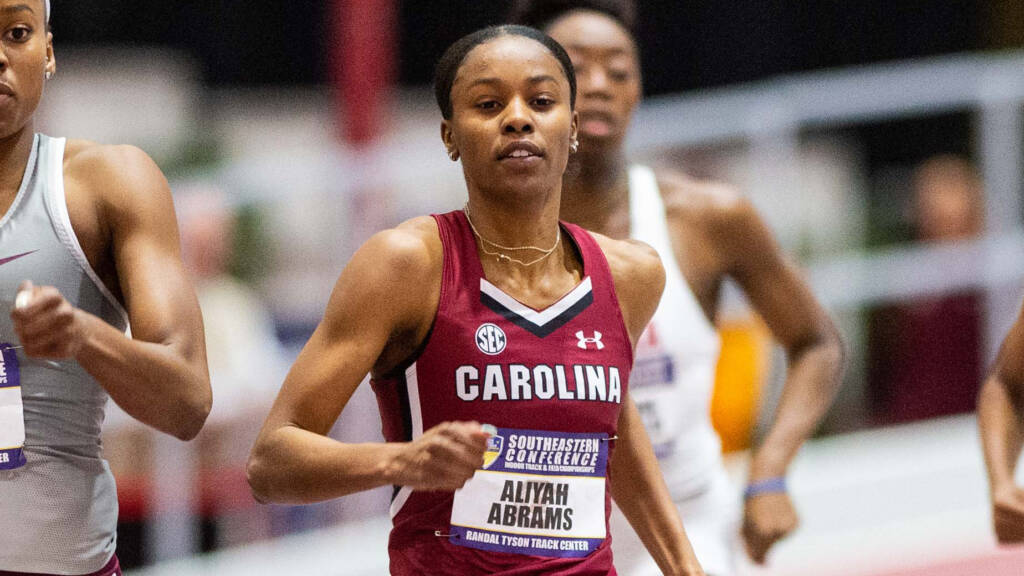 Aliyah Abrams
"We're veterans at this point, so we know what to expect," Abrams said. "We know how to push our bodies so we can get the best out of our performances at nationals. I'm just grateful that my body held up to this point. We're both in our sixth year. It's not exactly a walk in the park. You definitely have to push yourself a little bit more to get to the ultimate goal you want to achieve."
With training and competing being a big part of their everyday life for so long, both still have a passion for what they do.
"For me, it's about reaching and setting new goals and standards for myself," Abrams said. "Those feelings of being better than I was last year or that I completed this workout better than I did in the past, it really gets me going."
"It's the progress that I've made in these last six years, not only physically, but mentally, and the ability to handle adversity," Favors said. "I've really had to focus on the mental side of competing. That made a world of difference in what I'm doing now."
The facility in Eugene, Ore., has served at the host site for the Outdoor National Championships 15 times since 1962 and is considered hallowed ground for track and field student-athletes. After some recent renovations, the Gamecocks are thrilled to be a part of that tradition and can't help but think about what it would mean to be standing on the podium at the end of the week.
"I see it as last one, best one," Favors said. "This is what we've been working for. What really matters is getting that All-American statue and possible national championship.
"It would mean the world to me.  I came in and wanted to make an impact for the Gamecocks. I came in as a wild kid from New York. Getting the structure from the academics' standpoint and athletics and growing as a person; Coach (Curtis) Frye really pushes character and integrity. I've grown a whole lot. I'm very grateful for the opportunity."
"I have been to Eugene before," Abrams said. "I'm excited to go back and see the new facility.
"It would mean a lot (to win it). It's like checking off that final thing on your to do list. I've had a great time here as a whole. South Carolina has provided numerous opportunities for us to grow as student-athletes and people. Coach Frye is so great about letting us see what else is out there. It's been a blessing to be a part of this team."
The NCAA Outdoor Championships will be held June 9-12.