Gamecocks Open 2022 Season Saturday Night
The Basics
The South Carolina Gamecocks (0-0, 0-0 SEC) begin the second year of the Shane Beamer Era when they host the Georgia State Panthers (0-0, 0-0 Sun Belt) on Saturday, Sept. 3, at Williams-Brice Stadium (77,559) in Columbia. This is the first gridiron meeting between the two schools.
* The game will be streamed on ESPN+/SECN+ with Courtney Lyle handling the play-by-play. She will be joined in the booth by Chris Doering. Tamara Brown will handle the sideline duties.
* 2022 marks the 129th season of intercollegiate football at the University of South Carolina, dating back to 1892. It is the 116th-consecutive year in which South Carolina has competed on the gridiron. The University did not field a team in either 1893 or 1906. Carolina owns an all-time record of 621-601-44, a .508 winning percentage.
* The two head coaches – South Carolina's Shane Beamer and Georgia State's Shawn Elliott – were both assistant coaches at South Carolina under head coach Steve Spurrier and worked together on the 2010 staff that captured the SEC Eastern Division title. Beamer worked as the outside linebackers/co-special teams coordinator in 2007; cornerbacks coach in 2008, and Spurs/strong safeties/special teams coordinator/recruiting coordinator in both 2009 and 2010. Elliott was the offensive line coach from 2010-16. He also served as Carolina's interim head coach in the second half of the 2015 season, posting a 1-5 mark. He was the lone holdover from Coach Spurrier's final staff to Will Muschamp's first staff in 2016.
CAROLINA VS. GEORGIA STATE: This is the first time that South Carolina and Georgia State have met on the gridiron.
The Opponent
WHO ARE THESE GUYS?: Georgia State University is located in Atlanta. It was founded in 1913 and has an enrollment of 52,000. The Panthers first season of FBS football came in 2010. They joined the Sun Belt Conference in 2013 and gained full FBS eligibility in 2014.
ALL-TIME WITH GSU: The Panthers own an all-time record of 50-92 in 11 years of competition. They have appeared in five bowl games, winning three.
THE PANTHERS IN 2021: Georgia State posted an 8-5 record overall, including a 6-2 mark in the Sun Belt, good for second in the Eastern Division, during the 2021 campaign. They defeated Ball State, 51-20, in the TaxAct Camellia Bowl.
TOP CROWDS: Georgia State has played in front of 60,000 or more fans eight times in its history. Here are the top-10 crowds to watch Panther Football:
1. Sept. 16, 2017 at Penn State 102,746
2. Nov. 18, 2010 at Alabama 101,621
3. Oct. 5, 2013 at Alabama 101,254
4. Sept. 8, 2012 at Tennessee 87,821
5. Aug. 31, 2019 at Tennessee 85,503
6. Sept. 17, 2016 at Wisconsin 79,883
7. Nov. 22, 2014 at Clemson 77,693
8. Sept. 20, 2014 at Washington 64,608
9. Sept. 14, 2013 at West Virginia 57,440
10. Sept. 19, 2015 at Oregon 56,859
FUN IN THE SUN BELT: The Gamecocks own an 18-2 all-time record against teams that currently comprise the Sun Belt Conference, with all 20 contests held in Columbia. The Gamecocks are 8-2 against Appalachian State (most recently 2019), 4-0 vs. Troy (2004, '05, '10, '21), 2-0 against Coastal Carolina (2013, '18) and Louisiana (2003, '07), and 1-0 vs. South Alabama (2014) and Southern Miss (2010).
THE HEAD COACH: Panther head coach Shawn Elliott is in his sixth season in Atlanta. The 1996 Appalachian State grad has compiled a 30-30 mark since taking over the Georgia State program. Elliott is very familiar with Columbia and the Gamecocks. He is originally from nearby Camden, S.C. and his family still resides in Columbia. He was a Gamecock assistant coach under Steve Spurrier (2010-15) and Will Muschamp (2016). He served as the Gamecocks' interim head coach for the final six games of the 2015 season, posting a 1-5 mark.
CIRCLE THE DATE: University of South Carolina "Super Senior" Jordan Strachan probably has had this game circled for a while. Strachan began his career at GSU in 2017 as a walk-on safety. He moved to outside linebacker during that redshirt freshman season and worked his way up to where he tied for first in the country with a school-record 10.5 sacks in the 2020 season. He transferred to South Carolina in January of 2021.
JAM FEST: Former Gamecock Jamyest Williams returns to Columbia this week. Williams spent three seasons playing in the secondary for the Gamecocks before transferring to GSU in January 2020, where he was moved to the offensive side of the ball. While a Gamecock, he logged three career interceptions and 70 tackles in 19 games and was named to the 2017 SEC All-Freshman Team. Jam's best moment was an interception that set up the go-ahead touchdown against Missouri in his first career start.
THE PEOPLES CHOICE: Georgia State assistant coach Cory Peoples lettered for two years (2003-04) at South Carolina, before earning his bachelor's degree in retail management from in 2005.
All About Carolina
NON-CONFERENCE SUCCESS: The Gamecocks are 36-12 in their last 48 non-conference games, a .750 winning percentage, with seven of the 12 losses in that stretch coming against Clemson. The Gamecocks went 4-1 against non-conference foes in 2021, posting wins over Eastern Illinois, East Carolina, Troy and North Carolina and losing to Clemson.
PROTECT THIS HOUSE: Carolina has won 33 of its last 39 home games against non-conference foes. The Gamecocks had won a school-record 22-straight home games against non-conference teams before dropping the final two games of the 2015 regular season to The Citadel and Clemson. The Gamecocks were 2-1 in home non-conference games in 2021, defeating Eastern Illinois and Troy and falling to Clemson.
THE POWER OF FIVE: Since the turn of the century, the Gamecocks have a 49-4 mark against teams not currently in a Power-5 conference. The only four losses in that stretch came to UConn in the 2010 Papajohns.com Bowl, to The Citadel in 2015, to USF in the 2016 Birmingham Bowl and to Appalachian State in 2019. It should be noted that UConn was in the Big East, which was a BCS automatic qualifier during the 2009 season.
JADEVEON'S JERSEY: Jadeveon Clowney, a two-time first-team All-American and All-SEC selection and the 2012 SEC Defensive Player of the Year, will have his jersey retired in ceremonies at halftime of this week's game.
Clowney was the first selection of the 2014 NFL Draft by the Houston Texans and is currently playing for the Cleveland Browns.
The Rock Hill, SC, native came to South Carolina as the nation's top high school recruit in 2011 from South Pointe High School and immediately made an impact for the Gamecocks.
As a true freshman in 2011, he was named SEC Freshman of the Year and second-team All-SEC. He was named to multiple Freshman All-America teams after being credited with 36 total tackles, 12 for losses, including eight sacks and five forced fumbles.
His sophomore season in 2012 was his greatest year as a Gamecock. He tallied 54 total tackles, a school single-season record 23.5 for losses, including 13 sacks (school-record) and three forced fumbles. Clowney became South Carolina's second unanimous All-American in school history and first since George Rogers in 1980. He was the recipient of the Ted Hendricks Award as the nation's top defensive end. Additionally, he was a finalist for the Chuck Bednarik Award, the Bronko Nagurski Trophy, the Lombardi Award, and finished sixth overall in the 2012 Heisman Trophy voting.
Following his sophomore season, Clowney was voted by the fans as the 2012 AT&T All-America Player of the Year on January 7.
Clowney's tackle, forced fumble and fumble recovery against Michigan in the 2013 Outback Bowl is regarded as one of the most iconic moments in recent college football history.
In his junior and final campaign as a Gamecock, Clowney registered 39 total tackles, 11.5 for losses, including three sacks and a forced fumble on his way to a second-straight first-team All-American season.
The Gamecocks were a combined 33-6 overall and 18-6 in SEC play during his three seasons wearing the Garnet and Black. Carolina finished each of the three seasons with bowl victories – 2011 vs. Nebraska in the Capital One Bowl, 2012 vs. Michigan in the Outback Bowl and 2013 vs. Wisconsin in the Capital One Bowl.
Carolina finished in the Top 10 in each of his three seasons and was ranked in the AP Top 25 every week of Clowney's career. Carolina finished the 2013 season ranked 4th in the final AP poll, its best final ranking ever.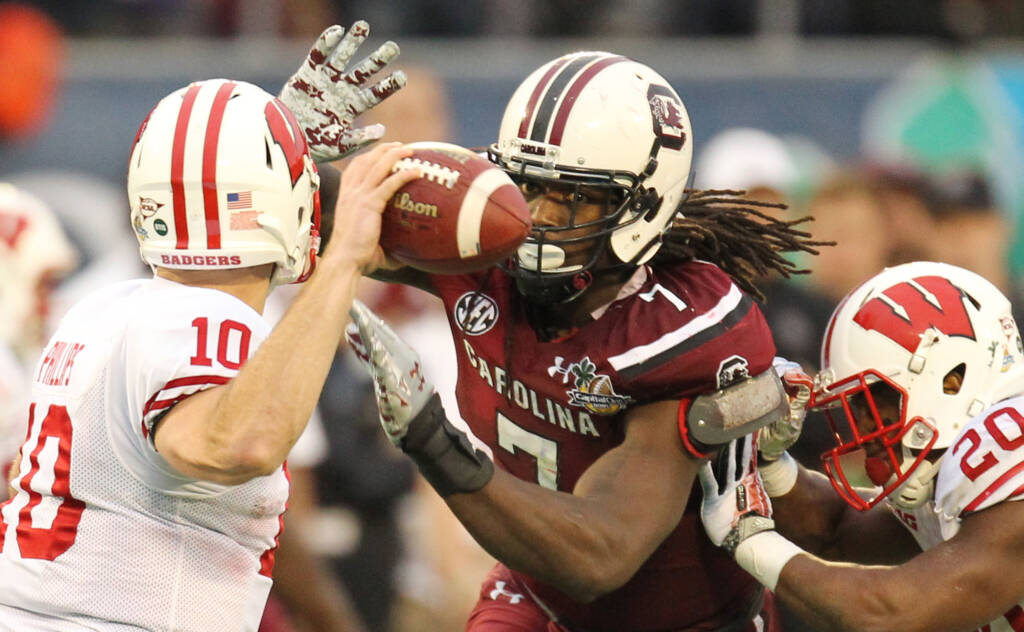 FOR OPENERS: The Gamecocks have compiled an 85-39-4 record in season openers, a winning percentage of .680, through 128 years of intercollegiate football. In the 96 seasons in which the Gamecocks have opened at home, the record is a very impressive 72-20-4. That translates into a .771 winning mark.
PANTHER POWER: The Gamecocks are opening the season for the second year in a row against an opponent whose nickname is the Panthers. Last year it was Eastern Illinois as the opening day opponent. Things didn't turn out well that day for the Panthers from Charleston, Ill., as they left Columbia with a 46-0 setback.
OPENING DAY BESTS: Here are the top opening day individual performances in South Carolina football history:
100-yard Rushing Games In Season Openers
1. 187 Duce Staley, UCF (1996)
2. 160 Harold Green, Duke (1989)
3. 153 George Rogers, Pacific (1980)
4. 128 ZaQuandre White, Eastern Ill. (2021)
5. 120 Brandon Bennett, Georgia (19994)
6. 118 Derek Watson, NC State (1999)
7. 115 Mike Davis, North Carolina (2013)
8. 114 Derek Watson, N. Mexico St.(2000)
9. 113 Mike Dingle, Duke (1990)
113 Carl West, Pacific (1980)
11. 112 Marcus Lattimore, E. Carolina (2011)
12. 110 Marcus Lattimore, Vanderbilt (2012)
13. 105 Rico Dowdle, Coastal Carolina (2018)
14. 104 Carl Brazell, Wofford (1955)
15. 103 Earl Clary, Duke (1931)
16. 102 Jeff Grantz, Georgia Tech (1973)
17. 101 Mike Davis, NC State (2008)
18. 100 Harold Green, North Carolina (1988)
200-yard Passing Games In Season Openers
1. 405 Steve Taneyhill, Georgia (1994)
2. 366 Dylan Thompson, Texas A&M (2014)
3. 330 Blake Mitchell, UCF (2005)
4. 329 Todd Ellis, Appalachian State (1987)
5. 318 Bill Troup, Virginia (1972)
6. 290 Todd Ellis, North Carolina (1988)
290 Collin Hill, Tennessee (2020)
8. 250 Jake Bentley, Coastal Carolina (2018)
9. 238 Allen Mitchell, The Citadel (1984)
10. 236 Anthony Wright, UCF (1996)
11. 220 Phil Petty, Boise State (2001)
12. 215 Jake Bentley, NC State (2017)
100-yard Receiving Games In Season Openers
1. 146 Ira Hillary, The Citadel (1984)
2. 140 Jackie Brown, Virginia (1972)
140 Shi Smith, Tennessee (2020)
4. 134 Stanley Pritchett, Georgia (1995)
5. 120 Zola Davis, UCF (1997)
6. 113 Nick Jones, Texas A&M (2014)
7. 110 Mike Haggard, Virginia (1972)
8. 106 Alshon Jeffery, Southern Miss (2010)
9. 101 Bryan Edwards, Vanderbilt (2016)
2021 IN REVIEW: South Carolina concluded its 128th season of intercollegiate football in 2021 with a record of 7-6, including a 3-5 mark in the SEC. In Shane Beamer's first year at the helm, the Gamecocks posted wins over traditional SEC powers Florida and Auburn in the regular season, and capped the season with a convincing 38-21 win over North Carolina in the Duke's Mayo Bowl. Coming off a two-win campaign in 2020 and with just six wins total over the previous two seasons, the Gamecocks went into the 2021 season predicted by the "experts" to win just 3.5 games on the season, but doubled that total with seven wins. The Gamecocks started and won with four different quarterbacks during the season.
MAYO BATH: South Carolina dominated the North Carolina Tar Heels by a 38-21 margin in the Duke's Mayo Bowl, held in Charlotte, N.C., on Dec. 30. Dakereon Joyner, making his first start at quarterback in 2021, earned MVP honors after completing all nine of his passes for 160 yards and rushing 10 times for 64 yards. Kevin Harris rushed 31 times for 182 yards and a score. Tight end Jaheim Bell caught five passes for 159 yards, including touchdown catches of 69- and 66-yards on the Gamecocks' first two possessions. The Gamecocks rolled up a bowl-record 543 yards in the rout that matched the two boardering flagship state universities. To celebrate the win, head coach Shane Beamer was doused with a huge jar of Duke's mayonnaise.
BEAMER HONORED: Shane Beamer was recognized as the co-Steve Spurrier First-Year Head Coach of the Year, as selected by the Football Writers Association of America (FWAA), sharing the honors with Tennessee head coach Josh Heupel. Beamer tied the Carolina school record for wins by a first-year head coach with seven.
WHO'S NEW: The Gamecocks introduced two new assistant coaches who join the staff for the 2022 campaign. Sterling Lucas will coach the outside linebackers and defensive ends, replacing Mike Peterson, while Jody Wright has been hired to coach the tight ends, replacing Erik Kimrey. Both Lucas and Wright come most recently from NFL stints. Lucas has spent the past six years with the Ravens and Jaguars, while Wright has spent the past three seasons with the Browns and Giants.
BREAKING IT DOWN: The 119-man roster consists of five grad transfers, 10 "Super Seniors", 12 seniors, 24 juniors, 21 sophomores, 17 redshirt freshmen and 30 true freshmen.
THEY'RE BACK: The Gamecocks welcome 49 returning letterwinners to begin the 2022 fall camp. The lettermen consist of 21 offensive players, 23 on defense and five special teams players.
RETURNING STARTERS: The Gamecocks list 13 returning starters of a possible 24 (offense, defense, punter, placekicker) from the 2021 squad, seven on offense, five on defense and one specialist. The returning offensive starters are WR Jalen Brooks, OC Eric Douglas, RG Jovaughn Gwyn, WR Dakereon Joyner, LG Vershon Lee, WR Josh Vann and RT Tyshawn Wannamaker. The returning defensive starters are LB Brad Johnson, DT Zacch Pickens, S RJ. Roderick, CB Darius Rush, and CB Cam Smith. The specialist is P Kai Kroeger.
EVERY TIME OUT: The Gamecocks had eight players start all 13 games in 2021 including OC Eric Douglas, RG Jovaughn Gwyn and TE Nick Muse on offense, and DT Jabari Ellis, S Jaylan Foster, LB Brad Johnson, DT Zacch Pickens and DE Aaron Sterling on defense. Gwyn (34-consecutive starts), Douglas (23), Pickens (19) and Johnson (13) return in 2022.
GONE BUT NOT FORGOTTEN: The Gamecocks said good-bye to 30 letterwinners including 11 starters off last year's team, four on offense, six on defense and one specialist. The departed starters include RB Kevin Harris, TE Nick Muse, QB Zeb Noland and OT Jazston Turnetine on the offensive side of the ball, and DT Jabari Ellis, EDGE Kingsley Enagbare, S Jaylan Foster, N Carlins Platel, LB Damani Staley and DE Aaron Sterling on defense. Carolina also lost its all-time leading scorer in PK Parker White.
IT'S A NUMBERS GAME: Carolina returns 37 percent of its rushing yards, 46 percent of its passing yards and 74 percent of its receiving yards from 2021. Juju McDowell (248 yards) and MarShawn Lloyd (228 yards) are the top returning rushers, while Josh Vann (679 yards) and Jaheim Bell (497 yards) are the top returning receivers. The Gamecocks top returing passer is Luke Doty (975 yards). Six of the squad's top 10 tacklers return for the 2022 season, including Brad Johnson (74 tackles), and R.J. Roderick (64). Jordan Strachan (6.0 tackles for loss, 3.0 sacks) and Zacch Pickens (5.0 tackles for loss, 4.0 sacks)are the top returners in those two categories, while Cam Smith recorded three interceptions and 11 pass breakups a year ago.
UTILIZING THE PORTAL: The Gamecocks' roster features nine scholarship transfers, six of whom enrolled at Carolina in January. The spring enrollees included RB Christian Beal-Smith (Wake Forest), RB Lovasea Carroll (Georgia), EDGE Terrell Dawkins (NC State), QB Spencer Rattler (Oklahoma), DB Devonni Reed (Central Michigan), and WR Antwane Wells Jr. (James Madison). TE Nate Adkins (East Tennessee State), WR Corey Rucker (Arkansas State) and TE Austin Stogner (Oklahoma) were added to the roster in the summer.
SUPER SENIORS: The Gamecocks list 10 players (not including transfers) whose eligibility would have expired at South Carolina had not the NCAA allowed the 2020 season to be a "free" year. Those "super seniors" are WR Jalen Brooks, OL Eric Douglas, LB Sherrod Greene, LB Brad Johnson, DB R.J. Roderick, EDGE Jordan Strachan, WR Chad Terrell, WR Josh Vann, DL M.J. Webb and OL Dylan Wonnum.
ONE FOR THE THUMB: With the NCAA rule allowing for an extra year, five Gamecocks – OL Eric Douglas, LB Brad Johnson, DB R.J. Roderick, WR Josh Vann and OL Dylan Wonnum – can become five-year letterwinners.
TOTING THE SHEEPSKIN: The Gamecocks have 21 players on the active roster who will have their college degrees in hand prior to the start of the 2022 football season. Twelve players who wore the SEC Graduate patch in the Duke's Mayo Bowl return for the 2022 season. That list includes Wyatt Campbell, Eric Douglas, Sherrod Greene, Brad Johnson, Tyreek Johnson, Dakereon Joyner, Hank Manos, Darius Rush, Jordan Strachan, Chad Terrell, M.J. Webb and Dylan Wonnum. Two players, Jovaughn Gwyn and Jaylen Nichols, graduated in May. Traevon Kenion and R.J. Roderick graduated in August. In addition, Nate Adkins (East Tennessee State), Christian Beal-Smith (Wake Forest), Dante Miller, (Columbia) Devonni Reed (Central Michigan and Austin Stogner (Oklahoma) have degrees from other institutions.
YOU'RE MONEY'S NO GOOD HERE: Wide receiver Payton Mangrum was awarded the Jake Panus scholarship prior to the start of the fall semester. Mangrum has been a regular on special teams and has also been on the SEC Academic Honor Roll. Matthew Bailey was the 2021 recipient.
NO BUENO: Sixth-year tight end Chad Terrell suffered an ACL injury during the Gamecocks' first scrimmage of the fall and will miss the entire 2022 season. It was the third ACL Terrell has suffered during his Gamecock career.
IN THE POLLS: The Gamecocks received two votes in the Associated Press preseason poll and five votes in the AFCA Coaches preseason poll. It's the first time since the 2019 season in which Carolina received votes for the top-25. The last time was after the upset win at Georgia in 2019 which improved their record to 3-3. The last time they received votes in the preseason poll was also in 2019 when they collected 15 votes in both the AP and Coaches preseason polls.
EARN YOUR STRIPES: The Gamecocks are not expected to start any true freshmen in the season opener this year. There have been nine that have done so since 2009:
2009 Stephon Gilmore
2010 Marcus Lattimore
2011 Jadeveon Clowney
2014 Bryson Allen-Williams
2014 Al Harris
2016 Bryan Edwards
2018 Jaycee Horn
2019 John Dixon
2019 Jammie Robinson
UP NEXT
The Gamecocks will travel to Fayetteville, Ark. next week to open their SEC slate against the No. 19/23 Arkansas Razorbacks. Game time at Reynolds Razorback Stadium is set for Noon ET (11 am local) and the contest will be televised nationally on ESPN. The two teams met every year from 1992-2013 as "permanent" cross-division rivals. The Hogs lead the all-time series by a 13-10 margin, including an 8-3 mark when the game has been played in Arkansas. However, South Carolina has won each of the last three contests, all by wide margins, including a 48-22 win in Columbia in 2017 in the last meeting between the two teams that joined the SEC in 1992, and a 52-7 rout in 2013, the last time Carolina ventured into Fayetteville.