Gamecocks Host Mizzou in SEC Eastern Division Battle Saturday
Setting The Stage
The Mayor's Cup is on the line as the No. 25/25 South Carolina Gamecocks (5-2, 2-2 SEC) host the Missouri Tigers (3-4, 1-3 SEC) on Saturday, Oct. 29. Game time from Williams-Brice Stadium (77,559) is set for 4 pm ET and the contest will be televised by SEC Network. Taylor Zarzour (play-by-play) and Matt Stinchcomb (analyst) will be in the booth while Alyssa Lang works the sidelines for the network.
A South Carolina win over Missouri would…
Make the Gamecocks bowl eligible.
Snap a three-game losing skid to the Tigers. The Gamecocks last win came in the 2018 season.
Extend the Gamecocks' winning streak to five-straight games. That would mark their longest winning streak since winning the final six games of the 2013 season.
Give the Gamecocks' six wins in their first eight games for the first time since the 2017 season.
This weekend's game caps Homecoming Week on the University of South Carolina campus. The annual Homecoming week is for past, present, and future Gamecocks to come together and celebrate all things Garnet and Black. Throughout the week, free events pop up all over campus and the surrounding areas to provide fun opportunities for everyone to enjoy.
South Carolina has sold out all four of its Saturday home games so far this season, generating crowds of 78,297 in the season opener against Georgia State, 78,212 against top-ranked Georgia, 77,982 versus Charlotte and 77,837 last week against Texas A&M. The only home game not considered a sellout this season was the South Carolina State game, which was moved from Saturday to Thursday earlier that week due to Hurricane Ian.
The University of South Carolina Athletic Hall of Fame class of 2022 will be inducted on Thursday, Oct. 27, and will be honored at Saturday's Homecoming football game. This year's class includes Laura Bernstein (women's tennis), Joyce Compton (softball), LaShinda Demus (women's track & field), Otukile Lekote (men's track & field), Blakely Mattern (women's soccer), Corey Miller (football), Matt Price (baseball) and Del Wilkes (football).
CAROLINA VS. MIZZOU
Missouri has won the last three meetings to take a slim 7-5 advantage in the all-time series with South Carolina. The home team has been victorious in three of the five games played in its stadium, while Mizzou owns a pair of neutral site bowl game wins (the 1979 Hall of Fame Bowl and the 2005 Independence Bowl) versus Carolina.
IT JUST MEANS MORE: Since Mizzou joined the SEC, the series is deadlocked at five wins apiece. South Carolina won the first two SEC Eastern Division battles between the two schools, posting a 31-10 win in the Palmetto State in 2012, then pulling out an improbable 27-24 double-overtime victory in Missouri in 2013. In 2014, the Tigers overcame a 13-point deficit in the final seven minutes to squeeze out a 21-20 victory at Williams-Brice Stadium, then won by a 24-10 count at Memorial Stadium in 2015. The Gamecocks then won three-straight games from 2016-18 by scores of 31-21, 31-13 and 37-35, respectively. The Tigers have rebounded with three-straight wins of their own by scores of 34-14, 17-10 and 31-28.
THE LAST TIME THEY MET: Tyler Badie rushed 34 times for 209 yards and a touchdown and Missouri held off South Carolina's fourth quarter charge to post a 31-28 win in CoMo on Nov. 13, 2021. Mizzou outgained the Gamecocks by a 438-250 margin. Jason Brown made his second start for Carolina and went 16-for-30 for 193 yards with two touchdowns and an interception and also fumbled in the endzone, resulting in a Tiger TD.
THE LAST TIME THEY MET IN COLUMBIA: After a tumultuous week for South Carolina Football which saw them lose their head coach and four defensive players opt out, the Gamecocks dropped a hard-fought 17-10 decision to the Missouri Tigers at Williams-Brice Stadium on Nov. 21, 2020. Mizzou opened up a 17-0 halftime lead, but the Gamecocks rallied back under interim head coach Mike Bobo to make it a one score game and had the ball with a chance to tie or take the lead in the final minutes, before a late interception ended the comeback attempt. Quarterback Luke Doty came off the bench and gave the Carolina offense a spark. He completed 14-of-23 passes for 130 yards and also rushed 11 times for 59 yards.
THE LAST CAROLINA WIN: In what has become known in South Carolina as the "Michael Scarnecchia Game," the Gamecocks' backup quarterback threw for three touchdowns in his only collegiate start and Parker White hit the game-winning 33-yard field goal with two seconds left to lift Carolina to a 37-35 victory over Missouri on Oct. 6, 2018 in Columbia, S.C. The Tigers had gone ahead 35-34 on Tucker McCann's career-long 57-yard field goal with 1:18 remaining, but Scarnecchia and the Gamecocks drove to the Missouri 16 where White nailed his third field goal of the game. The Gamecocks rallied from 23-14 at halftime in a game that lasted more than five hours due to rain and lightning delays. Scarnecchia completed 20-of-35 passes for 249 yards. Missouri's Drew Lock, the SEC's passing leader, was held to 204 yards.
BLACKJACK FOR THE WIN: The Gamecocks are 5-2 against the Tigers when scoring 21 or more points. They are winless in five games when scoring 20 or fewer, including two of the last three contests.
IN THE POLLS: Coming off back-to-back SEC wins at No. 13 Kentucky and against preseason No. 6 Texas A&M, South Carolina (5-2) has moved into the Top-25 in both the Associated Press and AFCA Coaches polls this week, coming in at No. 25 in both rankings. South Carolina is ranked in the A.P. poll for the first time since Sept. 4, 2018, when they checked in at No. 24 after a season-opening win over Coastal Carolina. They dropped out the following week after a loss to Georgia. Other than that one week in 2018, the Gamecocks have not been ranked in the Top-25 in the A.P. since the 2014 season when they were ranked in five-consecutive polls to open the season.
THE LAST TIME OUT: South Carolina extended its winning streak to four and captured the Bonham Trophy for the first time in nine tries with a 30-24 win over Texas A&M at a sold-out Williams-Brice Stadium on Oct. 22. The Gamecocks exploded for 17 points in the first 5:09 of the game, using a Xavier Legette kickoff return for a touchdown and cashing in on turnovers on each of the Aggies' first two possessions to build an unsurmountable cushion. A&M cut the lead to 24-21 heading into the final period, but the Gamecocks put together an eight-play, 80-yard drive, using 5:13 of the clock to seal the win. Darius Rush logged a game-high eight tackles, returned an interception 59 yards setting up a score and forced a fumble, earning SEC Defensive Player of the Week honors.
THEY CALL IT A STREAK: The win over Texas A&M marked the Gamecocks' fourth-straight win. It's their longest winning streak since capping the 2013 season with six-consecutive victories (which started with a double-overtime win at Missouri) en route to an 11-2 record and a final ranking of No. 4 in the Associated Press poll.
THAT WAS FAST: The Gamecocks have needed just seconds to get on the board in each of their last two games. At Kentucky, David Spaulding forced a fumble that Tonka Hemingway recovered on the first play from scrimmage and MarShawn Lloyd plunged in from two-yards out on its first offensive snap, as Carolina scored just 13 seconds into the contest. Versus Texas A&M, Xavier Legette returned the opening kick 100 yards, putting Carolina on the board just 14 seconds into the game.
FAST AND FURIOUS: After scoring just 21 first-quarter points combined through the first six contests, the Gamecocks needed just 5:09 to put 17 points on the board against Texas A&M. Carolina had scored just 17 points combined against the Aggies in its two previous meetings.
THAT'S HOW IT'S DONE: Carolina tallied 30 points in the win over Texas A&M after scoring just 23 points in their three most recent games combined against the Aggies, all losses. In fact, the 30 points were the most points the Gamecocks have ever scored in nine tries against Texas A&M. Carolina held A&M to 24 points, matching their lowest point total surrendered against the Aggies.
LEGETTE LEGS IT OUT: Xavier Legette was recognized as the SEC's Special Teams Player of the Week after returning the opening kick 100 yards for a touchdown against Texas A&M. It was the first kick return for a touchdown by a Gamecock since Deebo Samuel went 90 yards to open the game at Ole Miss in 2018. It tied for the second-longest kick return in school history behind only Sterling Sharpe's 104-yarder against Duke in 1985. Boo Williams (Vanderbilt in 1997) and Deebo Samuel (Western Carolina in 2016) also have recorded 100-yard kick returns for the Gamecocks.
THAT MAKES 11: MarShawn Lloyd scored twice against Texas A&M on 18- and 4-yard runs. Lloyd now has 11 touchdowns on the season, third in the SEC and tied for eighth in the country. His nine rushing touchdowns is tied for second in the SEC and tied for 14th in the country.
FORCING TURNOVERS: After recording just one takeaway through the season's first three games while posting a 1-2 record, Carolina has recorded 10 turnovers in its last four contests, all wins. South Carolina recorded back-to-back three-interception games against Charlotte and South Carolina State, marking the first time since 2013 that the Gamecocks have recorded three INTs in back-to-back games. They recorded a fumble and an interception against both Kentucky and Texas A&M.
30-SOMETHING: The Gamecocks have tallied 30 or more points in five of seven games this season. They scored 30 or more just three times in 13 games in 2021 and haven't scored 30 or more points more than five times in a season since 2018 when they accomplished the feat seven times.
MISSING YOU: The Gamecock defense was hit hard by the injury bug early in the season, but are as close to healthy right now as they've been since game one. A pair of starters in edge rusher Jordan Strachan and linebacker Mohamed Kaba suffered season-ending ACL injuries at Arkansas. Edge rusher Terrell Dawkins underwent knee surgery after the Georgia game and has been out since then, but is getting closer to making a return to the field.
A LITTLE HISTORY: 2022 marks the 129th season of intercollegiate football at the University of South Carolina, dating back to 1892. It is the 116th-consecutive year in which Carolina has competed on the gridiron. The University did not field a team in either 1893 or 1906. Carolina owns an all-time record of 626-603-44, a .509 winning percentage.
UTILIZING THE PORTAL: The Gamecocks' roster features nine scholarship transfers, six of whom enrolled at Carolina in January. The spring enrollees included RB Christian Beal-Smith (Wake Forest), RB Lovasea Carroll (Georgia), EDGE Terrell Dawkins (NC State), QB Spencer Rattler (Oklahoma), DB Devonni Reed (Central Michigan), and WR Antwane Wells Jr. (James Madison). TE Nate Adkins (East Tennessee State), WR Corey Rucker (Arkansas State) and TE Austin Stogner (Oklahoma) were added to the roster in the summer.
SUPER SENIORS: The Gamecocks list nine players (not including transfers) whose eligibility would have expired had not the NCAA allowed the 2020 season to be a "free" year. Those "super seniors" are WR Jalen Brooks, OL Eric Douglas, LB Sherrod Greene, LB Brad Johnson, EDGE Jordan Strachan, WR Chad Terrell, WR Josh Vann, DL M.J. Webb and OL Dylan Wonnum.
ONE FOR THE THUMB: With the NCAA COVID rule allowing for an extra year, four Gamecocks – OL Eric Douglas, LB Brad Johnson, WR Josh Vann and OL Dylan Wonnum – will become five-year letterwinners.
TOTING THE SHEEPSKIN: The Gamecocks have 20 players who have their college degrees in hand. Twelve players who wore the SEC Graduate patch in the Duke's Mayo Bowl returned for the 2022 season, including Wyatt Campbell, Eric Douglas, Sherrod Greene, Brad Johnson, Tyreek Johnson, Dakereon Joyner, Hank Manos, Darius Rush, Jordan Strachan, Chad Terrell, M.J. Webb and Dylan Wonnum. Jovaughn Gwyn and Jaylen Nichols graduated in May. Traevon Kenion graduated in August. In addition, Nate Adkins (East Tennessee State), Christian Beal-Smith (Wake Forest), Dante Miller (Columbia), Devonni Reed (Central Michigan) and Austin Stogner (Oklahoma) have degrees from other institutions.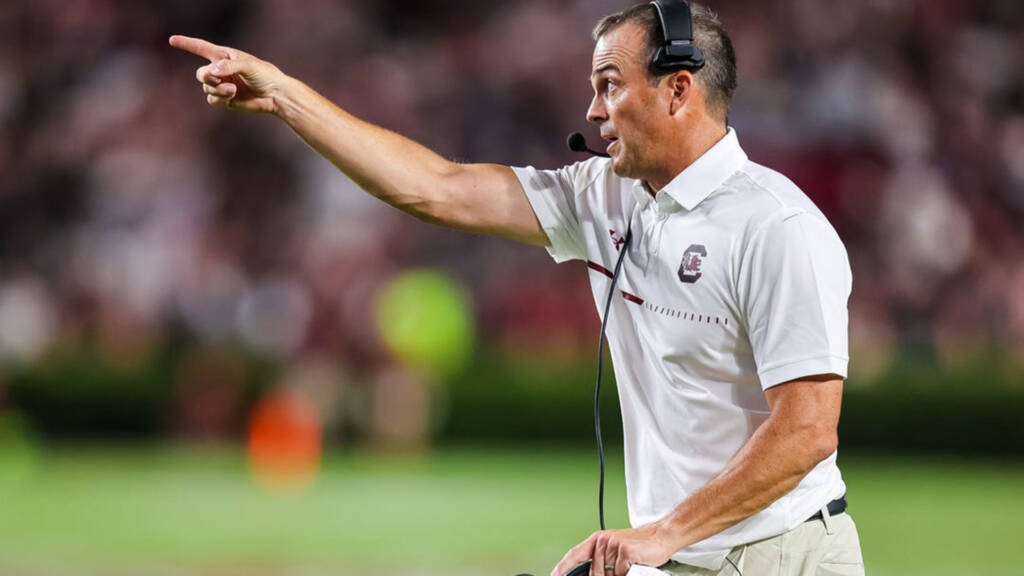 THE BEAMER EFFECT:
* The Gamecocks are 10-1 under Shane Beamer when scoring first.
* The Gamecocks are 12-3 under Shane Beamer when scoring 20 or more points.
* The Gamecocks are 6-2 under Shane Beamer in games decided by 10 points or less.
LOOKING AHEAD: The Gamecocks are back on the road next week as they travel to Nashville to face the Vanderbilt Commodores. South Carolina has dominated the series, winning the last 13 in a row to extend their all-time series lead to 27-4, including a 14-2 advantage when playing in Nashville.