Former South Carolina distance runner Kayla Lampe (2011-2015) hasn't slowed down since graduating seven years ago. In fact, the former cross country/track and field standout and current traveling emergency room nurse has picked up the pace and has taken things to the next level after competing in six marathons in the last four years.
"When I was in college, I always felt like the longer the distance, the better the race was for me," said Lampe. "I knew when I graduated that a marathon would be the goal, but I took a little time to get to that point by running a couple of half marathons to ease into it. It was just something I was really good at immediately. The longer races seemed to suit me the best. A 10K (6.2 miles) feels short to me now."
Initially, Lampe said she just wanted to run one as a goal. She exceeded that.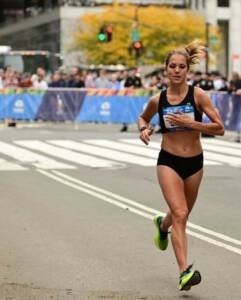 "I've done the Philadelphia Marathon, the Los Angeles Marathon, California International Marathon, the Chicago Marathon, New York City, and Boston," Lampe said. "I've been trying to do different ones to have different experiences. I just did the three majors in a row."
While she is accustomed to distance running, there is a big difference in running the usual 5K (3.1 miles) and 10K events for cross country in college to running a 26.2-mile marathon.
"With the training, it's obviously a lot more mileage," Lampe said. "There's usually one long run per week. This past training cycle I was doing 20 to 24 mile long runs every week. Then I'd do a lot of doubles, which is a great way to get mileage in without doing it all at once. There are different types of workouts, too.
"I had no concept of how fast I could run. It's so different than running at 10K. I thought a seven-minute mile pace is really ambitious and that maybe I should revise my goals. Then I ran faster than I expected. I ran two hours and fifty-one minutes for my first marathon. The expectations changed after that."
"You have to have positive thinking about all the work you put in during training. You have to hang in there and keep going."
Kayla Lampe .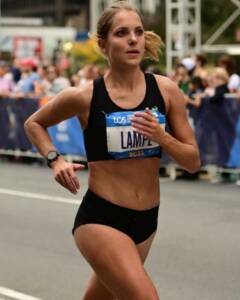 She ran the 2022 New York City Marathon in 2:40:22 and was the 23rd female/11th American to cross the finish line. The 2022 Boston Marathon saw her finish as the 25th female/12th American in a time of 2:38:38, and in the 2021 Chicago Marathon, she was the 18th female/13th American with a time of 2:38:25.
"You have to override your brain when it's telling you it wants to stop," Lampe said. "You have to have positive thinking about all the work you put in during training. You have to hang in there and keep going. I try to absorb the energy of the crowd to help get me through."
For Lampe, each marathon is its own unique experience.
"I had a lot of fun in Chicago," Lampe said. "That was one of the first races to happen right after the pandemic, post-COVID. That was the one where I never felt like I hit the wall. I just kept checking off the miles and feeling good the whole time. Running through that city was really fun, too.
"The most difficult one was New York City because of the heat and the hills. There is a lot of support from the crowd, but it was about 75 degrees, and you go over all the bridges in the boroughs of New York. Those kind of look like mountains when you're running a marathon."
Lampe had qualified for the 2020 Olympic Trials but suffered an injury before the race and was unable to compete. She hopes to have that opportunity again in 2024.
"That's the ultimate goal," Lampe said. "With my fastest time, I'm less than a minute and a half off the Olympic Trials time. They changed the standard for the 2024 trials by eight minutes, so it's definitely harder to get, but I think it's possible for me. It would be an amazing experience to run with those athletes and be on the world stage."
When she's not pounding the pavement with her running shoes, Lampe is making a difference as an E.R. nurse, which like her running, has taken her all around the country.
"I've worked as an E.R. nurse in Philadelphia for around six years, and I just finished up a contract in Massachusetts, and then I'm going out to San Jose, New Mexico, for my next contract," Lampe said. "It's always interesting. It's an active job, you're always helping people, and you're always learning. It's a very interesting job, and it's something that I really love."
She also has plenty of new roads to explore as she trains for her next marathon.