Smith Earns 400th Career Win as Gamecocks Defeat Tar Heels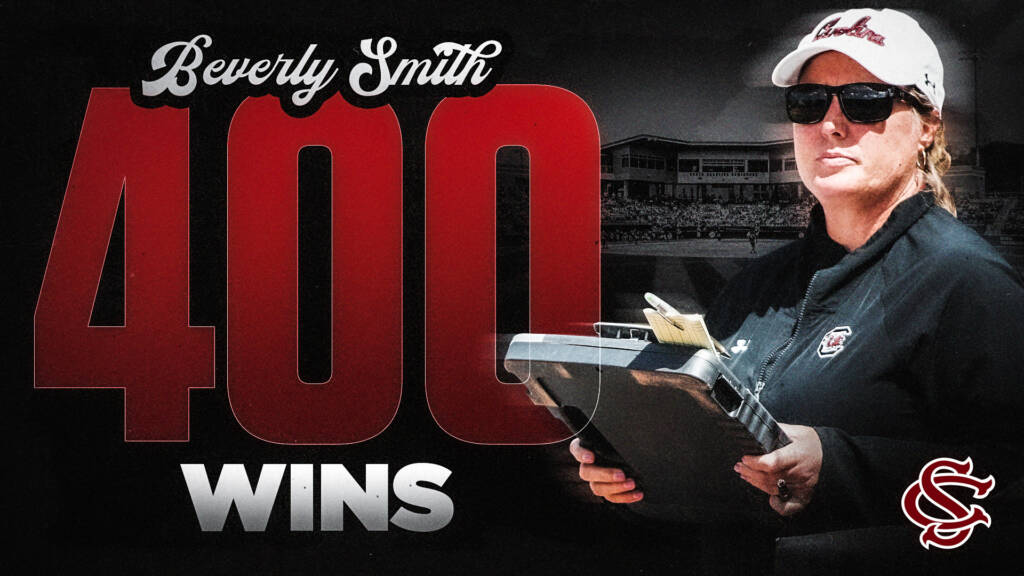 COLUMBIA, S.C. – South Carolina softball head coach Beverly Smith earned career win number 400 Wednesday night (March 1), as the Gamecocks (15-2) defeated North Carolina in a run-rule, 9-1. It's the first run-rule victory in the series since South Carolina earned a similar 9-1 victory in 2016.
Jen Cummings led Carolina at the plate going 3-for-4 with three RBIs. Riley Blampied also drove in three runs and finished 2-for-3. In all, seven South Carolina starters finished with at least one hit on the night.
A defensive battle brewed for the first two innings before the Gamecocks exploded for five runs in the third. With two outs, Blampied singled to center, scoring Jordan Fabian and Brooke Blankenship. After a Zoe Laneaux walk, Aniyah Black singled down the left field line to score Blampied. Aaliyah White beat out an infield single, allowing Laneaux to come home, and Marissa Gonzalez scored the final run of the inning on an obstruction call at the plate.
B-3 | @Rileybrooklyn22 delivers a ✌️piece to crack open the scoring for Carolina 💪🤙

🐔2 | 0 🔵 pic.twitter.com/pIvjkO7UFH

— Gamecock Softball (@GamecockSoftbll) March 2, 2023
North Carolina responded with their only run of the night in the fourth, before Carolina added three more in the bottom half of the inning. Cummings doubled down the left field line, scoring Fabian and Emma Sellers. Blampied followed with a single to center, scoring pinch runner Kyye Ricks.
M-6 | @onefourAaliyah are you serious!!! #SCTop10

🐔8 | 1 🔵 pic.twitter.com/V6oYyMT8gu

— Gamecock Softball (@GamecockSoftbll) March 2, 2023
The Gamecocks put the run-rule into effect in the sixth, when Fabian nearly homered in her fifth straight game, but instead had to settle for a double off the center field wall. Cummings would bring her home on an infield single that deflected off the UNC second baseman, which allowed Fabian to score from second.
Rachel Vaughan relieved starter Donnie Gobourne to pick up her first win of the season. She threw two innings, allowing one run on three hits with a strikeout. Karsen Ochs capped of the Gamecock pitching, throwing two scoreless innings, retiring all six batters she faced, including three of them via strikeouts.
Carolina returns to action Friday (Feb. 3) for the first day of the Gamecock Invitational. The Gamecocks will take on Columbia at 5 p.m.
From all the current and former Gamecocks, congratulations @scsbcoach_bev on career win #400! pic.twitter.com/OuKOY8ZYdg

— Gamecock Softball (@GamecockSoftbll) March 2, 2023
For the latest on South Carolina Softball, visit GamecocksOnline.com or follow the team's social media accounts on Twitter @GamecockSoftbll, Facebook /GamecockSoftball, and Instagram @GamecockSoftball.