Know Before You Go: Mississippi State
Stay in your seat at halftime for Alshon Jeffery's Jersey Retirement
Gamecock Football is back at home under the lights on Saturday, in front of another sold-out crowd, at Williams-Brice Stadium when they host Mississippi State. Saturday's game is Family Weekend and kickoff is set for 7:39 p.m.
Tickets for Saturday's game are still available via our Official Secondary Ticket Marketplace at Ticketmaster.com.
Check out some of the things happening at Saturday's game.
In-Game
Jersey Retirement: All-American and All-SEC wide receiver Alshon Jeffery will have his jersey retired during a ceremony at the beginning of halftime
Spirit Day: Over 300 youth cheerleaders and dancers will join our Gamecock Cheerleaders and Carolina Dance team for a halftime performance as part of our annual Spirt Day
Gamecock Village presented by Farm Bureau Insurance
Gamecock Village will be packed this week and will be open at 3:00 p.m. and close at 7:00 p.m.
South Carolina Boating and Fishing Alliance Boat Show: Back for it's third year, SCBFA will once again be on hand to showcase South Carolina-made boats and fishing tackle in Gamecock Village.
Live Music: Craig Henry will provide the entertainment throughout the day starting at 3:00 p.m.
Food & Drinks: We'll have multiple food trucks on site serving all types of food for you to grab some grub before you head into the stadium. Beer and seltzer will also be available for purchase in multiple locations throughout Gamecock Village.
My First Gamecock Game: If it's your first Gamecock game, be sure to stop by the marketing table inside Gamecock Village to commemorate your first game
Gamecock Walk and Pregame Pep Rally
The team will arrive around 5:30 p.m. and head into the stadium lead by Cocky, the drumline and our spirit teams. Get a spot early along the Tommy Suggs Garnet Way to cheer the Gamecocks on as they head into the stadium.
After Gamecock Walk, head over to the Gamecock Park Amphitheater for the Pregame Pep Rally featuring the Mighty Sound of the Southeast and our spirit teams, which begins around 5:50 p.m.
Don't forget to take advantage of the pillars of Forever Garnet at Saturday's game and all games throughout the season.
Memories: There's still a few Gameday Experiences available for purchase for Saturday's game. If you're coming to town on Friday or will be here on Sunday, be sure to check out our Stadium Tour.
Auctions: Watch warm-ups & 2001 from the sideline or walk with Cocky during Gamecock Walk… Auctions for the Mississippi State game close on Tuesday at 7 p.m.
Rewards: Be sure to check in once you get into Williams-Brice Stadium to earn points for attending. These points can be redeemed for various prizes and sweepstakes.
Gamecock Club Concessions Discount: Gamecock Club members can receive a 10% discount on certain concessions items at specific stands at Williams-Brice Stadium by scanning their Forever Garnet QR Code ID inside the Forever Garnet App.
Learn more about Forever Garnet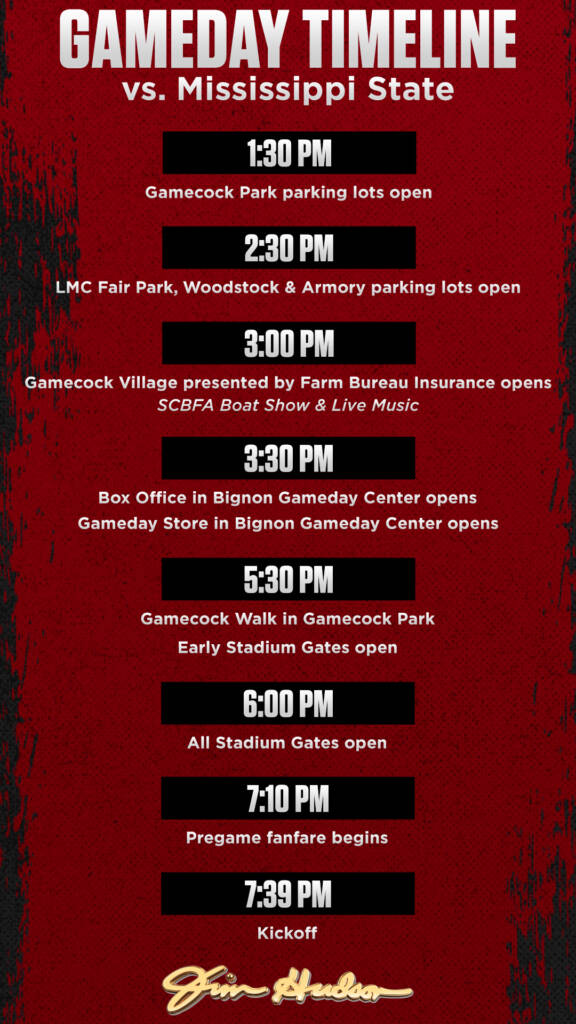 Digital Stadium Map
We've launched a digital stadium map that will allow you find the amenities that are closest to you, check out concessions menus and see the stands where the Forever Garnet Discount applies for Gamecock Club members.