Gamecocks and Commodores Set for Noon Gridiron Battle Saturday
The South Carolina Gamecocks (3-6, 1-5 SEC) return to Southeastern Conference action this week when they host the Vanderbilt Commodores (2-8, 0-6 SEC) in an SEC Eastern Division matchup on Saturday, Nov. 11. Game time has been set for noon ET and the contest will be televised on the SEC Network. South Carolina is looking to put together back-to-back wins for the first time this season and keep its bowl hopes alive, while Vanderbilt enters the contest looking to snap an eight-game losing streak and a 14-game losing skid to the Gamecocks.
OVER THE AIRWAVES: This week's contest will be televised on the SEC Network. Taylor Zarzour will provide the play-by play while Matt Stinchcomb adds the color commentary. Taylor Davis will handle the sideline duties. The Gamecock Sports Radio Network features a pair of Gamecock Great quarterbacks in Todd Ellis (32nd season) and Tommy Suggs (51st season) in the booth. Chet Tucker is in his first season as the sideline reporter.
SALUTE THE TROOPS: Gamecock Athletics will host its annual "Salute the Troops" game this week. Prior to the game, fans will be able to explore various military vehicles in Gamecock Village presented by Farm Bureau Insurance. During the game multiple veterans who have made an impact in the community will be recognized and halftime will feature the annual Salute the Troops show recognizing all those who are currently serving or who have served in the armed forces.
GAMECOCK REWIND: The Gamecocks are 3-6 in 2023 including a 1-5 mark in SEC play. Four of their six losses have come to teams ranked in the AP Top-25 while five of the six losses have come away from Williams-Brice Stadium. The nine teams that Carolina has played have a combined 59-23 record, a .720 winning percentage. South Carolina opened the season with a 31-17 loss to No. 21 North Carolina in the Duke's Mayo Classic in Charlotte, before posting a convincing 47-21 win over FCS nationally-ranked Furman. The Gamecocks opened SEC play at two-time defending national champion Georgia in Week 3, falling by a 24-14 count. Carolina rebounded with a 37-30 win over Mississippi State to even its record at 2-2. The Gamecocks lost their next four, all conference games, falling at No. 21 Tennessee by a 41-20 count, surrendering a 10-point fourth quarter lead in a 41-39 home loss to Florida, then dropping a 34-12 decision at No. 20 Missouri before coming up short at Texas A&M, 30-17. Carolina snapped the skid last week with a 38-28 non-conference win over Jacksonville State. The Gamecocks have been led all season by quarterback Spencer Rattler and wide receiver Xavier Legette. Rattler has completed 212-of-304 passes for 2,516 yards with 14 touchdowns and six interceptions. He ranks third in the SEC and 16th in the nation with 279.6 passing yards per game and is fourth in the SEC and 12th in the country with a 69.7 percent completion rate. Legette has caught 50 passes for 973 yards, averaging 108.1 yards per game and 19.5 yards per catch with five touchdowns. He ranks second in the league and sixth among all FBS players in receiving yards per game and is third in the SEC and 14th in the country in yards per reception.
Big time players show up when they're needed most 🤙 pic.twitter.com/1XxCALVa1C

— Gamecock Football (@GamecockFB) November 5, 2023
"THEY COME TO SEE THE GAMECOCKS PLAY"
.
The Gamecocks have played in front of a sold-out stadium six times this season. Carolina has sold out three of its four home games, drawing 78,281 in the home opener against Furman, 78,311 in the SEC home opener versus Mississippi State, and a season-high 79,247 against Florida for Homecoming. The Gamecocks rank 16th in the country in average home attendance at 77,797 and have announced a sellout in 10 of its last 12 home games. The Gamecocks also played in front of sold-out crowds of 92,746 at Georgia, 101,915 at Tennessee and 62,621 at Missouri this season. The second-largest attended game of 95,297 at Texas A&M was not a sellout.
CAROLINA VS. VANDY: This is the 33rd all-time meeting between South Carolina and Vanderbilt,. The Gamecocks hold a commanding 28-4 advantage, including a 13-2 mark when the teams have met in Columbia and a 15-2 record when the games have been played in Nashville. The teams met just once (1961) before they became SEC Eastern Division rivals in 1992 and have met every year since.
IN DOMINATING FASHION: The Gamecocks have won each of the last 14 games between the two squads, their longest winning streak in the series, and 21 of the last 23 meetings between these two SEC Eastern Division rivals. Of the Division I FBS opponents against whom the Gamecocks have at least 10 all-time meetings, Carolina has its best winning percentage against Vanderbilt at .875. In the previous 32 outings, Vanderbilt has tallied more than 17 points just eight times (24 in 2003, 28 in 2005, 24 in 2008, 25 in 2013, a record-high 34 in 2014, 27 in 2017, 20 in 2021 and 27 in 2022).
THE OUTLIERS: Vanderbilt's four wins in the series have come in back-to-back fashion on two occasions – first in 1998 and '99, then again in 2007 and '08. Those four wins have been by a combined total of 22 points (17-14, 11-10, 17-6 and 24-17).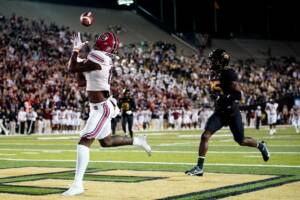 THE LAST TIME THEY MET: South Carolina put up 17 first-quarter points, had a season-high 31 points in the first half, and never looked back in a 38-27 win at Vanderbilt on Nov. 5, 2021, in Nashville. Quarterback Spencer Rattler had a solid performance, completing 18-of-26 passes for 200 yards and three touchdowns. Antwane "Juice" Wells Jr. caught four passes for 110 yards and two scores in the win. He had a 17-yard TD reception from Rattler and a 68-yard catch-and-run for a score from Dakereon Joyner. Kai Kroeger booted five punts for a 53.6-yard average, including kicks of 69 and 66 yards, with two of his punts downed inside the 20, earning co-SEC Special Teams Player of the Week honors. In addition, Kroeger, who was also the holder on placements, completed a 16-yard pass on a fake field goal for a first down.
THE LAST TIME THEY MET HERE: Former graduate assistant Zeb Noland came off the bench to engineer a 75-yard touchdown drive, connecting with Xavier Legette on a 9-yard scoring pass with 37 seconds left to lift South Carolina to a 21-20 win over Vanderbilt in Williams-Brice Stadium on Oct. 16, 2021. South Carolina jumped out to a 13-3 first quarter advantage, but Vandy scored the next 17 points to take a lead before Noland's heroics. Carolina rolled up 429 yards of offense but turned the ball over four times in the contest.
IT'S NEVER TOO LATE: With this year's game scheduled for Nov. 11, it will mark the third-latest date in the year that the two teams have met. The only later dates were a 23-7 Carolina win in the first meeting between the two schools on Nov. 25, 1961, in Nashville, then they met again on Nov. 21, 1995, in Columbia, a Gamecock 52-14 victory.
DROPPING THE ANCHOR: Vanderbilt has recorded at least two wins over every SEC Eastern Division team since its last win over South Carolina in 2008. They have topped Kentucky six times (2008, 2011, 2012, 2013, 2015, 2022), Tennessee five times (2012, 2013, 2016, 2017, 2018), Missouri three times (2012, 2015, 2019), Florida twice (2013, 2022) and Georgia twice (2013, 2016) in that span.
IT JUST MEANS MORE: Carolina has two players on its roster that are from the state of Tennessee. Walk-on offensive lineman Campbell Vandiver is from Brentwood, just outside Nashville and graduated from Lipscomb Academy in Nashville, while tight end Trey Knox hails from Murfreesboro.
RUN IT BACK: Despite the revised SEC schedule next season with the addition of Texas and Oklahoma to the league and the discontinuation of divisions, South Carolina and Vanderbilt are slated to get together during the 2024 campaign at the renovated First Bank Stadium in Nashville.