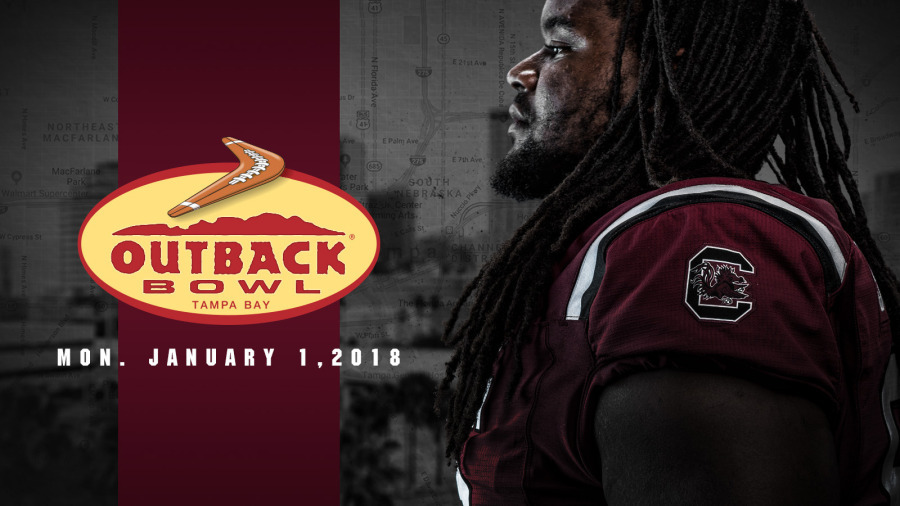 The University of South Carolina football team has accepted a bid to play in the 2018 Outback Bowl. The Gamecocks will face the Michigan Wolverines at Raymond James Stadium in Tampa, Fla., at noon ET on Monday, Jan. 1, 2018. The game will be televised nationally on ESPN2.
South Carolina heads into the contest with an overall record of 8-4, including a 5-3 mark in the Southeastern Conference. The Gamecocks finished in sole possession of second place in the SEC Eastern Division, behind only conference champion Georgia. Two of Carolina's four losses this season came to teams that are in the Division I national semifinals. The Gamecocks are the only "Power Five" conference team to improve their record by more than one win in each of the past two years. Michigan finished the regular season with an 8-4 record, including a 5-4 mark in the Big Ten.
I'd like to congratulate head coach Will Muschamp for his leadership of our football program," said Carolina Athletics Director Ray Tanner. "It's a compliment to him, his staff and the players for the tremendous strides we've made over the past two years, and their hard work has been rewarded with a New Year's Day bowl. I'm also extremely excited for our fans to have an opportunity to watch this team play one more time in a great destination city like Tampa and against a storied program like the Michigan Wolverines. It should be a fun week culminating with a great game on January 1 in the Outback Bowl."
This will mark the fourth meeting between the two schools and the second between the two squads in the Outback Bowl. The Gamecocks were 33-28 winners on January 1, 2013 in one of the most memorable bowl games in recent history, one that gave us "The Hit," by Carolina All-American Jadeveon Clowney. The teams also split two contests in the 1980s, with the Gamecocks posting a 17-14 win in Ann Arbor in 1980, and Michigan winning by a 34-3 count in Columbia in 1985.
South Carolina will be making its fifth trip to the Outback Bowl. The Gamecocks are 3-1 in previous appearances with back-to-back wins over Ohio State in 2001 (24-7) and 2002 (31-28), and a 31-10 loss to Iowa in 2009, before posting the 33-28 win over Michigan in 2013.
"I'm excited to be heading to Tampa to play Michigan in the Outback Bowl," said head coach Will Muschamp. "This is a great reward for our staff, our players, the University and our fans for all that we've accomplished. Our goal is to enjoy the bowl experience and to come home with nine wins for just the seventh time in school history."
The Gamecocks will be appearing in their 22nd bowl game in school history. Carolina is 8-13 in bowl games, but has won four of its last five bowl appearances, topping Nebraska in the 2012 Capital One Bowl, Michigan in the 2013 Outback Bowl, Wisconsin in the 2014 Capital One Bowl, and Miami (Fla.) in the 2014 Independence Bowl, before falling to South Florida in overtime in the 2016 Birmingham Bowl.
The Gamecocks have been bowl-eligible in 13 of the past 14 seasons. They elected not to participate in a bowl game following a 6-5 season in 2004, did not receive a bowl bid following a 6-6 campaign in 2007, and did not qualify for a bowl following a 3-9 season in 2015.
The South Carolina Athletics Ticket Office is currently accepting bowl ticket requests. Tickets are priced at $80 for regular lower level seating and $170 for Club level seating. Ticket requests may be submitted online or by calling the ticket office at 800-4SC-FANS (472-3267) from 8:30 a.m. – 5 p.m. Monday through Friday. Priority orders are taken until Friday, Dec. 8.
 FAN INFORMATION
 Official Gamecock Tailgate Party
 Travel Options
 Bowl Homepage
 About the Bowl
 Visitor Guide
 Stadium
 Events
 News
 BOWL HISTORY
GAMECOCKS IN BOWL GAMES
Date
Bowl
Site
Opponent
Result
Score
Attendance
Coach
Jan. 1, 1946
Gator
Jacksonville
Wake Forest
Lost
14-26
7,362
McMillan
Dec. 30, 1969
Peach
Atlanta
West Virginia
Lost
3-14
48,452
Dietzel
Dec. 20, 1975
Tangerine
Orlando
Miami (Ohio)
Lost
7-20
20,247
Carlen
Dec. 28, 1979
Hall of Fame
Birmingham
Missouri
Lost
14-24
62,785
Carlen
Dec. 29, 1980
Gator
Jacksonville
Pittsburgh
Lost
9-37
72,287
Carlen
Dec. 28, 1984
Gator
Jacksonville
Oklahoma State
Lost
14-21
82,138
Morrison
Dec. 31, 1987
Gator
Jacksonville
LSU
Lost
13-30
82,119
Morrison
Dec. 28, 1988
Liberty
Memphis
Indiana
Lost
10-34
39,210
Morrison
Jan. 2, 1995
Carquest
Miami
West Virginia
Won
24-21
50,833
Scott
Jan. 1, 2001
Outback
Tampa
Ohio State
Won
24-7
65,229
Holtz
Jan. 1, 2002
Outback
Tampa
Ohio State
Won
31-28
66,249
Holtz
Dec. 30, 2005
Independence
Shreveport
Missouri
Lost
31-38
41,332
Spurrier
Dec. 29, 2006
Liberty
Memphis
Houston
Won
44-36
56,103
Spurrier
Jan. 1, 2009
Outback
Tampa
Iowa
Lost
10-31
55,117
Spurrier
Jan. 2, 2010
Papajohns.com
Birmingham
Connecticut
Lost
7-20
45,254
Spurrier
Dec. 31, 2010
Chick-fil-A
Atlanta
Florida State
Lost
17-26
72,217
Spurrier
Jan. 2, 2012
Capital One
Orlando
Nebraska
Won
30-13
61,351
Spurrier
Jan. 1, 2013
Outback
Tampa
Michigan
Won
33-28
54,527
Spurrier
Jan. 1, 2014
Capital One
Orlando
Wisconsin
Won
34-24
56,629
Spurrier
Dec. 27, 2014
Independence
Shreveport
Miami
Won
24-21
38,242
Spurrier
Dec. 29, 2016
Birmingham
Birmingham
USF
Lost
39-46 (OT)
38,242
Muschamp