Tori Gurley is Catching On with New Career
The former Gamecock wide receiver is taking his shot at sports broadcasting.
Tori Gurley knows all about the highs and lows of playing football and everything in between. Now the former South Carolina and professional wide receiver is using his experience to make a name for himself as a television sports analyst with weekly appearances on the SEC Network.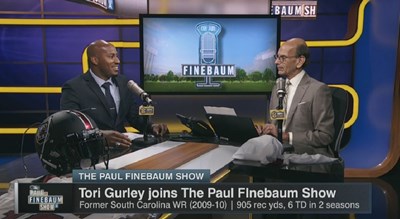 "I want to eventually land a full-time contract, and I want to be a great ambassador for all South Carolina sports," Gurley said. "We've had too many great athletes come through here, and I don't think they get the national notoriety that they should. We have to have someone there on television to always remind them about Marcus Lattimore, Alshon Jeffery, or Stephon Gilmore and all the others. It's not all about football. You have A'ja Wilson (women's basketball), who is an all-star in the WNBA. I want to branch off and cover all sports, so we can talk about Jackie Bradley, Jr. (baseball) and all the others as well."
Gamecock fans knew Gurley as a tremendous receiving threat while at South Carolina during the 2009 and 2010 seasons. Gurley now appears as a weekly guest on the SEC Network, and he's hoping to expand that role. His new career came to fruition as Gurley came back to school through South Carolina's Degree Completion Program after leaving the University early to pursue a professional football career following his redshirt sophomore season. He was taking a class during each off-season to finish his psychology degree, when he found other educational opportunities after a conversation with former teammate and current Director of Player Development, Marcus Lattimore.
"It truly started with me sitting in the office with Marcus and having a conversation last November," Gurley said. "I said that I wanted to be the ambassador for South Carolina sports on a national level. I reached out to Greg Brannon, a professor in the Journalism Department here at the University of South Carolina. I went to visit him, and (former women's basketball student-athlete) Allisha Gray was there. So, he put us on a (journalism department) show, and I got some reps. It was a heck of an opportunity."
Gurley attended the NFL's Broadcast Bootcamp last April, where he made a good impression on some network television executives.
"That led me to being on ESPN," Gurley said. "It gave me the opportunity to go to London this year to cover all the games there with the NFL. The NFL has the Broadcast Bootcamp ever year because it's probably one of the most sought-out careers for former players, outside of coaching. I think over 1500 guys applied, and only 25 got in. I sent in my audition tape, and they liked what they saw."
Gurley has always found a way to stand out, and he's always found a way to bounce back from adversity. He originally committed to the University of North Carolina to play football and basketball but decided to come to South Carolina. His dad died on Mother's Day that year prior to his arrival on campus, and Tori changed his last name from Childers to Gurley in honor of late father.
"That had a tremendous impact on me," Gurley said. "My father lived in Las Vegas. He and Dell Curry were college (basketball) teammates at Virginia Tech, and I really grew up with them. Dell was my basketball coach. When I was being recruited, I was looking for a father figure. I didn't realize that at the time. My mother did an excellent job with me, but I needed more. I was fortunate to have great teammates, and a lot of those guys showed me how to work and better myself. It made me a better man being here."
Gurley admits that basketball was his first love, but he couldn't beat his childhood friend and NBA superstar, Steph Curry, in a game of "horse."
 People sometimes overlook us, and we've got something special going on.
-Tori Gurley

After a redshirt season, Gurley made an impact in 2009 with 31 catches and pair of touchdowns. He also endured some frustration as three touchdown receptions were nullified due to penalties, but he continued to shine in 2010 as South Carolina's second-leading receiver behind Alshon Jeffery, while helping the Gamecocks win their first SEC East Division title. He tied a school record that year with 14 catches in a win at Vanderbilt. He left after that season to pursue a professional career, but his education was still important, and it wasn't long before he was back in the classroom each offseason to finish his degree.
"I want to set an example for the guys who do leave school early," Gurley said. "I was advised to stay in school, but I had a situation at home where I wanted to be sure I could take care of my family. I knew football was a short window, and I wanted the opportunity to focus on just that, try to make as much money as I can in the NFL, and when it was over, I was going to come back and finish school because that was a promise I made to myself and to my mother. To fulfill that was probably one of the best moments of my life. It validated all the hard work. It took me 10 years to graduate because every offseason I would come back and take one class at a time. That was before online classes were as accessible as they are now.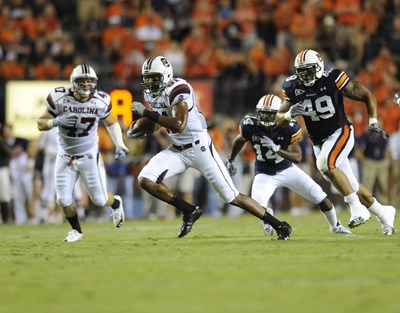 "It was definitely weird coming back because I was the oldest one in class, and I was the only one using a pen and paper. Everybody else had iPads and laptops. It was pretty cool being older because I had more respect for my professors, and I was always sitting in the front of the class. I tried to be an example."
Originally signed as a free agent by the Green Bay Packers in 2011, Gurley, spent time with seven NFL teams over the next four seasons before playing in the Canadian Football League for the last two years of his career. Gurley admits there were times he struggled as his athletics career came to an end.
"I was depressed. I was crying out for help," Gurley said. "I was able to use the NFL to go get help. I joined some small groups and started working with high school athletes. I realized it wasn't all about me. One of my biggest inspirations was watching Marcus (Lattimore) when he was coaching at a high school. I saw the joy he had in his eyes working with young men, and I thought I could do the same in my hometown. So, I did that. From there I felt better about myself and realized I wasn't just an athlete; I'm a man."
In addition to his appearances on the SEC Network, Gurley has been putting himself out there with a series of videos on social media which is titled "Run Your Own Race, The Untold Story of an Undrafted Free Agent."
"I share stories about being a college and professional athlete," Gurley said. "There are a lot of things that get overlooked when it comes to professional sports. Most people don't understand the day to day grind it takes to be a pro. I can share that with everyone, so today's players can understand what is expected of them, day in and day out."
As he builds his resume with his own efforts on social media, Gurley looks forward to bringing his insights and experiences to a bigger audience any chance he gets.
"I want to give South Carolina a voice. People sometimes overlook us, and we've got something special going on. I'm just so happy to be an insider."