Family and Friends Excited to Honor Earl Bass with Jersey Retirement
It's been more than four decades since Earl Bass (1972-75) pitched at South Carolina, but he still holds many program records. It's only appropriate that the local kid who starred at his hometown university will be the first former South Carolina baseball student-athlete to have his jersey retired when he is honored posthumously prior to Saturday's game against Vanderbilt at Founders Park.
Bass lost his battle with cancer on Feb. 4, 2018, at the age of 65.
"It is a great honor, and we are all very happy to be honoring him like this," said his widow, Hedy McDonald-Bass. "It's a nice look back at what his true passion was. I think he would be over-the-top excited about this."
"Earl has been legendary since he was a little boy," said former Gamecock infielder and current South Carolina baseball radio analyst Tommy Moody, who played with Bass for one season. "Earl Bass and Hank Small were the cornerstones for South Carolina arriving as a power in college baseball. That's the beginning of where it all started."
"Earl just wanted to win."
– Tommy  Moody
Bass earned ABCA First-Team All-America honors after each of his final two seasons and still owns the school record with a career win-loss mark of 34-3. He also has the school record for career shutouts (10) and earned run average (1.34). Bass set a then-national record by winning 23 consecutive games over two seasons. In his first season, he set a school freshman record with a 1.50 ERA. After missing most of the 1973 season with injuries, he led the Gamecocks to a 48-8 record in 1974. The following season, he pitched South Carolina to within one game of the NCAA championship at the College World Series as the Gamecocks finished runner-up to Texas in their first-ever CWS appearance.
"In '74, they just missed the College World Series after losing to Miami 2-1, and on the bus ride back home, Earl and Hank walked up to Coach (Bobby) Richardson at the front of the bus," Moody said. "Both of them had been drafted, but they told him they weren't going pro. They said they were coming back to play for Carolina, and you can see what that did for South Carolina in 1975.
"Earl just wanted to win."
Bass was inducted into the University of South Carolina Association of Lettermen's Hall of Fame in 1989 and was an SEC Legend at the 2017 SEC Baseball Tournament.  With all of his accomplishments, Bass was always humble about his career.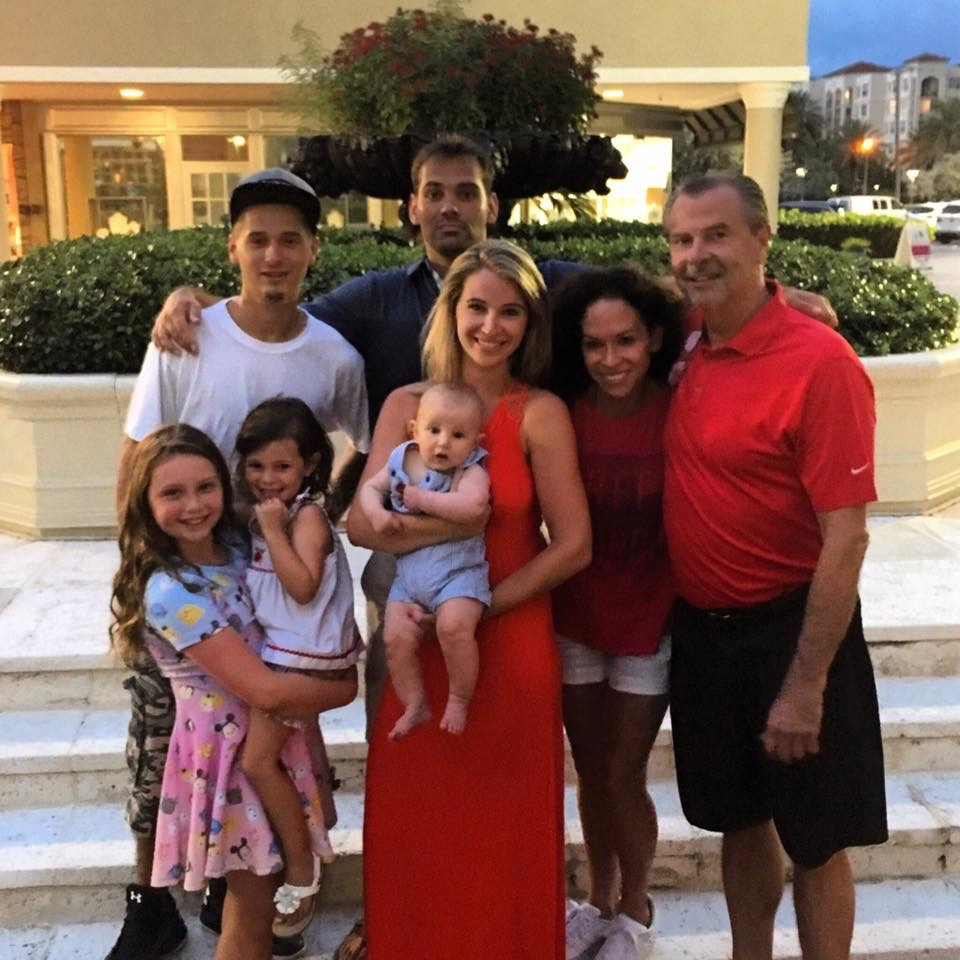 Top Left (Clockwise): Landon (son), Paul Cornelius (son-in-law), Earl,
Hedy (wife), Kayla (daughter) holding Pierce Cornelius (grandson),
Isabella Cornelius (granddaughter), Olivia (daughter).
"We had great athletes, and I had great teammates there," Earl Bass said in a 2017 interview with GamecocksOnline. "It was a total team effort. When we needed hitting, we had had Hank Small, who was the home run leader then. We basically had the same team those two years. It was just a bunch of good old boys playing hard. They were just real fierce competitors.
"Coach Richardson was an amazing gentleman and just a super guy. He never had a bad word to say about anybody."
"Earl was humble when it came to his accomplishments in baseball," McDonald-Bass recalled. "That's why this is really important because he would never have tooted his own horn. I know how happy he was the last time he got together with everyone there at the stadium."
After his days in the Garnet and Black, Bass was drafted in the second round by the St. Louis Cardinals organization and reached the AAA level before an arm injury ended his career.
"You could see a little bit of sadness in him when he talked about what happened to his arm, but he still had no regrets," McDonald-Bass said. "His life as a ball player was one of his greatest joys. I used to love to hear his stories. He talked about playing in Venezuela, and he talked about the people he met, and the great coaches he had. He talked about Bobby (Richardson) a lot. He just loved baseball."
Bass later moved to Palm Beach, Fla., where he owned a restaurant in near-by Manalapan for many years. Even in the Sunshine State, Bass was recognized for his baseball career.
"He got spotted a lot," McDonald-Bass said. "You'd get people coming through the restaurant who randomly knew who he was, or it was someone he worked with or played ball with. It was funny.
"Sports were always a big part of his life. There are many former athletes who live down here, and it's like the law of attraction. They would come into the restaurant. He seemed to find them, and they always seemed to find him."
His name and retired jersey will be found on the outfield wall from now on at Founders Park.