Versatility is Key for Donell Stanley On and Off the Field
As a sixth-year senior, there isn't much that will surprise Donell Stanley on the football field. That's why South Carolina is counting on his experience and leadership to help anchor the offensive line in 2019. Despite several injuries throughout his career, Stanley's work ethic has paid off, and he hopes to set an example as the "old man" on the line.
"I am an old man," Stanley said with a laugh. "I'm 24. I feel like a dad to some of these younger guys. A lot of them come to me with problems and questions. I appreciate that. I tell them they can do that. I have to do everything I can for the young guys because I was in their shoes at one point, too.
"I have to be a leader, both with what I say to them and what I do."
A native of Floydale, S.C., Stanley is as resilient as he is versatile. He not only already has his degree with aspirations of getting into coaching, he can sing, too. 
"I like (country music star) George Strait," Stanley said. "I like 'Troubadour,' 'Check yes or no;' I mean every George Strait song is great! I'm definitely a '90s country music fan. George Strait is the king of country music. His music just makes you feel great inside."
While George Strait is not on the daily play list in the locker room, the "old man" in the locker room gets what he wants eventually.
"We have Country Music Fridays," Stanley said with a big grin. "They get all the other days, and I told them I need Fridays for my country music, so that's how we do it.
"I can sing a little bit. I can sing George Strait and a lot of Josh Turner. I sang a little bit at the Ladies Clinic, and they just went crazy."
"I've got a degree and that's something nobody can take away from me."
– Donell  Stanley
Like a good country song, there are some tough times in his story as Stanley has battled several injuries during his career. He had wrist surgery in 2014 and redshirted that year before working his way on to the field for every game in 2015 and would earn an Everyday Effort Award by the coaching staff the following spring. After earning a starting spot at guard in the season opener of 2016, the injury bug bit again on the first series of the game, and he was awarded a medical redshirt, granting him a sixth year of eligibility. He started 12 games at left and right guard in 2017, but an ankle injury kept him out of the bowl game that year.
"When you're young, you get anxious about playing," Stanley said. "When they tell you that you're out for the season, that can set you back with your mindset. You just have to take any positives you can out of it. I got stronger in so many ways because of it."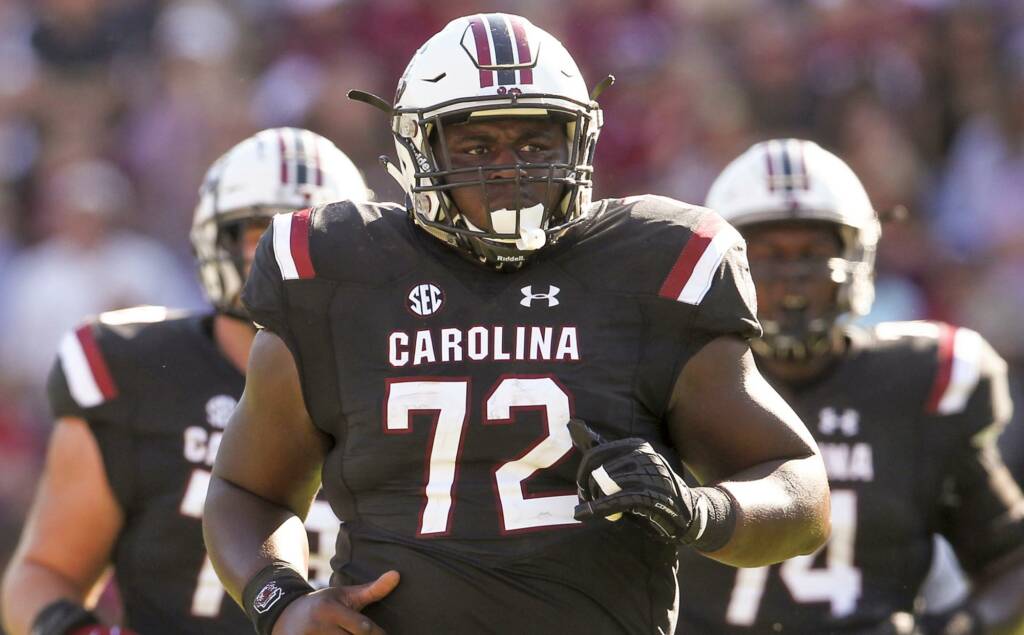 In 2018, Stanley started all 13 games, playing center as well as both guard positions for the Gamecocks. He was nominated for the Rimington Award, which goes to the nation's top center, and was one of four players honored by the coaches following the season with the Dr. Harris Pastides Outstanding Student-Athlete Award. Regardless of where he plays, Stanley doesn't have a problem making adjustments.
"I know I can play multiple positions," Stanley said. "I just take every position as a challenge and try to be the best at each one."
Head Coach Will Muschamp has stressed the importance of not only having strong guys up front, but also having linemen who are very athletic.
"You have to have guys who can move, and all of our guys were committed in this offseason program," Stanley said. "We've gotten faster, more flexible and stronger."
Stanley was a member of the SEC Academic Honor Roll last fall for the second time while earning his degree in sport and entertainment management.
"I take school seriously," Stanley said. "We have a great support staff here. Now I can be a little more relaxed because I've got a degree and that's something nobody can take away from me. I still have other classes, but now I can focus a little more on football as well."
While he has always enjoyed his role as a lineman, Stanley had a lot of other talents growing up and wanted to be a quarterback when he was younger. 
"I just want to chunk the air out of the ball. I played QB when we played flag football when I was like six years old," Stanley said. "Yeah, I could throw the ball. I was pretty accurate, too.
"If I couldn't play football, I would love to have played baseball. That's my second love. I played in high school, too. I grew up watching the Atlanta Braves. Chipper Jones and all those guys were fun to watch."
In addition to football and baseball, Stanley also played basketball at Latta High School and is known to be a good fisherman as well.
Stanley is excited about his final year in the Garnet and Black as well as his future. While he's pretty sure he'd like to get into coaching the collegiate level, the "old man" is versatile. Maybe he'll take a shot at heading to Nashville and the country music scene.
"Darius Rucker Tweeted to me, so maybe you'll see me doing a little bit with Darius," Stanley said.