Brunson Takes Pride in Staying Close to Home and Earning Degree
When he's not on the football field, senior linebacker T.J. Brunson likes to go fishing. Four years ago, there were many colleges around the country that wanted to reel him in, but the Columbia native decided to stay close to home.
"Playing in Columbia here at South Carolina has been awesome," Brunson said. "Just knowing I have the support of the community has been really cool for me. I've enjoyed my four years here. Being close to home is great because I have family and friends that can come out and support me. That means a lot."
Brunson was the first recruit that head coach Will Muschamp visited when he was hired at South Carolina.
"I was recruited by the previous coaching staff as well," Brunson said. "Coach Muschamp and (defensive coordinator) coach (Travaris) Robinson know what they are talking about. They have a lot of experience and put a lot of guys into the next level. That was one of my goals. With the type of people that they are, I knew they were going to push me every day. They expect a lot out of me, and I wanted to be the best that I could be. That's what I was looking for." 
Growing up in Columbia, Brunson said he was just a "regular kid," and while he chose to stay at home to play football, he's never been afraid to venture out and try new things.
"I did a lot of things before football became my main focus," Brunson said. "I used to skateboard a lot. I used to do back flips and run around and have fun with friends. I played baseball. I listen to a lot of different music. I like to expose myself to different things and become more cultured. I try different foods. I just like to live life!"
It didn't take long for Brunson to make his presence known at South Carolina. He played in 11 games as a freshman and has started every game since then. Brunson has been a tackling machine, finishing second on the team in tackles as a sophomore and leading the Gamecocks last season.
"He has been a staple in our defense for a long time," said Defensive Coordinator Travaris Robinson. "He runs, and he hits."
Brunson has earned numerous accolades from the coaching staff during his career, including the Joe Morrison Most Valuable Player Award for defense, the Most Productive Player Award for defense and the Unselfish Teammate Award for defense last year, in addition to being named a team captain.
"Just leaving here with a degree is a huge accomplishment for me. I feel like it's an accomplishment for my entire family as well."
– T.J.  Brunson
Brunson credits his dedication to film study for his improvement from year to year as well as getting good looks from the scout team in practice so that he can react without thinking on game day.
"When you combine those two things, when it comes to game time, you've already seen everything a couple of times, so it's easier to diagnose a play," Brunson said. "When you trust yourself, you can react to a play a lot faster. I'm still trying to get better."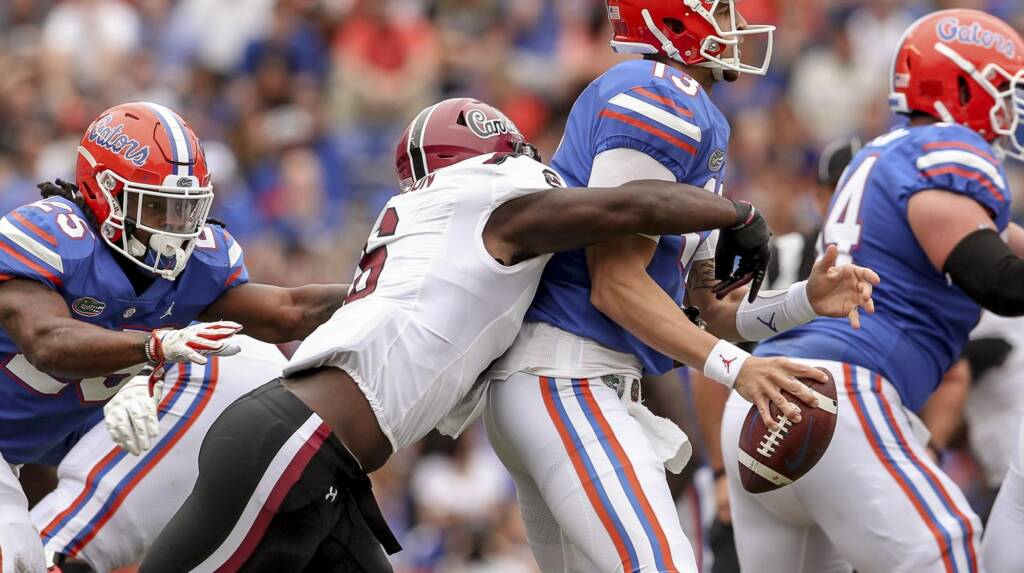 Now that it's his last season in the Garnet and Black, Brunson is determined to make a bigger impact on the field.
"I just want to go out and keep leading," Brunson said. "I need to make plays and keep the guys moving in the right direction. I look forward to going out and having fun in my last year. I feel like I have a better understanding now of what offenses are trying to do and understanding what my job is and how to fulfill that role.
"I'd say I'm a little bit of vocal leader and little bit of someone who leads by example. You can't do just one thing. That's not how it works. I like to grab things by the horns and keep going. I just try to go out and make plays, play fast and physical, and set the tone on every drive."
While he has tried to incorporate different traits of various players on the field, Brunson said his parents are his biggest role models off the field.
"They did a really good job of raising me and teaching me right from wrong," Brunson said. "They've instilled some great values into me and helping me understand that it's not always about me."
He is also eager to make his family proud by earning his degree from South Carolina in December.
"I'm excited to have my degree," Brunson said. "Just leaving here with a degree is a huge accomplishment for me. I feel like it's an accomplishment for my entire family as well. All of my brothers have their degrees as well, so that's a big step for me. It means a lot."
Brunson has made the most of his opportunities, and while he hopes to continue to play football professionally after he graduates from South Carolina, he is already thinking about his future away from the game, even if it means venturing away from his familiar ponds.
"I want to have my own fishing charter someday," Brunson said with large grin. "Hopefully somewhere down in Florida where it's warm, all the time. I'm a big outdoorsman. I like fishing a lot! In my off days, I like to sneak out for a couple of hours and go fishing. It's hard during the season, but in the offseason it's almost every other day!
"For now, I just want to enjoy every moment and being with my teammates."