Catching Up with Football Pioneer Jerry Witherspoon
As an offensive lineman, Jerry Witherspoon (1971-1974) didn't have a lot of statistics for historians to follow, but he still holds a special place in South Carolina football history as the Gamecocks' first black captain when he earned that honor as a senior in 1974.
"It meant a lot," the 66-year-old Witherspoon said. "I really wanted to get the lineman award for being the best lineman, but I didn't get that. The next thing I know, I was a captain. What that meant was that your name is written in the books and it would be there forever! And you'd get your portrait in the Hall of Captains. It brought a lot of notice and historical value.
"One of my pet peeves was that they had the wrong number on my jersey in the portrait, though. My number was 65, and on that portrait, they have 54!"
As pioneer for South Carolina Athletics, Witherspoon noted there are still obstacles to be overcome in each community.
"There are a lot of injustices, and you have to maneuver around the minefields in order to survive," Witherspoon said. "At the same time, you have to achieve a certain status. Don't lose sight of the prize that you're wanting. If you want to get your degree, get your degree, and make the best of it. Those issues that are racist, you can't turn a blind eye to it. They affect people.
"The key is that everyone is tuned in to the fact that there have been a lot of injustices around the United States."
The desegregation of student-athletes at the University began in 1969 when Carlton Haywood became the first black student-athlete on scholarship for the football team. Originally from Lancaster, Witherspoon came to South Carolina in 1971 and played under head coach Paul Dietzel.
"We didn't have the great benefits like they get now, but we were well taken care of."

"When I came to campus, we had five (black) guys that came for football," Witherspoon said. "We had one for basketball, and two for track. We had gone through integration in high school, so it wasn't much different than that. Coach (Harold) White (first black coach at South Carolina) came in at that time, too, so we designated him as our classmate. He was a super guy."
Witherspoon credits Coach White with helping diffuse a situation where the black student-athletes held a temporary boycott over an Athletics Department policy on facial hair.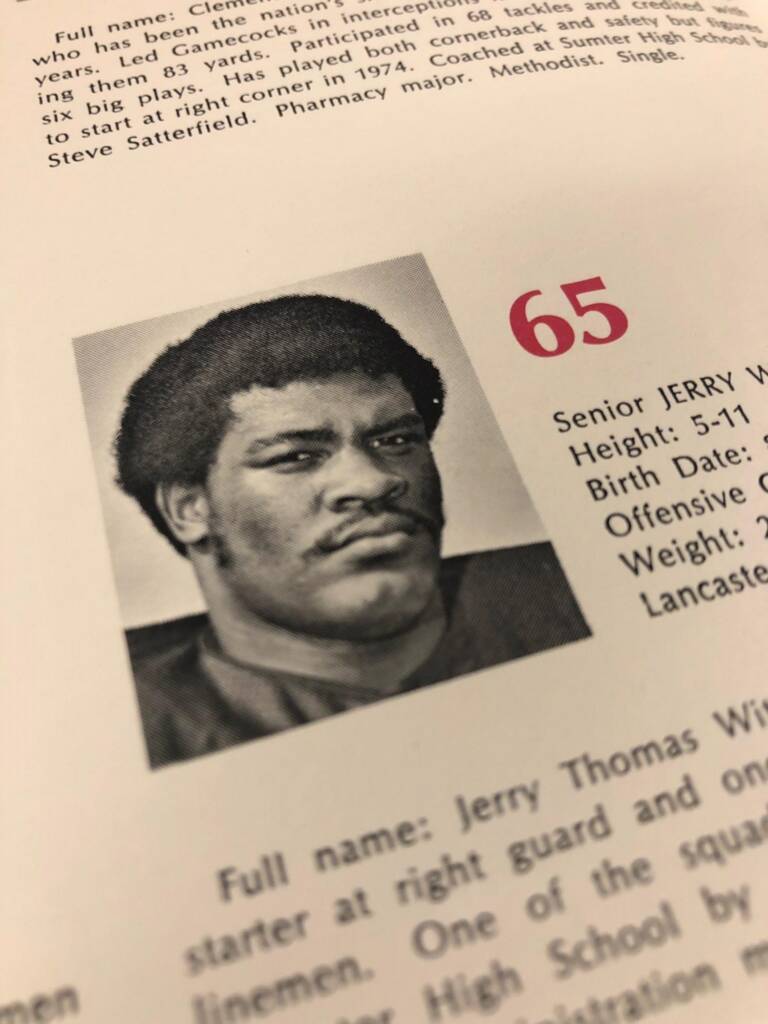 "We had a boycott after New Year's because we wanted facial hair," Witherspoon said. "I think it was my sophomore year.  Everyone had gone home for Christmas and grew facial hair at that time. Most black men didn't shave their mustaches or that little goatee under their lip, so we did a boycott. They told us that we wouldn't be able to come in and eat our meals (at the Roost) if we didn't shave, so we boycotted. They said, shave it or you don't eat. So, it got to the point that we weren't eating. Then they said, shave it or lose your scholarship. So, we all shaved because we were all there primarily for our education. I knew my mom wasn't going to allow me to come home over something like a mustache, but the point is that we all stood together in solidarity.
"You couldn't have facial hair to be on any sporting team. As a result, Coach White fought that battle for us. He explained it to Coach Dietzel how black men like to have the mustache and a little goatee. They got it passed, and then the white guys started wearing longer hair!"
Having grown up during the civil rights era in the 1960s, Witherspoon was no stranger to facing adversity, but he knew that coming to South Carolina was a good opportunity for his future.
"My senior class in high school was the first to have been integrated," Witherspoon said. "The (South Carolina) football program had recently won the ACC Championship, so it was a good time to come to the University. The University dominated the signees off of the Shrine Bowl team, and I was on the Shrine Bowl. We had a number of guys that I had met during the Shrine Bowl that signed with South Carolina.
"I didn't have any reservations about coming. I threw the shot put in high school and experienced the State meets there on campus. So, I had seen the facilities, and I saw the Roost. Coach Dietzel was a very decent man. He was always nostalgic. He was kind of corny in a way. Everywhere he went, he left a mark."
Witherspoon didn't recall many racist incidents with his teammates, and he credits Carlton Haywood for paving the way. That's not to say he didn't encounter some troubles during his time as a student-athlete.
"I was a starting offensive guard my sophomore year," Haywood said. "We were playing Mississippi, and the guy across from me started using the 'n-word' to try to get me off pace. I was on offense, so I had the discipline, and I knew the count! It wasn't hard not to react because I had gone through it in high school. Most of the guys who had come to South Carolina had probably been the primary black athlete at their high schools. Most of these guys had chosen to play at the 'white' high schools. So, it wasn't that difficult.
"It seems like a big joke right now that people actually behaved that way, but at the time it was pretty serious."
"The other challenge was just to do well in school while playing football. Football requires a lot of your time. You just had to discipline yourself so you could achieve your goals. The biggest challenge was just managing time for school and time for sports."
After earning his degree in accounting, Witherspoon went on to become an auditor for the State of South Carolina and remained in governmental accounting throughout his career. Since 2003, Witherspoon has served as the executive director of the Lancaster Housing Authority. Even with the struggles he experienced in college, Witherspoon is thankful for opportunity to be a student-athlete at South Carolina.
"I grew into manhood," Witherspoon said. "Socially, we did some things. The main thing was that I experienced a lot of firsts. I had never flown on a plane before!
"The food we ate in the black community was a little different than what we had in the Roost. Broccoli became a primary thing for my diet. I enjoyed it, but we didn't eat broccoli at home. We ate collard greens and those kinds of things. So, we had some different meals. We didn't have the great benefits like they get now, but we were well taken care of."
Witherspoon and his wife, Stella, have three children.